Miroslav Klose: Career Overview
Miroslav Klose was born on 9 June 1978, in the medieval city of Opole, Poland. His father, Josef Klose, had played professional football for Odra Opole, whilst his mother, Barbara Jeż, was a part of the Polish women's handball team. The family moved to Germany and there Klose began playing football for his local team, SG Blaubach-Diedelkopf. His professional career did not begin until the age of 20 when he signed for the reserve team of former Bundesliga side FC Homburg. However, just a year later in 1999, Klose signed for FC Kaiserslautern, making his Bundesliga debut in April 2000.
In 2002, Miroslav Klose got a chance to show how good he was on the international stage. The FIFA World Cup was being held in South Korea and Japan, and Klose, age 24, scored five-headed goals. He was the tournament's joint-top scorer, level with Rivaldo and became the first player ever to score five headers in a single World Cup. Miro stayed at Kaiserslautern for 5 years, scoring 44 goals in 120 league games, before moving to Werder Bremen for £4.5 million in March 2004. Klose spent 3 years at Werder before he announced he would be leaving to join German heavyweights Bayern Munich in 2007. In his time at Bremen, Klose scored 53 goals in 89 league games, an impressive tally. Additionally, during his time at Bremen, Klose was selected to play in the 2006 World Cup for Germany. He scored twice in an opening fixture against Costa Rica and scored another two in Germany's final group-stage match against Ecuador. In the quarter-finals, he scored an 80th-minute equalizer against Argentina and with five goals, was pronounced the tournament's top scorer.
Klose signed for Bayern Munich for a fee of £13.5 million and spent four years at the German club, playing in 98 league games and scoring 24 times. He won the Bundesliga twice in this time before leaving on a free transfer when his contract expired in June 2011. Miroslav Klose starred in the 2010 World Cup for Germany, where he was sent-off once and scored four goals, leaving him level on the all-time leading World Cup Goalscorer ranking with fellow countryman Gerd Müller. In the quarter-final match against Argentina – where Klose scored twice – he also played his 100th game for Germany, becoming the sixth German player to reach that milestone.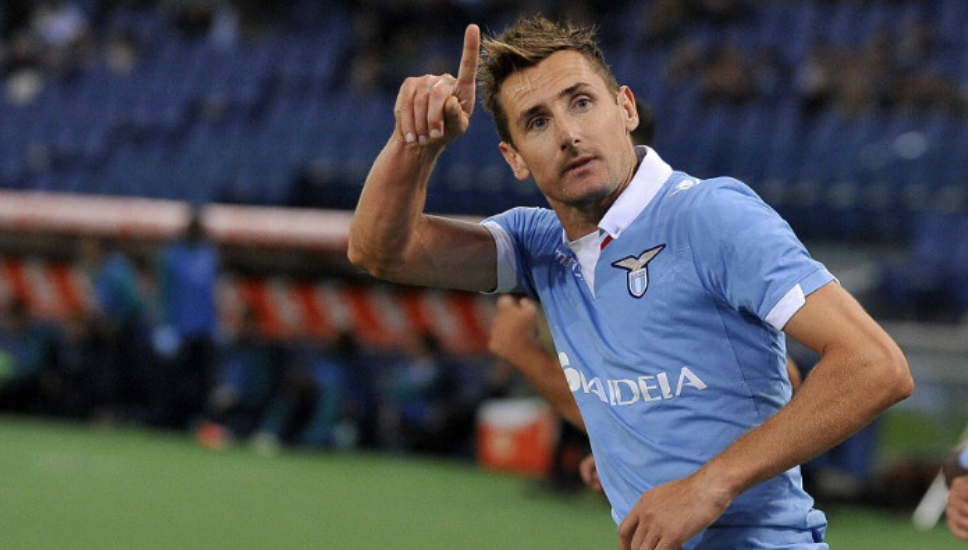 On 9 June 2011, Miroslav Klose became a Lazio player after signing on a free-contract. He signed a 3-year contract and ended up staying with the Italian club until he retired from professional football in 2016. He scored a total of 64 goals for Lazio, equalling Goran Pandev's record as Lazio's highest non-Italian goalscorer of all time and finishing his career as the club's 7th most prolific goalscorer of all time. The 2014 FIFA World Cup was announced by Klose to be his last. He needed just two goals at the World Cup to break Ronaldo's record of the tournament's all-time leading goalscorer. He scored his 15th in a 2-2 draw with Ghana before breaking the Brazilian's record in Germany's thumping 7-1 win over hosts Brazil. He was also the first player to appear in four consecutive World Cup semi-finals.
Player Analysis
Target Man
Typically, a target man is a central forward who uses his height and physicality to hold up play for his attacking teammates, whilst also being a threat in the air and having a good shot. Klose was a phenomenal threat in the air, capable of winning headers that some strikers couldn't even dream of. Klose stood at 6ft tall (184cm), which is tall but not as tall as some forwards, yet had an incredible jumping reach and aerial ability. Every team he played for could always rely on Miro to get his head on the end of a cross and score.
Poacher
A poacher is more reliant on his pace and dribbling than a target man and is usually not as tall. A poacher is a master of finishing, and that is exactly what Klose was. He was incredibly competent on the counter-attack and possessed the physical strength to hold off defenders, use his pace and stamina (even at the latter end of his career) to run across an opponent's half, and score. This demonstrated Klose's incredible attacking capabilities on-the-ball and explains why he was such a prolific goalscorer. Aside from his aerial ability, Klose was also a strong player physically. He was instrumental to his clubs' build-up play, assisting an impressive 134 times in 668 games at the club level. This relates in part to Klose's target-man nature, yet also demonstrates his versatility in the attacking third. While Klose spent most of his career as a central striker, he also spent time out on the wings during his spells at various clubs. He was deployed often as an attacking left midfielder in his time at Bayern; serving as an inside forward who could hold up play and assist, but score too if he needed to. This made Miroslav Klose an extremely important part of the Bayern set-up, vital to a large percentage of their goals.
Miroslav Klose: Final Thoughts
One of the greatest strikers of all time, Klose is currently managing one of Bayern Munich's youth sides. It is yet to see if he will become a successful manager, but if the opportunity ever arises, it will be interesting to see if he ever returns to the Stadio Olimpico to manage the Biancocelesti. Below, a YouTube video of all of Klose's goals scored during his tenure with Lazio.