A story recently emerged concerning Ivanka Trump stopping in at a Trattoria in Rome while on a recent presidential visit to the Vatican. On seeing a picture of a man wearing a sky blue shirt, hands outstretched, face turned upwards in a posture of supplication she is said to have asked: "Which saint is he?". That's no saint the server told her, that's Giorgio Chinaglia. And although Giorgio Chinaglia was no saint, he was a legendary striker known as Long John who became something similar to a God for Lazio fans.
Giorgio Chinaglia: Background and History
Born in the Tuscan city of Carrara famous for its white marble and lardo, Giorgio Chinaglia grew up in Cardiff, Wales. At the age of nine, Chinaglia joined his ironworker father in Wales as the family sought an escape from grinding poverty of the postwar years in Italy. Chinaglia learned to play football in Wales but opted to join Swansea instead of Cardiff apparently because Cardiff only offered him a limited tryout. A sign of the fiery temperament and burgeoning self-assurance that he became famous for. His few years at Swansea in the mid-sixties were tempestuous and rife with stories of his legendary misbehaviour; late nights, womanizing, gambling, and, of course, his ferocious temper. Subsequently, Chinaglia returned to Italy to ply his trade with Massese and Internapoli in the nation's third division.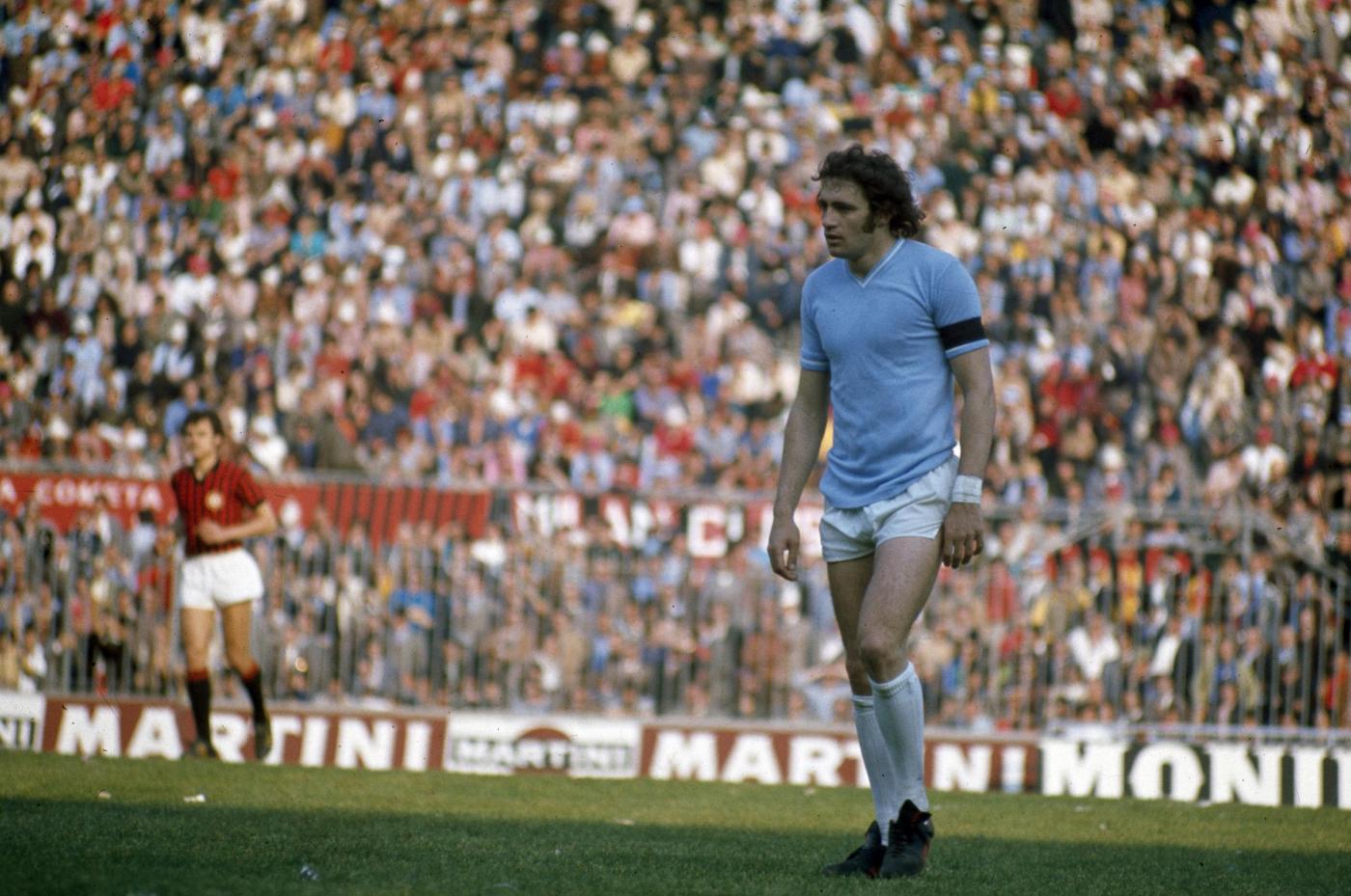 In 1969 newly-promoted Lazio swooped on the lanky striker who seemed to have found his niche in Italian football. It was in the sky-blue jersey of Rome's oldest club and under the mentorship of manager Tommaso Maestrelli that Chinaglia would achieve his greatest moments as a footballer. Chinaglia proved himself a lethal finisher and soon drew the attention of the National squad and earned a call up in a match against Bulgaria. Chinaglia, though the first player to make the Italian national team from the second division, proved himself immediately by scoring a goal on his first touch. He would also factor in Italy's 2-1 victory over England at Wembley stadium providing the assist for Azzurri teammate Fabio Capello's winning goal. He later represented Italy at the 1974 world cup in Germany.
Meanwhile at Lazio, Chinaglia along with Re Cecconi, Wilson and D'Amico had transformed the newly promoted 72-73 Eagles into a powerhouse narrowly missing the title. The following year, 1974, Chinaglia's 24 goals saw him win the capocannoniere of Serie A and secured Lazio their first Serie A title.
Undoubtedly, it is matched against crosstown rival Roma late in that championship-winning season that turned Chinaglia into a Lazio legend, carved his name into the club's pantheon of Lazio players and become the stuff of derby lore.  Chinaglia had gone into the Roma dressing room to warn his opponents that he'd be waiting for them out on the field. Such was his fierce competitiveness. Chinaglia thrived on riling his opponents. After scoring the winning goal in a 2-1 victory, Chinaglia famously ran under the Roma terrace arm outstretched, index finger pointed directly into the heart of opposing fans. Chinaglia had taken them all on and won. He wasn't going to let them forget it. No Lazio fan ever has. "Luckily", he later said in an interview about that derby "I had become a rabid fan of my team."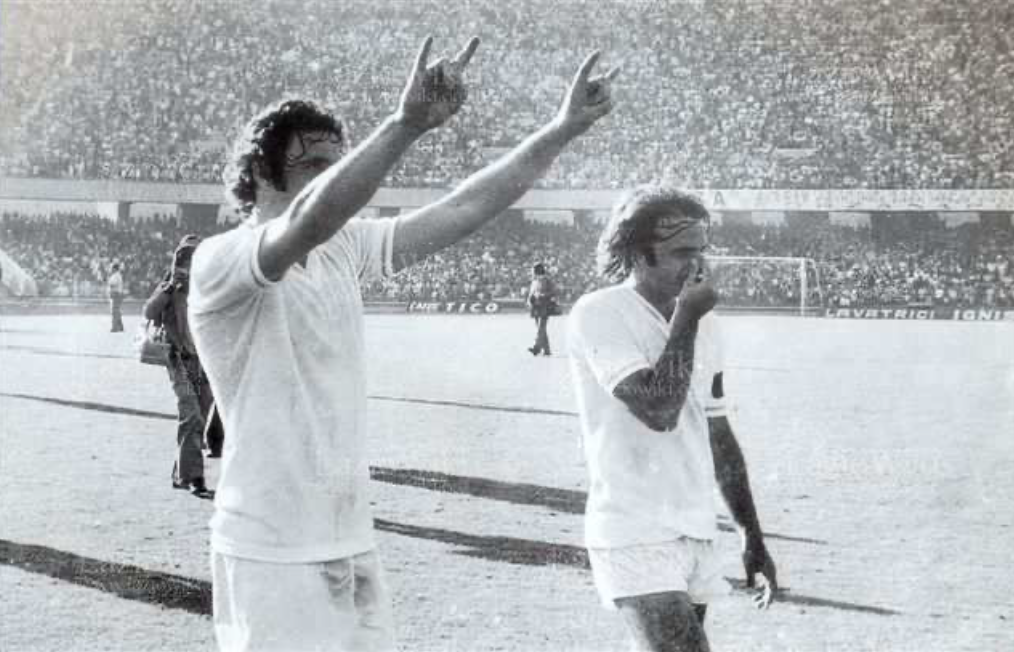 Lazio of the mid-1970s was always on the narrowest of ledges. In Italy, these were the years of lead – racked by political and criminal violence and bloodied by repeated acts of shocking terrorism. Lazio, it seems was steeped in this ethos. Chinaglia's Lazio was a brutal band of factionalized maniacs who toted guns. Training sessions often degenerated into full-on brawls. For Long John, this was par for the course. He was ultimately removed from the national team for destroying the team's dressing room after being subbed off in a match against Haiti.
In 1976, after 246 games and 122 goals for Lazio, Chinaglia shocked the footballing world by leaving Lazio to join the New York Cosmos. In 9 years with the NASL outfit alongside the likes of Pele and Beckenbauer, Chinaglia scored 231 goals in 234 games before retiring.
Chinaglia returned to Rome in 1983 to serve as Lazio's president for one year before leaving again for the United States. He went on to serve in a variety of short-lived administrative positions in various football clubs as well as providing commentary in English and Italian for several broadcasters. He was involved in several scandals involving accusations of money-laundering and financial wrongdoing including an alleged attempt to buy Lazio using laundered money. Chinaglia died in 2012 at his home in Naples, Florida as he recovered from a heart attack.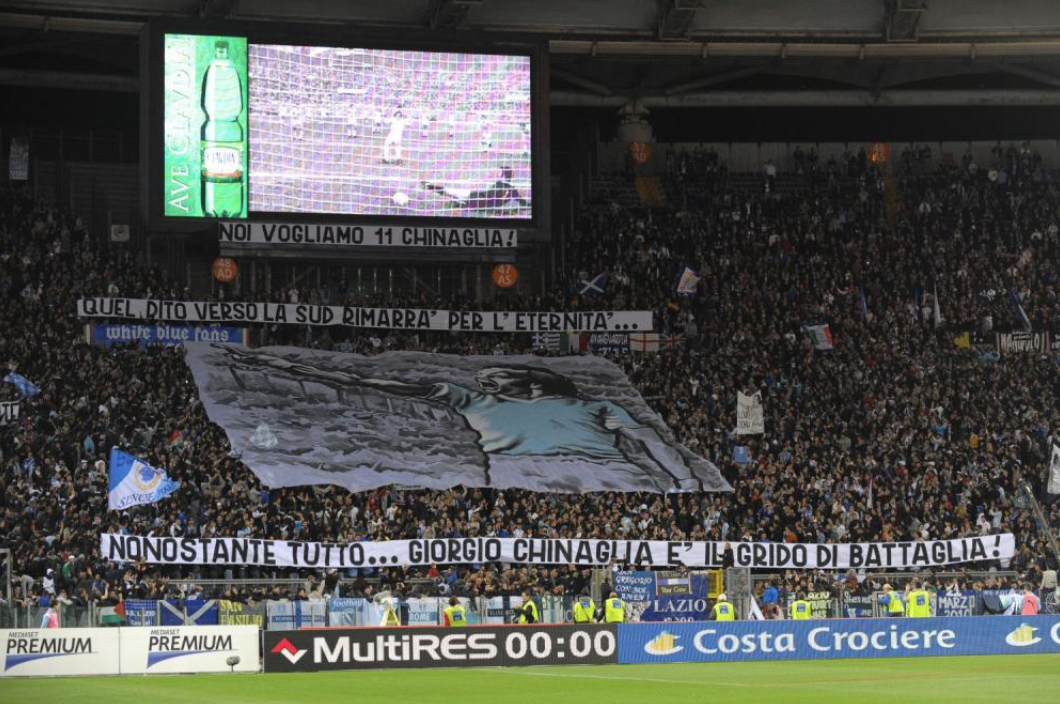 Final Thoughts
Chinaglia is remembered as one of the greatest Italian strikers of his generation. His powerful style of play set the template for the classic imposing center-forward strong enough to overpower opponents in the box and poach goals. His boundless swagger and extroverted personality bemused fans and unsettled opponents. Chinaglia put out a track in 1974 called "Football Crazy". The song, a cringy cult favorite, features Chinaglia singing the line "Yes I'm the best, I'm the best in all the world, I'm the strongest of them all, I'm football crazy." Indeed, Chinaglia was the crazy captain of an unhinged Lazio squad that conquered Italy. His likeness in still regularly graces banners in the Curva Nord and the famous image of Long John, finger outstretched in that provocative gesture even featured in a recent derby tifo. Giorgio Chinaglia il grido di battaglia!