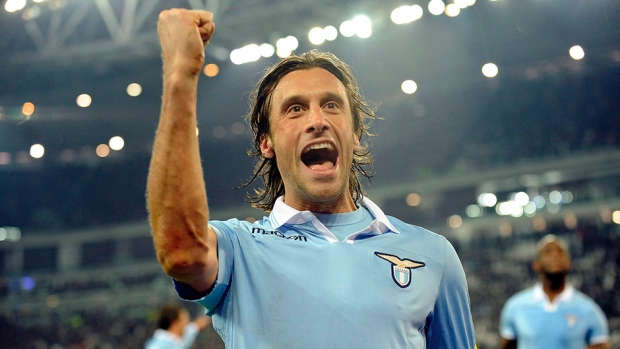 Stefano Mauri: Career Overview
Stefano Mauri was born on the 8th of January 1980, in the town of Monza, Italy. The Italian's career began at the age of 16 with his local club, Brugherio. In 1998, he moved to Serie C2/Serie D side Meda, where he played 83 games and scored 12 times in the league. After an impressive three years, he joined Modena in 2001 before making his Serie A debut with the club against Milan in 2002. At the start of the 2003/04 season, Mauri signed for Brescia, where he played well with 30 appearances and 7 goals. In 2004, he signed for Udinese in a co-ownership deal, where he spent two years; scoring 5 goals in 48 league appearances. After his spell at Udinese, Stefano Mauri he joined Lazio, where he would play for the next ten years. He made his debut for Lazio in a Coppa Italia match against Inter Milan and afterward became a mainstay in the capital side. His first season at Lazio saw him play 15 times, scoring twice. The following seasons saw him help Lazio claim the 2008/09 Coppa Italia and in the 2009-10 season, Mauri played 45 games in all competitions, cementing his place in the team. Fast forward to 2012, when Stefano Mauri sustained a heavy injury that put him on the sidelines for four months. He returned to the field in March 2012; when he came back to captain Lazio in the Derby Della Capitale against Roma, scoring the winning goal. Then came one of the highlights of Stefano Mauri's career: this spectacular overhead kick against Napoli.
Then came the day of one of Lazio's greatest moments in history: the 26th of May 2013. It is the day of the Coppa Italia final; with Lazio facing off against our fiercest rivals Roma. It was the first and only final ever between the two clubs. Stefano Mauri started the game on the bench and with the game very tight (with very little chances for both sides) Mauri was brought on in the 54th min. 17 minutes after his introduction, Mauri played a great 1-2 with Antonio Candreva, who placed a cross into the box, met by Senad Lulic, who put Lazio 1-0 up. It was a glorious moment for every Lazio fan and one that will forever live in our minds. Stefano Mauri would be the one to lift the cup high in the sky.
On 2 October 2013, Stefano Mauri had his ban, for failing to report match-fixing, increased to nine months; although on the 10th January 2014, it was decreased to six months again. He returned to the side on the 2nd of February 2014 and was able to once again lead Lazio in the Derby against Roma on 9 February 2014. In the 2014–15 season, Stefano Mauri once again found his best form and was part of the attack force, alongside Antonio Candreva, Felipe Anderson and Miroslav Klose, which helped Lazio to have one of their best seasons in recent times. The team reached another Coppa Italia final and qualified for the playoff of the Champions League after finishing 3rd in Serie A. One of the highlights of the season was another great performance in the derby, with Mauri scoring the 1st goal on the volley with some wonderful technique after a great chipped pass assist by Felipe Anderson. Mauri then returned the favor, assisting the 2nd goal to Felipe Anderson with a fantastic backheel.
On 9 July 2015, Stefano Mauri announced that he would be leaving Lazio after almost ten years with the club. However, on 21 August 2015, it was announced that Mauri would be re-joining the club. His contract expired the following year and on 11 January 2017, Mauri joined Serie B side, Brescia.
Player Analysis
Stefano Mauri was an extremely versatile midfielder: capable of playing as an attacking midfielder, a central midfielder, and a winger. In moments of his career, he was also played as a second striker, due to his dribbling skills, precise passing, and playmaking ability. Mauri was left-footed and deadly with his left foot, yet he was also talented with his right. Mauri was extremely gifted at finishing the ball and was often relied on in big moments to score vital goals for Lazio. He was could deliver a competent header too, making him a threat from set-pieces. He often chose to lay the ball off to his teammates or to play chipped balls through to his team. He was talented at drawing fouls and often won set-pieces which he himself would either deliver or meet with a header. However, Mauri lacked some defensive ability; which can be argued is not necessary for a center-attacking midfielder. He sometimes suffered from a lack of concentration and could occasionally see teams counter against him due to a drop in focus.
Statistics and Honours