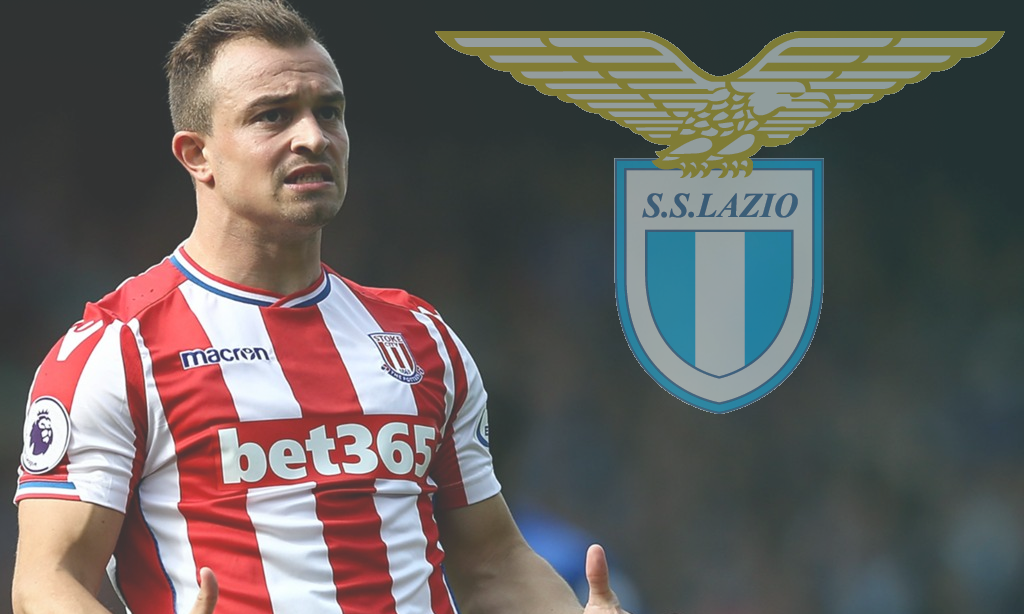 Just last week, Stoke City's Xherdan Shaqiri blasted his Stoke teammates, claiming "even Ronaldinho could do little with this side." The 26-year-old Swiss international joined Stoke City from Inter Milan for a fee of around €15M back in August 2015, despite only signing for the Italian side from Bayern Munich in January of the same year. He played just 15 times in Serie A for Inter before moving to the Premier League, where he has spent three seasons.
Stoke City are struggling in the Premier League this season, with the club sitting in 19th place and with the threat of relegation growing ever closer. After Shaqiri's damning comments of his own side, it is hard to believe that, even if Stoke were to stay up, that the versatile Swiss midfielder will stay with the club. Transfermarkt currently value him at around €20M, with the player in fine form, despite his team's woes. He has played 30 games for Stoke this season, scoring 7 times and assisting a further 6.
Last summer, Lazio sold key played Keita Balde to Monaco, and despite securing the signature of Nani on loan from Valencia, the Portuguese winger has struggled to fill the void left by the young talent. This is why, in my opinion, Lazio should make a move for Xherdan Shaqiri this summer.
Shaqiri is an extremely versatile player, capable of playing as a right winger, left winger, central attacking midfielder, or even as a striker. At just 26, he still has a lot of time left to develop; yet the slower pace of the Serie A should accommodate for him growing older anyway.
Lazio currently have been playing full-backs, such as Jordan Lukaku, Patric and Adam Marusic, as well as old guard Dusan Basta, as wide midfielders. Although this is all well and good, and all of these players can have decent games; they are far away from the consistency required for a Champions League team.
Shaqiri is a natural set piece taker and is instinctively gifted at playing wide and whipping crosses in for his team to finish. Not only this, but he has a mean long shot on him; even if his finishing isn't all that strong. Although he may not be as fast as Keita Balde but he definitely makes up for it with his on and off-the-ball talent.
So what do you think, should Lazio make a move for the unhappy Shaqiri? Would he be the addition to the squad we need to help us in our European ambitions? Let us know in the comments below or on Twitter @The_Laziali
Lazio have also registered their interest in forwards Emiliano Sala from Nantes, as well as Southampton's Manolo Gabbiadini.