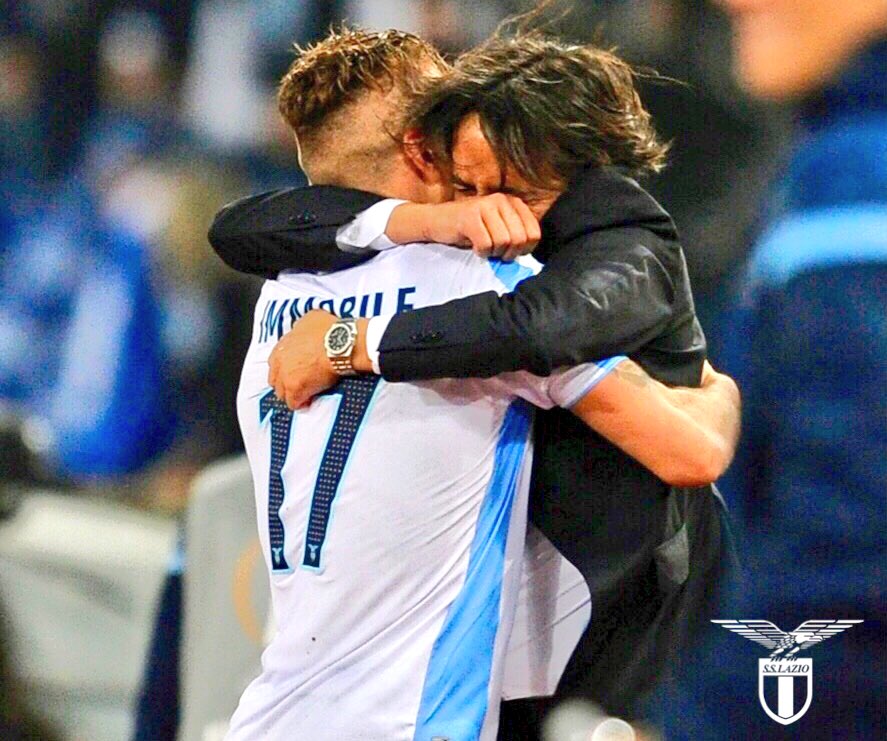 After the fantastic win in the 1st leg of the Europa League quarter-final over RB Salzburg, the Lazio players and manager have been sharing their thoughts about the game in the Lazio vs Salzburg post-match press conference.
Felipe Anderson said Lazio fans were "an extra man", but believes the team could've done better. The Austrians twice came back to equalise at the Olimpico, including a soft penalty, but Felipe Anderson and Ciro Immobile added late goals to provide a cushion going into the second leg of this Europa League quarter-final.
"We are a little angry at the incidents, but we cannot let that influence us on the pitch. We need more calm, because when we play the ball to feet, we know that we are really strong," the Brazilian told Sky Sport Italia.
"We've been working so hard, studied them carefully and know they play with intensity, so we needed the right attitude. We didn't get the result we wanted, because they scored two away goals, but we are happy."
"I said that this season I could grow with the right work. I had this injury that slowed me down, but I am back and have to prove I'm worthy of this team."
This was the biggest Lazio crowd of the season, around 42,000 at the Stadio Olimpico.
"The crowd is certainly an extra man. When we stepped on to the field, we saw them all leaping, singing and urging us on. It gave us such a boost, they're our 12th Man."
Marco Parolo discussed his back-heel flick goal, which made Lazio history.
"I'm glad that my goal was Lazio's 300th in European competition, as it'll remain in history," Parolo told Sky Sport Italia.
"I must be honest, the ball was behind me and so the heel was the only way of getting it into the far corner. I couldn't reach it properly to shoot with my right foot or my left. It was an intelligent goal more than an aesthetically pleasing one – I've scored much more beautiful ones in training – but it went in!"
He then went on to praise Lucas Leiva who has been in great form as of late in the Lazio vs Salzburg post-match press conference.
"Lucas Leiva is so good at reading the pass and we know where he'll generally place it, as we work on this a lot in training, so we all work to make his movement and positioning easier."
"I am really happy for the Coach, because for the first time we scored a goal with the fifth going to the fifth – winger to winger."
"We've had other good performances this season too, better than this one. We knew Salzburg were very aggressive and tough to beat, but we approached it well, attacked constantly and if we play like this, we can have our say against anyone."
"When the stadium is packed and there are so many people pushing you on, it feels easier to give everything and push every last drop of sweat out. Besides, there's nothing to say a 22-year-old can run more than a 33-year-old!"
Senad Lulic who scored the game's first goal and was one of the nominees for the UEL player of the Week, praised Lazio for their ability to react to RB Salzburg's goals and noted, in the Lazio vs Salzburg post-match press conference, that "Felipe Anderson can come off the bench to make the difference."
"We were determined to win this game and the first half has gone well, but the second half is still to come in Austria. That will be very difficult and we mustn't think the job is done," Lulic told Sky Sport Italia.
"Both sides played well, but we did very well to react after conceding the two goals. Having players like Felipe Anderson who can come off the bench and make the difference, plus Ciro Immobile having an amazing season, it gives you so many options in attack."
"Felipe Anderson had a serious injury and missed the whole pre-season training camp, so he had to ease back into it. He's been working really well in training, doing the things only Felipe can do and we're very happy to have him."
"Considering the performance, we could've had many more goals, for example with Immobile, Sergej Milinkovic-Savic or that save on Felipe Caicedo."
"We knew that Salzburg were tough and had conceded only five goals in the whole competition, but let in four on one night. It was not easy after the 2-2 and the penalty that was awarded against us, but we turned it around with thanks also to this crowd."
"The second leg won't be easy, certainly, but we have what it takes and need the right attitude in Austria. Salzburg impressed me with their performance against Real Sociedad in the Round of 16. A team that loses one out of 46 competitive games is not to be underestimated, obviously. It's just a shame we conceded those two goals." Noted Inzaghi in the Lazio vs Salzburg post-match press conference.
"The penalty shouldn't have been given and the second goal was basically a lucky ricochet. I had told the lads we gifted the first leg to our opponents in the last two rounds and had to do something extraordinary to turn it around. I didn't want us to do that again. We've got the advantage, but Salzburg are even stronger on their own turf and it'll be an intense match."
"When you have players ready to work this hard, I had hope… Lulic and Stefan Radu were returning with only three training sessions in their legs, as they had injuries and didn't really play for two weeks."
So, what did you make of the match and what do you make of the players and manager's comments in the Lazio vs Salzburg post-match press conference? Let us know in the comments below!