Introduction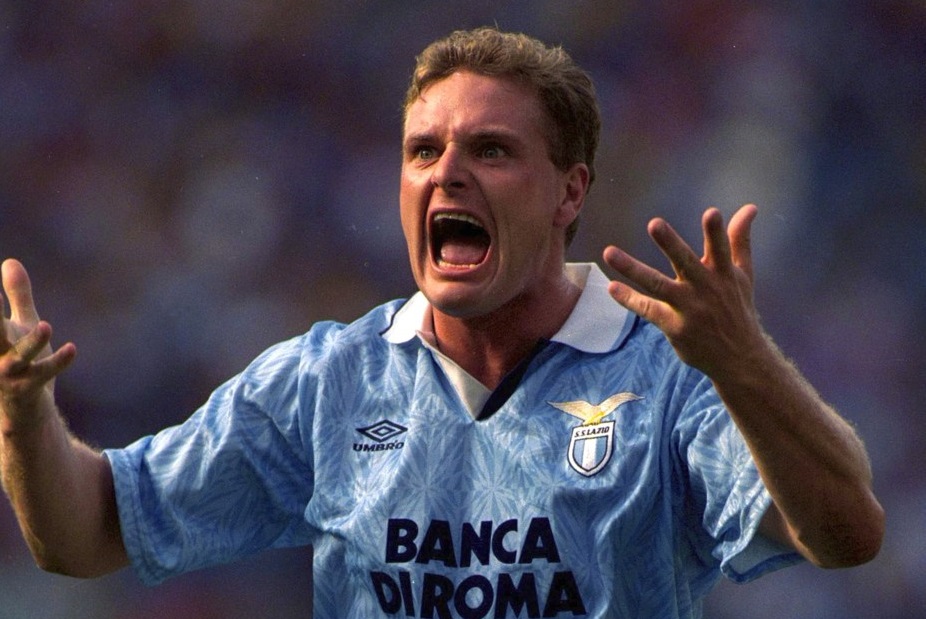 Paul Gascoigne is one of the most charismatic and controversial figures to have ever graced the game of football. Known as 'Gazza', he was born in Gateshead, England and is widely considered to be one of the greatest English midfielders of all-time.
Paul Gascoigne: Career Overview
Paul Gascoigne was born in Gateshead, located nearby to Newcastle, on the 27th May 1967. At the age of just 13, he was signed as a schoolboy for Newcastle United, after failed trials at Ipswich Town, Middlesbrough and Southampton. He spent five years in the youth ranks at Newcastle before signing a professional contract with the Magpies in 1985. After this, he remained at Newcastle for a further three years; playing in 92 First Division matches and scoring 21 times. For the 1987/88 season, Gascoigne was named as PFA Young Player of the Year and in the PFA Team of the Year. This attracted the attention of Manchester United, Liverpool and Tottenham Hotspur, and Gascoigne eventually signed for Spurs for a British transfer record of £2.2 million.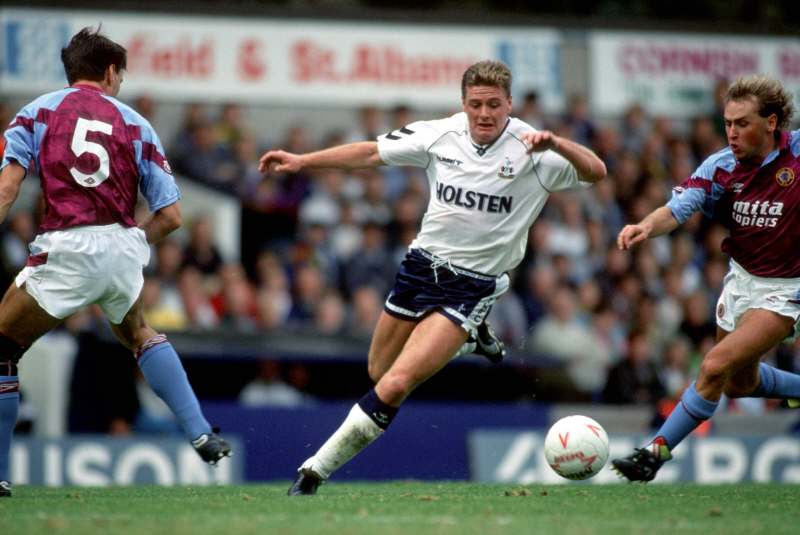 Gascoigne's Spurs finished sixth in the First Division, with the midfielder picking up 7 goals in 37 games. In his next season, Tottenham finished in 3rd place and Paul Gascoigne was named as BBC Sports Personality of the Year. Then came the 1990 World Cup.
The 1990 World Cup was held in Italy and it was here where Italians first would've seen Gascoigne's talent. England finished above the Netherlands, the Republic of Ireland and Egypt. Remarkably, in the six games in Group F, there were just 7 goals, and the group was extremely tight. England's 1-0 win over Egypt in the final game, in which Gascoigne assisted Mark Wright's winner, was the only victory in the entire group. This gave England enough to win the group and Ireland and the Netherlands also progressed to the knockout stage. Gascoigne assisted England's only goal in their first knockout round fixture against Belgium. England's quarter-final clash against Cameroon saw Gascoigne give away a penalty, only to go on and put through Gary Lineker, who won and scored a decisive penalty. The game finished 3-2 to England.
England's semi-final would see them play West Germany in Turin. A goal from Andreas Brehme put West Germany ahead in the 60th minute but Gary Lineker scored an equalizer with ten minutes left. The match went to penalties and England lost the shootout 4-3. It was in this match where the infamous photo of Gazza crying was taken, showing his passion for the match and disappointment at his country's failure.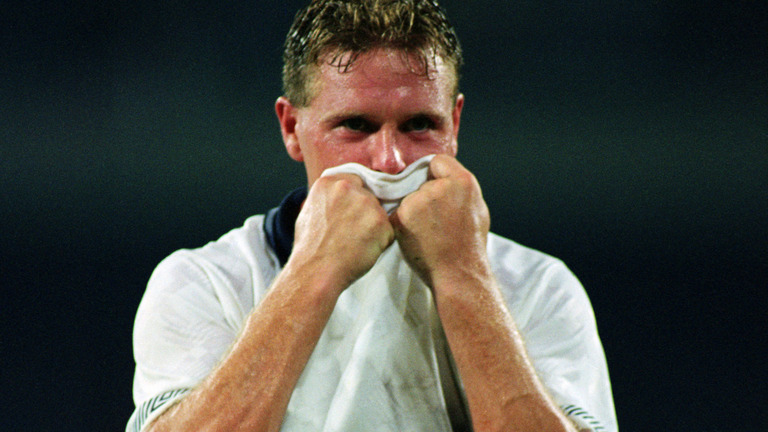 In the 1990/91 season, Gascoigne was again named in the PFA Team of the Year. Gascoigne helped Spurs win the FA Cup, including a 3-1 victory over fierce rivals Arsenal in the semi-final, where he scored the opening goal. Gascoigne had already arranged to join Lazio for £8.5 million when Tottenham played Nottingham Forest in the final. 15 minutes into the match, Gazza went in late on Gary Charles and ruptured his own cruciate ligaments in the process. He was forced off through injury but Spurs won the match in extra-time. His transfer was put off and he spent the entire 91/92 season out injured.
Gascoigne finally joined Lazio in 1992 for £5.5 million. Gascoigne spent 3 seasons at Lazio. His first season was inconsistent but saw him score a goal in his first-ever Rome derby, equalizing in the 89th minute with a header.
This goal speaks volumes on its own. It was November 1992, @Paul_Gascoigne8 playing in his first Rome derby. Lazio were 1-0 down and despite defeating noise and roars from the Roma fans, Gascoigne found the net in the closing moments of the game; the match finished 1-1. pic.twitter.com/SINVJdfUnp

— The Laziali (@The_Laziali) April 6, 2018
Gascoigne helped Lazio finish 5th in 92/93, which meant continental qualification for the first time in 16 years. In the pre-season before the 93/94 season, Gascoigne had put on weight and was instructed by Dino Zoff, who was the manager at the time, to lose two stones or he would lose his place in the team. However, injuries marred Gazza's time at Lazio; he broke his leg attempting to tackle Alessandro Nesta in training. When he recovered, Zdenek Zeman was the manager and Gascoigne di not get on well with the new head coach; Lazio and Gascoigne agreed to split at the end of the 94/95 season.
Rangers spent a record £4.3 million to sign Gascoigne and he would spend three years in Glasgow. He scored in an Old Firm derby between Celtic and Rangers at Celtic Park and instantly became a hit in Scotland. He was named Player's Player of the Year and helped Rangers win the league. They won it again, their ninth consecutive title, in the 96/97 season. The 97/98 season was not a success, however, as Rangers were beaten to the title by Celtic.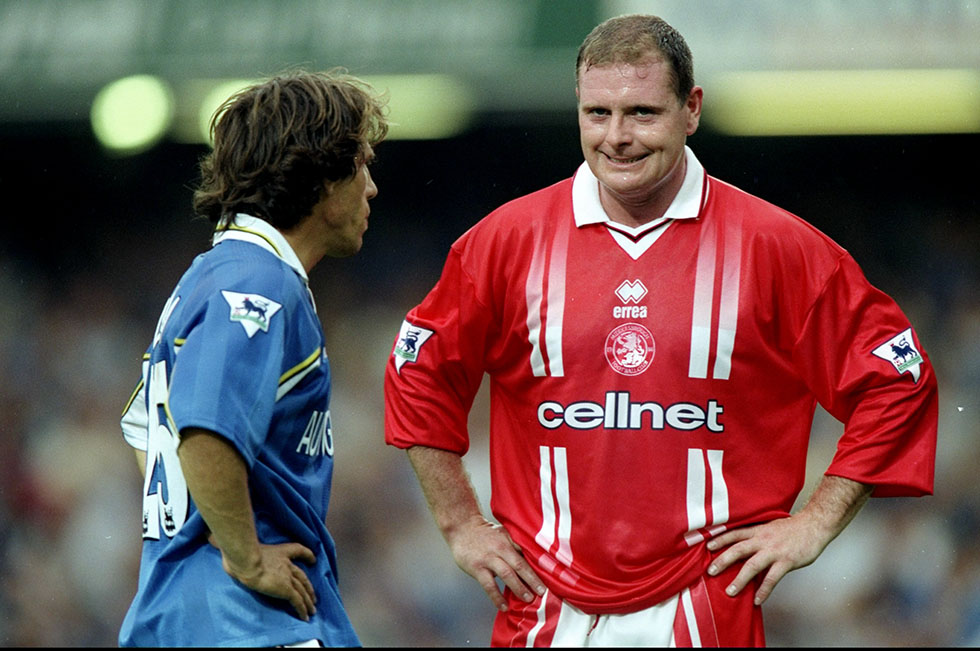 Gascoigne signed for Middlesbrough for £3.45 million in March '98. He spent three years at Boro, playing 41 games but scoring just 4 times. In the 99/00 season, Gazza broke his arm when elbowing George Boateng in the head and his career began to near its end. He spent the next two years at Everton, and then Burnley before moving to China in 2003. He needed to leave China after just 4 games to recover his mental state and never came back.
Paul Gascoigne: Player Analysis
Over his career, Paul Gascoigne played as a midfielder. However, he played in around three or four different roles as a midfielder; with his strengths split up across them.
A playmaker is a player, usually playing as a central attacking midfielder or a central midfielder, whose job it is to launch the attack forward with creativity and strong passing. Gascoigne was a talented passer of the ball, able to play pinpoint balls out to the wings, or through the middle to a central striker. It is often a playmaker's duty to move forward himself and Gascoigne often would, surging through from an advanced midfield position to score or assist. A fine example of this can be found below, in a Serie A fixture between Lazio and Pescara in the 92/93 season. Gazza masterfully takes the ball past six Pescara defenders and slots the ball past the keeper, making it look all too easy while he is doing it.
Finally, the best goal scored by @Paul_Gascoigne8 in a Lazio shirt and one of the best goals scored by anyone in a Lazio shirt ever. It was the 92/93 season and Lazio were playing Pescara, surging through from midfield, Gascoigne took the ball past 6 men, before slotting it away. pic.twitter.com/vmlVBMMB8O

— The Laziali (@The_Laziali) April 6, 2018
A shadow striker is another role that Gascoigne would often fill, specifically when he would be played as a center-forward. Although Gascoigne did not spend much time in this position, his traits made him all too perfect for it. Not only was he a competent dribbler and finisher of the ball, as is seen above, but he was selfless and would often look to pass, not shoot. In the clip below, you can see what I mean. After another of his classic 'Gascoigne surges', he goes through one-on-one with the keeper. Many players in the modern game would try and make the finish themselves but Gascoigne was a team player and would always put the team first. He was passionate about the game, as proven by his tears at the 1990 World Cup.
A goal which shows @Paul_Gascoigne8's attacking movement and selflessness. Here, he surges through from the midfield and passes the ball across goal to a #Lazio teammate instead of trying the shot himself. pic.twitter.com/7ezAk0cLZy

— The Laziali (@The_Laziali) April 6, 2018
Central midfielders and box-to-box midfielders share a lot of duties. They are typically more defensive-minded than attacking midfielders and look to bridge the gap between defense and attack. Gascoigne's exception bursts of speed and fantastic vision allowed him to fill this role competently. It is telling that the next generation of England midfielders (Lampard, Scholes, Gerrard) were so talented, having players like Gascoigne to look up to and learn from. Gascoigne was versatile, being able to play in four primary roles across a range of different tactics and systems.
Concluding Words on Paul Gascoigne
Overall, Paul Gascoigne was a true legend of the game. He was often considered to be one of the best midfielders in his generation, whilst at the peak of the game, and unfortunate later life situations perhaps caused his true peak to never be reached.