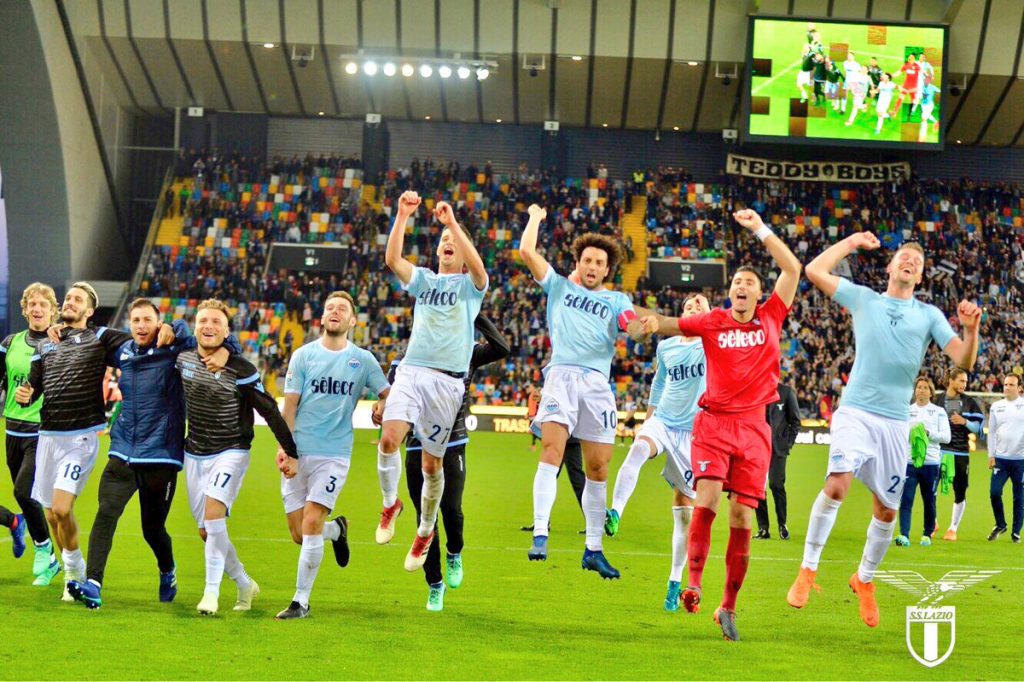 Only seven matches remain in the 2017/2018 Serie A season. Starting back in September, we are now approaching the most crucial part in the season in which passionate and strong sides emerge to end the year. With Juventus and Napoli sitting comfortably in the first two positions, there has been a lot of talk on which teams will be making the final two positions of the Champions League. This has lead to the discussion of third place Lazio, fourth place Roma, and fifth place Inter, as currently only one point separates the clubs.
After a big win against Udinese this weekend, the biancocelesti sit tied in second with Roma, after the giallorossi lost 2-0 to Fiorentina, and Inter lost to Torino by a score of 1-0. This left Roma and Lazio at a deadlock with 60 points, while Inter sit just one point behind them. Looking at the last 8 fixtures ahead Lazio have one of the toughest schedules. The biancocelesti play 6 of their last 7 fixtures against top ten Serie A squads, as well as having Europa League matches between. As for Inter and Roma they both play 4 of their last 7 games against bottom half of the table teams.
With the Derby Della Capitale set to take place this weekend, this could be one of the biggest derby's in over a decade as Lazio try to qualify for the Champions League for the first time since 2008. The only player remaining from that 2008 squad is defender Stefan Radu. The other important game to mark on the calendar is May 20th, the last match day of the season. Lazio host Inter at the Stadio Olimpico in what possibly could be the decisive match for a Champions League spot.
Lazio Champions League Prediction
Lazio has a tough schedule ahead with Europa League and Serie A action, and it makes for a difficult run at third or fourth place. The lack of depth defensively has always been a problem for us – with a possible 10 games coming in the next two months, our defensive core is going to have to play exceptional for the success of the team.
My prediction is that we unfortunately disappoint and miss out on a Champions League spot in the league but manage to pull it off through the Europa League, booking our ticket in next years biggest competition. In my opinion, If Lazio are able to be successful, they need to first defeat Red Bull Salzburg midweek, play the winner of RB Leipzig-Marseille in the semi-finals, followed by either Arsenal or Atletico Madrid in the finals.
What are your predictions on the second leg against Red Bull Salzburg? Will Lazio preserve their lead, or will they fall in Austria? Do Lazio finish in a Champions League position in your mind? Will the Lazio Champions League dreams be achieved through Europa League or Serie A?
Let us know!
https://www.facebook.com/TheLaziali/
https://twitter.com/The_Laziali