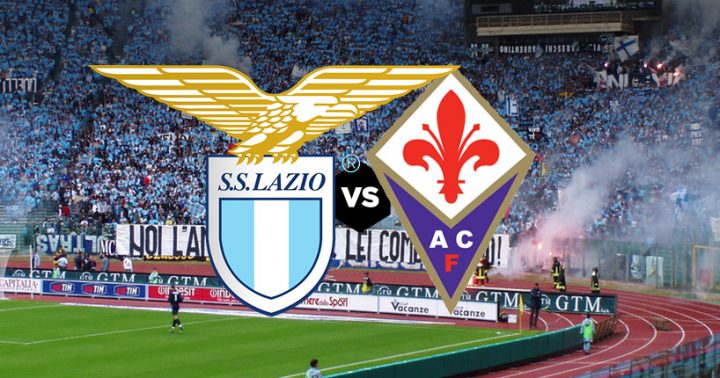 Drama, controversy, and action – these are three words to sum up the Serie A match day 33 of Fiorentina vs Lazio. 
After Fiorentina goalkeeper Marco Sportiello received a red card in the 7′ minute for handling the ball outside the box, Lazio looked set for the rest of the game; ready to dominate and take full control.
However, this man advantage would only last for 7 minutes, as off a counter attack from a corner in the 14′ minute, only midfielder Alessandro Murgia was left sprinting behind Fiorentina forward and winger Federico Chiesa. There was slight contact made between the two, and the winger dropped to the ground. This gave the referee the opportunity to send the midfielder off for Lazio as well, with VAR not even being put to use. Suspicious.
Ensuing from this, was a free kick to the 'Man Of The Match' for Fiorentina: Jordan Veretout. The 25 year old French-man stepped up and put a curling effort over the wall and past Thomas Strakosha to give Fiorentina a 1-0 lead.
It was only 15 minutes later when Jordan Veretout was the man in centre of attention again, as he was brought down inside the box by Lazio's defender Luiz Felipe, much to the disliking and disbelief of Lazio and their fans. There was barely contact made, and VAR was once again not used – would this be another Lazio game in which they would lose due to the wrong-doings of VAR?
Jordan Veretout put the ball in the penalty spot, and finished it calmly, scoring his second of the match. 2-0 Fiorentina… Lazio cannot believe it. After going a man up, they themselves lost a man, and were now two goals down. Would this be the end of their Champions League spot race with Inter and Roma?
Lazio were saved and brought to life however in the 38′ minute when striker Ciro Immobile was brought down outside the box – a perfect opportunity for the Biancocelesti. Luis Alberto, the 'Man The Match' for Lazio replicated Jordan Veretout's strike from the other end, leaving Goalkeeper Bartłomiej Drągowski helpless. A 2-1 scoreline.
After pressing even harder to try and equalize, that goal finally came as off of a corner in the 45′ , Uruguayan defender Martin Caceres rose high, and put the ball in the back of the net. He had scored is first goal for Lazio in fine fashion.
Both sides went into the break tied at 2-2 with a lot to talk about: Lazio had felt they had been wronged by, but Stefano Pioli's viola believed that they should have still been in the lead.
The Biancocelesti came out strong to start the second half, but it was once again an opportunity to Fiorentina that stirred more controversy. A Giovanni Simeone goal called off due to being 'offside'. VAR was used however, and the call stood. Still 2-2.
However, shortly after, it was a day to remember for midfielder Veretout as over a Lucas Leiva turnover, he walked passed Luiz Felipe and slammed a left footed shot past Strakosha. 3-2 to the Viola and a hat trick to the 25 year old.
Then controversy on Lazio's end. Immobile looked to have gotten a penalty call, but it was brought back as well with the use of VAR, as he was deemed offside from the beginning.
Lazio would equalize however in the 69′ after a spectacular piece of skill from Felipe Anderson. 3-3 with 20 minutes left to play. Could Lazio do the unthinkable and win this match?
The answer was yes. Only 4 minutes later, the goal was scored by Luis Alberto after a low cross in from Adam Marusic to put Lazio ahead with 15 minutes to go plus stoppage time.
They fended off the attacks from Fiorentina, and pulled off a huge victory that would put them back into that much deserved third spot in the league.
Mister Simone Inzaghi was sent off after the second goal to Fiorentina for dissent, and he spoke to Premium Sport after the match:
"I train some extraordinary guys, who have a great heart and who give their all on the pitch. The game did not start well, but we never lost lucidity and managed to bring home three points for us that are very important. My expulsion? I said long ago that I would not have talked about referees, but there are images that made me speak – I was only sorry to leave the team without their coach, but I knew that they would remain in the good hands of my deputies. I protested because I think the expulsion of Murgia was not evident and fairly given, but let's move on. These guys never gave up, and every Sunday that passes I am surprised more and more. I'm very happy for this victory. The whole team is moving in one direction."
"If it annoys me that when we talk about the Champions League, Lazio is often excluded? It bothered me when in August it was said that Lazio would not arrive in the first eight: we are here now, and we want to keep playing well until the end and then we will see where we will arrive."
"Luis Alberto approached by Barcelona? I think he can play in any team in the world, but he has just renewed with us: we want to go ahead with him and I think he wants to do the same with us."
Who was your Man of the Match? Let us know in our Twitter poll!
#Lazio #SerieATIM – Who was your Man of the Match in last night's fixture between #FiorentinaLazio? Was it the silky skills of Felipe Anderson? The midfield clockwork of Luis Alberto? Or the unlikely face of Caceres and Marusic?

— The Laziali (@The_Laziali) April 19, 2018