Angelo Peruzzi is widely considered to have been one of the greatest goalkeepers of his generation – no small accomplishment considering the quality of Italian keepers in this period such as Francesco Toldo, Walter Zenga, Gianluca Pagliuca. He was only eclipsed and challenged by a stratospheric Gigi Buffon throughout his tenure as a goalkeeper. Born in Blera near Viterbo, the Lazio legend began of all things as a Roma youth prospect before moving to Verona on loan in 1989. However, after returning to Roma in 1990, Peruzzi was sidelined for 12 months after failing a doping test in 1990-91. Nonetheless, nicknamed "Tyson" and "Il Cinghialone" (the boar) for his mesomorphic, powerful build, Peruzzi went on to have a spectacularly successful career thereafter, spanning 20 years with Serie A clubs Juventus, Inter, and Lazio. In terms of accomplishments, Peruzzi won virtually every trophy possible including a Champions League, a Coppa Italia, a UEFA Cup, a UEFA Super Cup, 2 Supercoppa Italiana, and 3 Scudetti. He also played in 31 games for the Italian National team, back-up keeper to Gianluigi Buffon in the 2006 World Cup-winning team, and in 1997 finished 27th in balloting for the Ballon d'Or.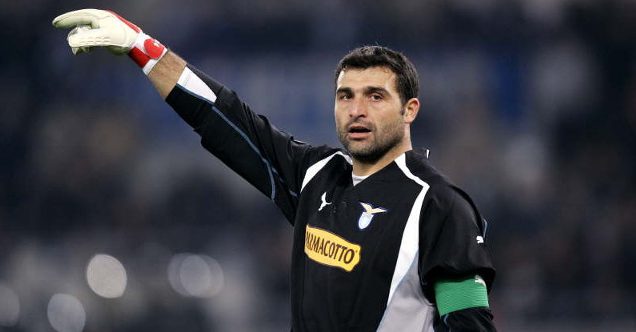 Peruzzi was the antithesis of the flamboyant and unhinged keeper stereotype – a style he adopted from the iconic Italian keeper and two-time Lazio coach Dino Zoff. Instead, he preferred minimalism, the economy of movement and prudence. He was also known for his quick reactions, never hesitating to jump off his line on a corner kick or a counter-attack where there was some sort of danger in his 18-yard box. Though his short and stocky build, he managed to get to every shot, deflecting it past the posts or over the bar much to the surprise of the players and spectators. Other advantages that Peruzzi had to his game were his ability to save penalties, and his positioning.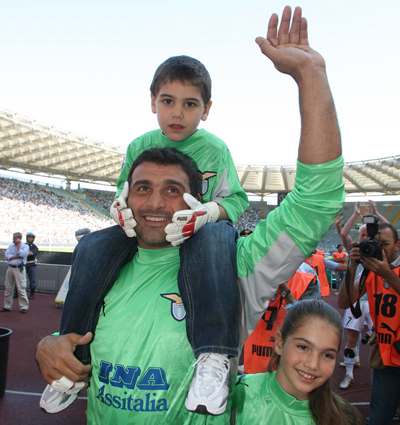 Peruzzi joined Lazio in 2000 following the Capital club's Scudetto triumph the year before. As a former Roma youth product, the switch to light blue and white colors can be extremely delicate, but Peruzzi endeared himself quickly to the Lazio faithful by winning the Italian Supercup in his first game in a Lazio shirt. His stoic professionalism and stellar play turned him into a fan favorite – his play goal-stopping the fabled "Banda Mancini" squad between 2003 and 2004 that turned him into a subject of Lazio folklore. However, Following the dazzling heights of the Sergio Cragnotti era, Lazio was descending into the financial abyss. The team was forced to sell off icons like Hernán Crespo, Pavel Nedvěd, Juan Sebastián Verón, and homegrown Alessandro Nesta to cover mounting debts. The new coach and former player Roberto Mancini took over a squad that in spite of the likes of Claudio López, Diego Simeone, Siniša Mihajlović and Jaap Stam, was given little chance of success. The team shocked Serie A pundits by challenging for a spot at the top of the standings that year, however, playing an attacking style of play. The 3 years under former Lazio player – now coach Roberto Mancini – culminated in a 2003-04 Coppa Italia triumph over Juventus for goalkeeper Peruzzi.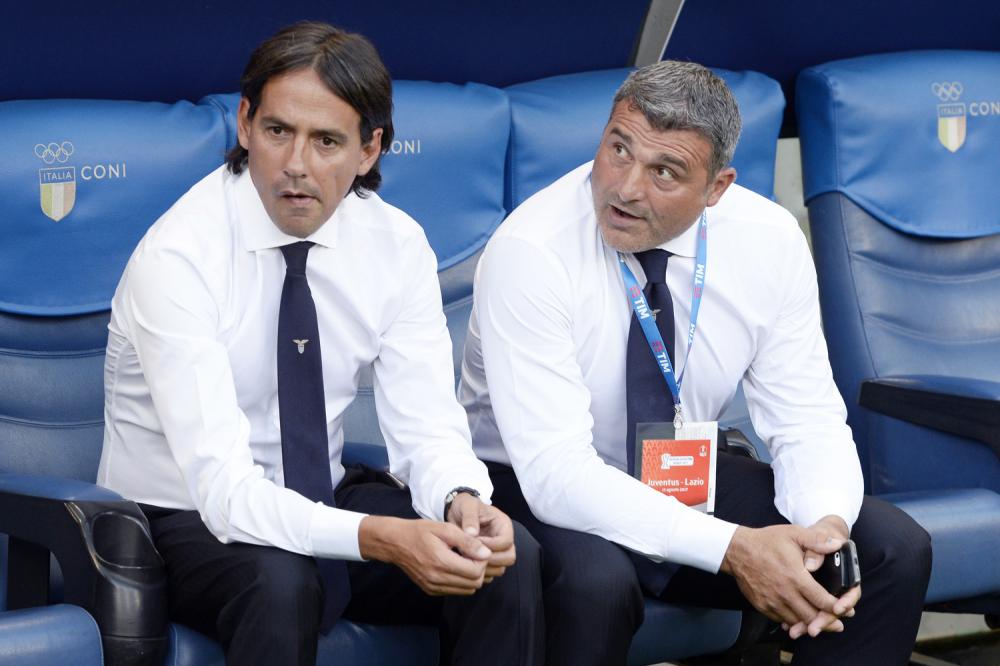 In total, Peruzzi played 192 games for the Biancocelesti until his retirement in May 2007 due to aggravating injuries. Known to many as a great legend, he is not only a great man and player but someone who enjoys the game of football so much that he had trouble leaving it. After his retirement, he had experienced coaching on the National level with Italian youngsters, and at Sampdoria, but only one club remained in his heart truly – Lazio. He accepted a return to Lazio as the club's team manager, where he has now stayed helping the team grow to its much-deserved heights.