Introduction to Player Profile: Felipe Anderson
So far in our series of Lazio player profiles, we have taken a look at Dutch defender Stefan de Vrij, Serbian powerhouse Sergej Milinkovic-Savic, Romanian 'Mr. Consistent' Stefan Radu and midfield guardian Lucas Leiva. This time, we will be focusing on Leiva's fellow countryman, Felipe Anderson.
Felipe Anderson is my favourite current Lazio player; he is technical, skilful, possesses excellent vision and is the beating Brazilian heart of some of Lazio's greatest attacking movements over the past five years.
This profile will see a deviation in the past format; where the focus will switch from a bulky career overview to a more detailed analysis of Felipe Anderson's play-style, strengths and weaknesses.
Felipe Anderson: Career So Far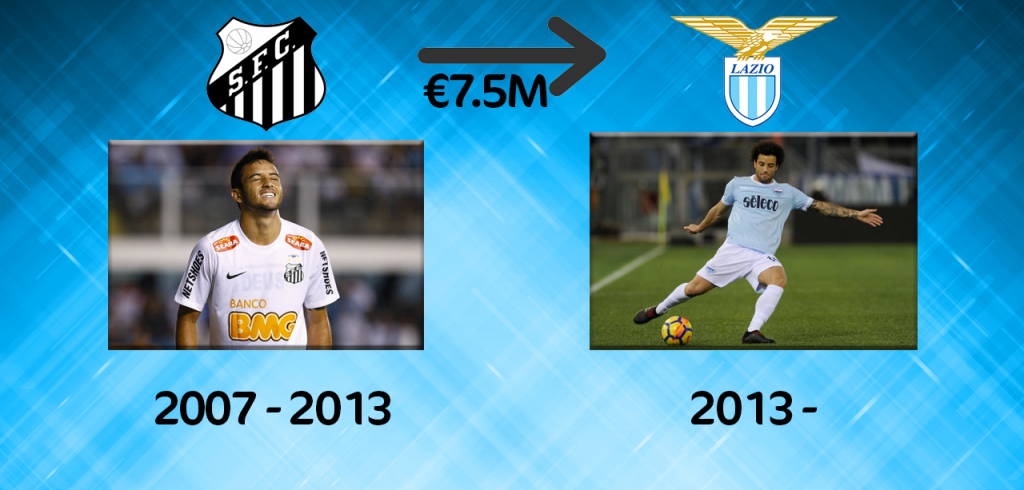 Felipe Anderson's youth career saw him move club four times within the space of 2006-2007, before eventually ending up in the youth ranks at Brazilian powerhouse Santos; who are also famous for producing Brazilian sensation Neymar. After 3 years in the youth setup in Brazil, he broke into the first team, where he would play 61 league games for Santos between 2010 and 2013.
It was in 2013 when Lazio signed Felipe Anderson, for the modest fee of €7.5 million. He has played over 170 games for Lazio since signing and has become an exciting and vital part of Lazio's attack. In that time, he has scored 33 times in all competitions and has survived through various personnel changes in Lazio's team.
Felipe Anderson: Player Analysis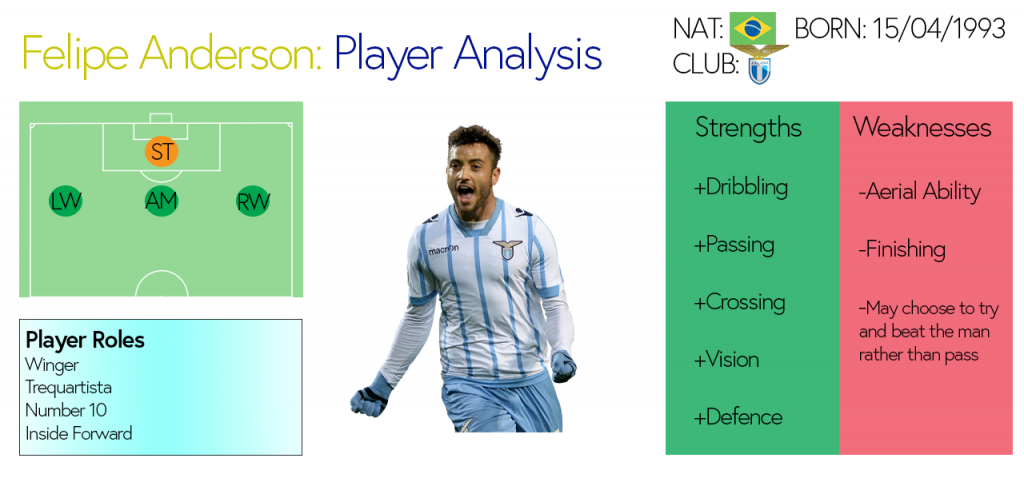 This next section will take a closer look at what makes Felipe Anderson tick. I will be exploring his various strengths and weaknesses, and how they match with the roles that he is often deployed in at Lazio.
Firstly, Anderson is extremely talented in the art of dribbling. As you can see from the video in the tweet below, his close control and agility allow him to confound defenders and produce mazy runs through them. This helps him when deployed as a trequartista, or second striker, in Simone Inzaghi's current 3-5-2/3-5-1-1 system. Anderson and Luis Alberto have been sharing the position, positioned behind prolific goalscorer Ciro Immobile, yet given the freedom to drift out wide if they please. This makes Anderson a formidable threat, able to attack the defence from all angles.
Felipe Anderson has a decent long shot on him, able to hit shots both on the volley and on the ground; challenging even the most talented of goalkeepers. This makes him a useful inside forward when positioned on the left or right midfield, able to use his dribbling to beat opponents, before cutting inside and taking a shot on goal himself. In the 14/15 Serie A season, Anderson racked up 10 goals for Lazio, a career best; showing how dangerous he can be in front of goal.
Felipe Anderson's flair and skill on the ball do make him a useful threat going forward. However, there are occasions where he tries to beat the man instead of playing a clearer, more effective pass. This suggests an air of selfishness about his game; yet there are plenty of times where he has sought out a pass instead of shooting, putting the team ahead of himself. From the clip below, you can see some of Felipe Anderson's skills and how he uses them to create chances for Lazio's other attacking options.
Another key element of Felipe Anderson's game is his pace. Especially prevalent against the often-ageing and 3-at-the-back Serie A defences, Anderon's speed allows him to break away from the defence and either set up goals, or score himself. Additionally, as you can see from the video below, this also lets him win penalties and dangerous attacking set pieces for his side. Pace is the key element of Felipe's role as a winger, when deployed out wide. He can easily beat defenders in a race to the ball, or the byline, and creates all sorts of problems for the opposing team.
Passing is another important aspect of what makes Felipe Anderson such a key player. His vision and selflessness allow Lazio's attacking moves to fall into place. He has a key eye for a pass, able to pick out Lazio's other attackers in the tightest of situations. His movement allows him to create space for himself to pass and then he is competently able to spearhead Lazio's goalscoring opportunities.
All-in-all, Felipe Anderson is an extremely important part of Lazio's side; and surprisingly one of the most experienced in the current ranks. Next season should see Felipe pick up his 200th appearance for Lazio, though the constant presence of big European clubs have loomed over the prospect of his signature. Chelsea and Manchester United have been thought to have been keeping tabs on the winger for a while now and given Lazio's track-record with selling key players, it is a surprise that he is still at the Stadio Olimpico.
Anderson is a talented attacking player, with an extensive skill-set of passing, dribbling, shooting and pace that makes him my favourite current Lazio player; and one whom the Biancoceleste should keep hold of.