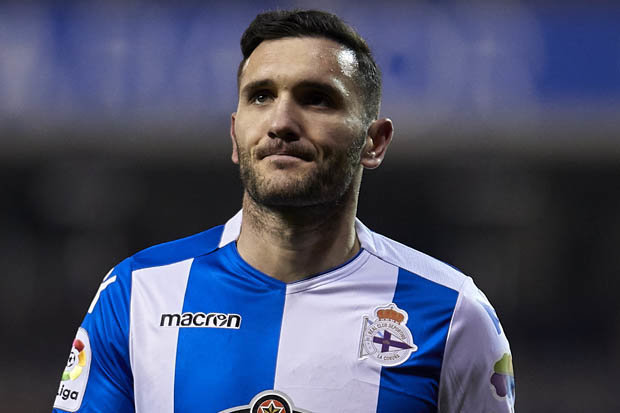 Many believe that Nani will return to Valencia in the summer after his loan spell at Lazio expires. His son is even said to have been saying goodbye to his classmates. The Portuguese winger has failed to impress and his chances might be slim to qualify for the Portugal World Cup squad: not what Nani or Lazio had hoped for with this transfer. Lazio is reportedly looking for substitutes and someone who is able to accompany or replace Ciro Immobile when needed. Felipe Caicedo is a different type of striker that many supporters feel doesn't cut it if Lazio is to play in the Champions League next season.
This time it could be the option that last August was said to be the Plan A (buying a striker) until the possibility to sign a well-known player like Nani came up. The player in question is Lucas Perez at Arsenal.
The Spaniard arrived at the Emirates for £17 million in the summer of 2016 and struggled for first-team football under Arsene Wenger. However, he did still manage seven goals in his 21 appearances in all competitions and showed glimpses of class. But the arrival of Alexandre Lacazette put an end to his chance of playing regularly and he instead returned to Deportivo on a season long loan. The team has sadly underperformed and will be relegated. Lucas Perez has in this process been able to score 7 goals and 5 assists in 33 games in La Liga.
It was actually earlier at Deportivo that Igli Tare studied Perez but also came across the countryman Luis Alberto. The two led the Deportivo La Coruna to a safe salvation, scoring half of the team's total goals (23 out of 45); we know how a part of that story went later at Lazio.
Lazio is now said to be waiting for the championship to end to start to talk with Arsenal to decide the formula (probable loan with right of redemption). It's unthinkable that Perez can remain in London, closed by the competition of Aubameyang and Lacazette. That's why, according to LLSN, Lucas Perez would willingly accept a transfer to biancoceleste.
However, Lazio also face competition from Genoa, but Tare knows the player.
There has already said to be a rough agreement with Perez.
Would Lucas Perez solve the vice-Immobile issue?