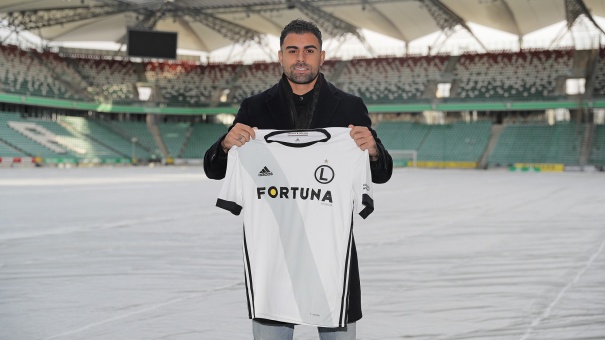 Loan to Legia Warsaw
On March 1st of 2018, Lazio confirmed Brazilian Center-Half Maurício dos Santos Nascimento (known simply as Maurício), has been loaned to Polish League Champions Legia Warsaw until the end of the season. The Biancoceleste defender Mauricio saluted Lazio after being left out of Coach Inzaghi's the squad.
For the defender however, it was a new opportunity to revive his career, showing his capabilities to Lazio in a new league. This was the official statement from the Roman club: "S.S. Lazio announces that it has temporarily sold the player Mauricio Dos Santos Nascimento to Legia Warsaw until 30th June, 2018".
The 29-year-old Brazilian joined Lazio from Sporting CP back in January of 2015, but was sent out on loan to Spartak Moscow in the 2016-17. He returned Lazio over the summer, but failed to make a big enough impact to make it back into the squad, playing just 4 minutes of Serie A football this season.
Approaching the End of the Loan Spell
'Lazio did not let me go', are the words from Brazilian centre-half Mauricio.
Lazio will play for the Champions League in the last match-day against Inter this upcoming Sunday, and from Poland comes the body of Mauricio: the Brazilian defender currently at Legia Warsaw. He tells his biancoceleste experience to 'Lance': "The interest of Lazio matured thanks to my performance at Sporting, where I formed a defensive pair with Marcus Rojo obtaining qualification to the Champions League. I arrived in Italy and the first year was really positive – the second year instead was not nice. There were also changes on the technical level and Inzaghi arrived, but I had no space and when I entered I did not play in my position".
Following 2 transfers away for the Brazilian: "I chose to continue my career elsewhere and I moved to Spartak in Moscow. After my loan, the Russians wanted to redeem me but Lazio again did not let me go. I came back to Italy and I was in the same situation: I did not get onto the field, and then Legia Warsaw arrived."
It is yet to see what is in store for the Brazilian, but with De Vrij leaving at the end of the season, Mauricio may finally be brought back into the squad to help reinforce the team.
What do you think: should Lazio let Mauricio go, or give him another chance?