17/18 Lazio Season Review
I Biancocelesti, have had a memorable season that contained many ups, but also many downs: from the initiation of the season with a 3-2 victory over Juventus for the Supercoppa; to a tremendous run in the Coppa Italia in which they were defeated in penalties by AC Milan over two legs in the semi-finals; to the dominant Europa League campaign in which they topped their group, but crashed over two legs in the semi-finals to RB Salzburg 6-5 on aggregate; and lastly the domestic Serie A TIM competition – their best point-season since they won the Scudetto in 1999/00 (72 points).
Lazio managed to score the most goals in the Serie A this season with 89, beating rivals Juventus by 3, and finished with 72 points, but despite this large point total, they obtained a fifth-place finish – not second, not third, nor fourth – but a fifth place finish.
This has been one of the most competitive seasons that Italian football has seen in years, and the top half of the table depicts this perfectly: Juventus had a troubling time fighting off Napoli for the Scudetto, as though they finished on-top with 95 points, the Partenopei were close behind as they broke their points-total in a season this year (91 points); the battle for the final 2 Champions League spots was tremendous – Roma, Inter, and Lazio were all in close proximity throughout the entire campaign, as each of the three alternated between the third place position – while the underachiever (Lazio) going to the Europa League; and lastly the action from Milan and Atalanta for the remaining Europa League spot.
However, the phrase "what if…"  comes to mind when we talk about Lazio over the course of the season…
'POSITIVES OF THE SEASON'
Supercoppa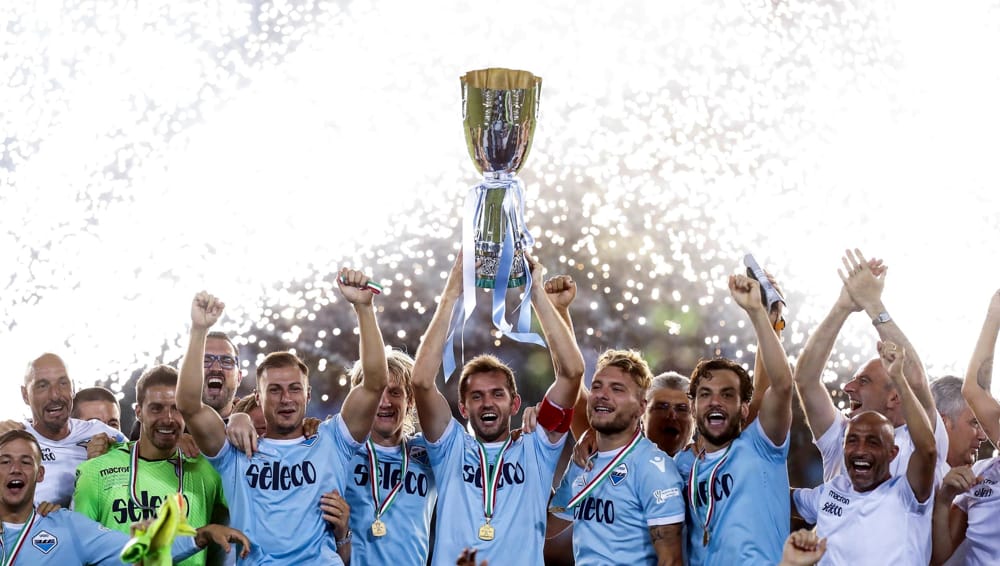 On the 13th of August in 2017, the lights of the Stadio Olimpico were on, and with it came 52,000 individuals – a mix of Bianconeri and Biancocelesti fans.
After a dominant Juve season in 2016, they managed to win both the 2016/17 Scudetto and the Coppa Italia: this meant that their Superco'ppa opponents would be the 2016/17 Coppa Italia runners-up, Lazio.
A night where no one expected a challenge, Lazio stood tall against the Champions. They put three goals past the Old Lady and claimed their fourth Supercoppa title.
Simone Inzaghi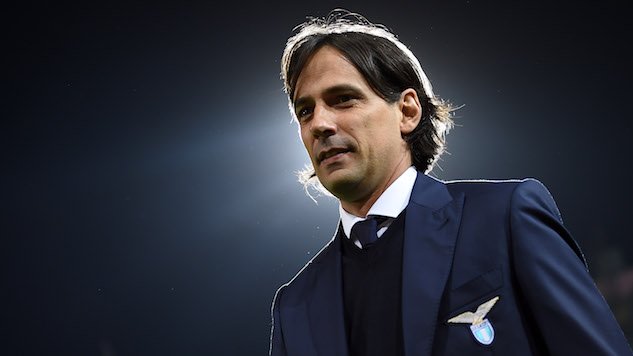 Led Lazio in the right direction from the start of the season with his 3-5-1-1 formation, and sensible coaching. He was able to understand the players needs, and work with each member one-on-one to create unity, helping everyone equally.
A key part in Lazio's success this season, being a true Laziale has allowed the coach to earn the trust and respect he wanted and deserved. The most goals scored by a Lazio side ever, terrific runs in all competitions – Inzaghi was the right man for the job, and continues to be, as he looks to work to improve the side even more next year.
This season the 42-year-old's record consisted of 31 wins, 12 draws, and 12 losses – 55 total matches (56.4% win percentage) and 105 points of 165 points.
Ciro Immobile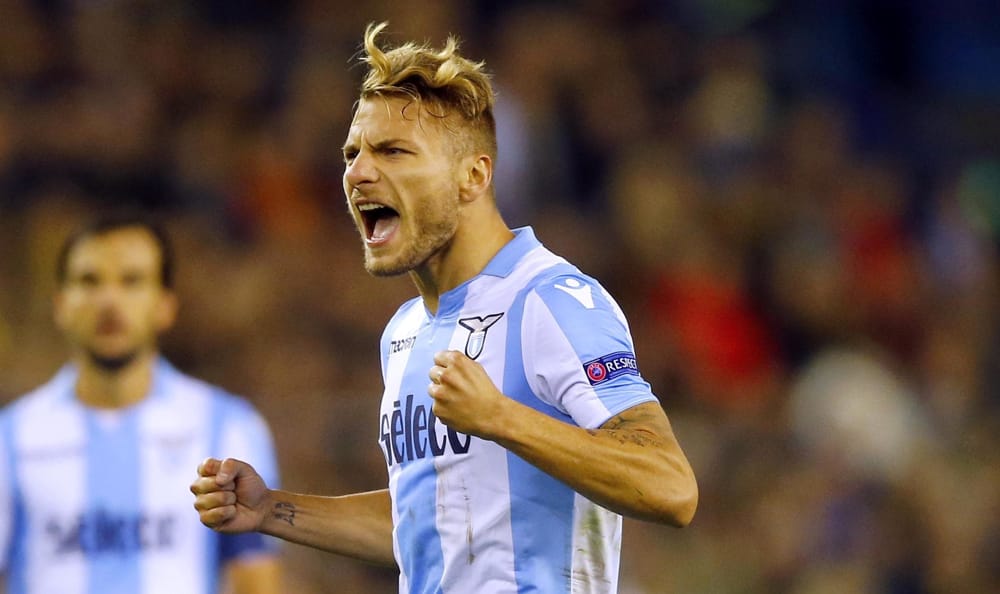 Winner of the capocannoniere (along with Inter's Mauro Icardi) for the second time in his career, scoring 29 goals in 33 Serie A TIM appearances, assisting 9. With this accomplishment, he was also able to break many other records:
best goalscorer in the history of Lazio in the Serie A (29 goals);
the most goals scored in a single season for Lazio (41 goals);
capocannoniere of the Europa League with 8 goals (along with Athletic Bilbao's Aritz Aduriz);
best minutes-per-goal ratio over the past 5 years for a player in the Serie A TIM, with a goal every 119 minutes;
third-best player to win the capocannoniere award twice, with two different clubs (behind Ibrahimovic and Toni);
fourth-best Italian scorer in the history of the Serie A (behind Borel II (32 goals), Meazza and Toni (30 goals)).
Luis Alberto and Milinkovic-Savic 
The best season of their careers, Spaniard Luis Alberto and Serbian Sergej Milinkovic-Savic had extravagant, break-out seasons.
They managed 12 goals and 19 assists (47 appearances), and 14 goals and 6 assists (48 appearances) respectively, in all competitions.
They are sure to be in the '2017/18 Serie A TIM Team of The Year', as well as be hot targets for the upcoming summer transfer window: if a sale is made, we will see the club make a hefty profit no matter the situation. Recently, there has been interest from Barcelona for Luis Alberto, while Manchester United, Tottenham, Real Madrid, and Juventus have been hovering around the Serbian Sensation Milinkovic-Savic.
Lucas Leiva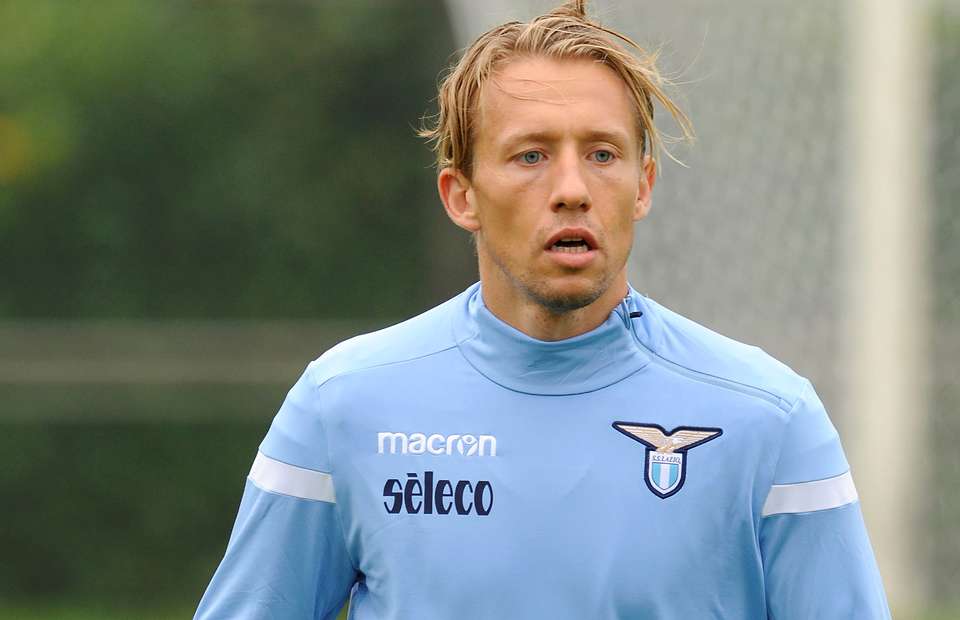 At the age of 31, new recruit Lucas Leiva was able to perform like he had done at the start of his career.
The Brazilian and former Liverpool center-midfielder was a key figure in the starting 11 of Lazio's side: playing directly in front of the back three, he had an average of 2.8 tackles per match in all competitions, and made 49 appearances.
Not only did he give one of the best defensive performances in Europe, he was also able to provide on the attacking spectrum, scoring 4 goals and assisting 5, with an 86.6% pass success percentage. A true warrior and guardian of Lazio's back-end, Tare made the right choice in buying the midfielder.
'NEGATIVES OF THE SEASON'
Coppa Italia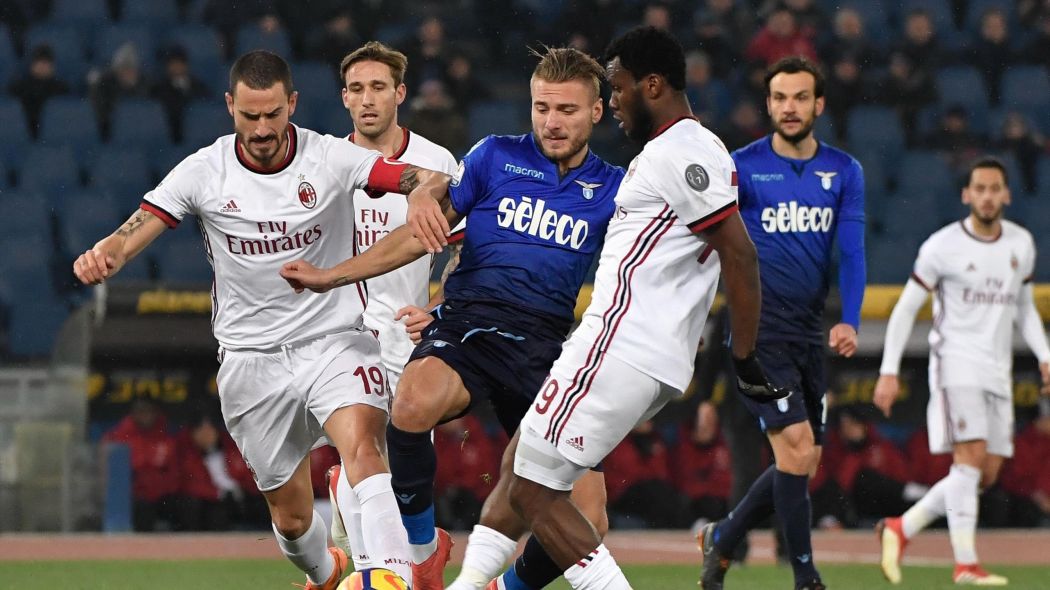 A 'by' to the Round of 16, Lazio were paired up with Cittadella, a Serie B side, that they easily swept aside 4-1. They then moved on to meet the winner of Fiorentina-Sampdoria, in which La Viola came out victorious by a close margin of 3-2.
After an early taken lead with Senad Lulic capitalizing in the 5th minute, the Biancocelesti sat back and defended spectacularly. Though they did not have much possession, they kept a pressing Stefano Pioli side on the outside. Final score: 1-0.
Next, was the winner of the Derby della Madonnina: Inter Milan and AC Milan. A match which saw Gennaro Gattuso's side control the match, they went into extra time where youngster Patrick Cutrone was able to find the only, and winning goal of the match. 1-0 to AC Milan – a scoreline equal to Lazio-Fiorentina.
This is where drama, exhaustion, and disappointment began to pierce the heart's of all Laziali: the semi-final's. Two-leg's, 90 minutes each, with extra time (two 15 minute half's) a deciding factor if both teams were levelled after the 180 minutes of footballing action. After a strong performance at the San Siro in what could have been a victorious Lazio, they headed back for the second-leg at home – the Stadio Olimpico.
As we remember from earlier on, Lazio had made the impossible possible here just a few months prior when the beat Juventus for the Supercoppa – would they be able to continue the streak?
Queue the 120th minute: Lazio 0 – Milan 0. Penalties incoming. Immobile slotted the first shot home, followed by 4 consecutive misses – two from each side (Milinkovic-Savic / Lucas Leiva and Rodriguez / Montolivo). When Brazilian Luiz Felipe stepped over the ball for the 7th Biancocelesti shot everyone in the stadium held their breath. 3…2…1 – over the crossbar. This gave the chance to AC Milan to finish the game, and centre-half Romagnoli made no mistake.
An eerie silence around the Stadio Olimpico, this was the first of many empty feelings to come.
Europa League
After topping Group K with 13 points (of 18 possible), Lazio moved on to the Round of 32 where they faced Romanian side Steaua București. After a 1-0 away loss, it was back to the Stadio Olimpico, this time with the eagerness to win the match and continue in the competition. They accomplished just exactly that: a 5-1 annihilation with a hat-trick from Ciro Immobile to win 5-2 on aggregate.
Their next opponent in the Round of 16? Ukrainian side Dynamo Kiev, a squad with youth and quality under coach Alyaksandr Khatskevich. They gave Lazio a run for their money, but eventually came up short, losing 4-2 on aggregate.
Then, the quarter-final draw: Lazio could have been paired with Arsenal, Marseille, Ateltico, Lyon, Leipzig, or Sporting, but were instead drawn with Austrian side Red Bull Salzburg. A dark-horse in the competition, they were a club who had beaten the likes of Borussia Dortmund, Real Sociedad, and Marseille already in the competition. Yet everyone were astonished when they managed to defeat Lazio 6-5 on aggregate… or maybe it was the fact that Lazio had gone into the second leg up 4-2 (on aggregate) and managed to lose? Both right, yet wrong at the same time.
After scoring the first goal in the second leg, Lazio  went up 5-2 on aggregate in Austria. All looked well, and they seemed to be on their way to a Europa League semi-final. However a 'lack in concentration' led to the worst moment in Lazio's entire season. Right after they had taken the lead thanks to an Immobile goal, Salzburg answered right back with a goal a minute later. No big deal though, maybe it was a fluke. Absolute opposite.
The initiation of the comeback was on the horizon. Over a span of 4 minutes just around 15 minutes later, Salzburg put not 1, not 2, but 3 goals past Thomas Strakosha and Lazio to go ahead not only in the match 4 to 1, but on aggregate 6-5.
Game over. Europa League over. An eerie silence around the club and city of Rome, this was the second of the empty feelings Laziali experienced this season.
Stefan De Vrij and Champions League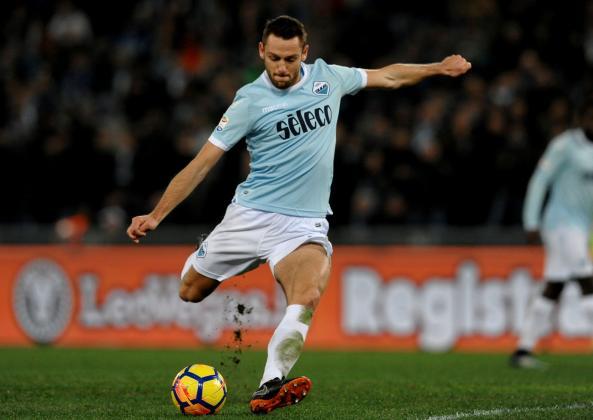 Lazio's number one defender, the Dutchman was the central aspect to a three-part defending formation this season. Bought after the stellar 2014 World Cup performances from Feyenoord, Stefan De Vrij has become one of the best defenders in the Serie A since arriving in Italy: it is sad to say his time at Lazio is over, and that he will be remembered as a 'traitor' to all Laziali. 
After 47 starts in all competitions throughout the year, De Vrij was subject to controversy when he announced via social media that he would not be signing with Lazio next season, even though a contract had been formed between the club and the players' agent. It was then announced that the deal had fallen through: his agency SEG (Sports Entertainment Group) demanded around 6 milion euros from Lazio to close the deal for a new contract for De Vrij, and wanted a release clause of 28 milion euros to be included in the contract.
Enter Inter: Piero Ausilio, Sporting Director of the Nerazzurri announced that, the 26-year-old central defender had put pen to paper on a four-year deal worth €4.2 million per season plus bonuses with only two matches remaining in the season – the final, a duel between Lazio and Inter. This had fans on-edge as Inzaghi remained confident in the player and opted to play him in the decisive match: Lazio were in fourth entering the clash, and needed only a point against fifth-placed Inter to return to the Champions League. However, leading 2-1 with 15 minutes remaining, De Vrij fouled Icardi inside the box to concede a penalty which was converted by the striker on the 78th minute mark. They turning point in the match, Lazio fans were in shock, and just three minutes later Matias Vecino headed in the winner after Lazio captain Senad Lulic was sent off for a second yellow card.
The final whistle blew, and Lazio had missed the opportunity to return to the prestigious European Competition. Fans sat in disbelief – this was the third and final eerie silence around the Stadio Olimpico, and the fingers quickly began to be pointed at one individual – Stefan De Vrij.
'FINAL THOUGHTS'
Some fans have become tired of the Lazio they have watched over the past decade, giving them no credit for the success and accomplishments they have been able to secure, while most stay loyal to the Biancocelesti: "We will still be here days, weeks, months, and years later. These colours do not run, and neither does our faith. Sempre Forza Lazio, e Forza Tutti Laziali!".
Though a season of missed opportunities, there are plenty of encouraging signs: Club President Claudio Lotito is a huge fan of Simone Inzaghi's work, and along with this it looks like he will amend his usual transfer market spending patterns to allow Lazio to grow and make the most of the summer transfer window. However, as with anything in life, with good news, there is bad news to follow almost imminently.
The transfer market looks to be a shaky situation for Lazio, as by missing out on Champions League, many stars such as Ciro Immobile, Sergej Milinkovic-Savic, Luis Alberto, and Felipe Anderson could potentially be on their way out. Something that the club must keep in mind over the next few months. However, Igli Tare continues to be known as one of the most underrated and bright Sporting Directors across all of football.
Looking at Lazio's squad this season: Immobile, De Vrij, Felipe Anderson, Wallace, Basta, and Marusic were brought to the club for less than 10 million Euros each; Luis Alberto, Lucas Leiva, Bastos, Lukaku, Parolo, Radu and Lulic were all brought to the squad for less than 5 million Euros each; and Luiz Felipe, Strakosha, and Caceres were essentially brought to the club for free. The only player Tare has dished out a decent amount of cash on was Milinkovic-Savic, which he knew would be a wanted man in the near future. This leads to the main theory and strategy of Tare: 'buy low, sell high' – any player Lazio happens to sell, they are looking to make a profitable transaction no matter the outcome, and this is all thanks to the Albanians work.
Lazio had one of the most surprising and outstanding seasons they have had in a very long time, surprising not only all of Italy, but all of Europe. A club for the future, the Eagles have been a pleasant side to watch this year and we hope they will be flying high again next season.