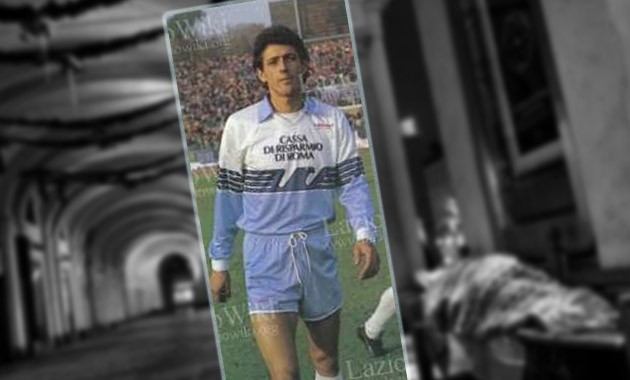 Many individuals carry beautiful memories from the World Cup of 1990 in Italy. You all surely remember the goal sensation Salvatore Schillaci that came onto the field from the bench and created magic for Italy. You can visualize Schillaci's crazy looking eyes when he scored – Italy as a whole experienced what they called "notte magice" (magical nights) when they were watching their Azzurri. But few may know that there there is actually another Schillaci – a "not so fortunate" one, that used to play for Lazio. His name? Maurizio Schillaci, the cousin of Salvatore, who was by many, regarded as a bigger talent than his cousin Salvatore: "Everyone said that I was better than him. Maybe I was, but I surely wasn't as fortunate."
Maurizio Schillaci: Background
Maurizio Schillaci made his debut at the age of seventeen in Palermo and scored 2 goals in 4 matches. In 1983 he moved to Licara where he scored an impressive 22 goals in 66 games. Maurizio was described as the more talented one of the two cousins and the former manager of Licata, Zdenek Zeman, praised the young trequartista. Zeman considered him a "great talent, a phenomenon from a technical point of view". He even tried to obtain Maurizio when he left to coach Foggia in 1986, but the deal fell apart. The reason? Lazio bought Maurizio. Maurizio had himself described it as a dream come true to play for a top club and obtain a good contract. However, with the Biancocelesti, he scored just 1 goal in 11 games, and sadly became injury-prone, never really making himself justice at Lazio. He even got the nickname "the mystery player" because of all his time on the sidelines. It was a very difficult year when Schillaci came to Rome – not just for the player, but for the whole Biancoceleste team – as the club were relegated to the Serie B with a penalty of nine points for their involvement in the "Totonero-bis" scandal. This was a handicap that forced the team of Fascetti to the playoffs to avoid relegation in Serie C; they were saved by the goal of Fabio Poli in the decisive match against Campobasso to remain in the league.
Downfall
Maurizio was then sent on loan the next season to Messina – the team former coach Zeman was at, and where his cousin Salvatore was currently playing – and later Juve Stabia before his career fell down in the lower divisions back to his old club Licata. His career never took off again because of injury problems, depression, alcoholism, and drug abuse (cocaine and heroin). He later lost his family and the custody of his children and ended his career with no money, no family, and no friends. He also nearly died because of an overdose when he was injecting a gram of cocaine into his vein.
Maurizio Schillaci has since then lived on the streets of Palermo where he is sleeping in the railway station. He is also now on a methadone program. Before this downfall, he worked for a while on "Toto's" football school, but he quitted since his pay of 300.000 Lire a month did not cover his expenses, and because the parents of the children he was coaching often made remarks that they "did not want to take their kids to an old heroin addict". Hurtful comments for Maurizio, who felt judged and ashamed. The two cousins do not seem to have any contact today – Maurizio has said that the only friends he now has is "the homeless that I share bread and a bed with". He also has no contact with his two daughters: "No, let's say I am also avoiding contact because I can't even invite them to lunch."
On the 1st of December in 2014, the documentary "Fuorigioco" was released. The film is written and directed by Davide Vigore and Domenico Rizzo and portrays Maurizio's life on the streets of Palermo.