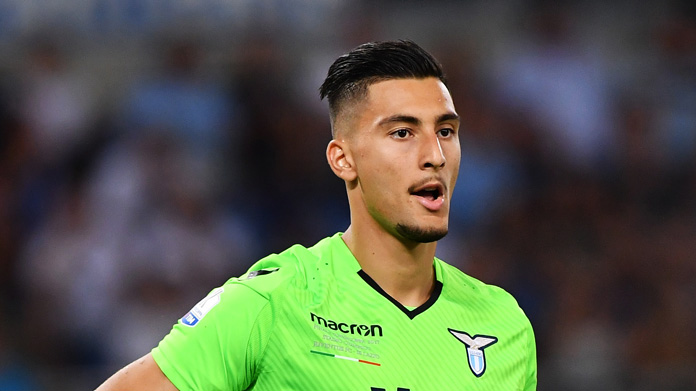 Liverpool, indeed, have already reached for the cheque book over the bank holiday weekend – completing the signings of Fabinho and Keita. Aside from general squad-strengthening such as this, though, is the pressing and now very visible need to invest in a top-quality goalkeeper to compete for honours next season. Strakosha has quietly and efficiently worked his way up to this status after unseating Marchetti at Lazio, and would certainly represent an upgrade to Liverpool's current squad. It is being reported that Strakosha could cost €30m, a significant return on the approximate €75k spent by Tare, and a reflection of the need for Liverpool to invest heavily in the position.
Today, these reports have re-emereged
While Lazio has almost completed the purchase of current Olympiakos and Belgian goalkeeper Silvio Proto as reserve goalkeeper for next season, Il Messaggero today on newsstands takes count of the situation linked to Thomas Strakosha. According to the newspaper, Liverpool continues to be on the tracks of the Albanian goalkeeper and have an offer of 30 million euros ready for Claudio Lotito and the club of Lazio.
After a nightmare of a Champions League final for The Reds German goalkeeper Loris Karius, and Belgian Simon Mignolet phased out of the team already, Liverpool have been on the hunt to sign a new keeper, and the biancocelesti player is one at the top of the list.
After improving the squads depth and quality with the signings of Roberto Firmino, Sadio Mane, and Mohamed Salah in attack, Fabinho, Seydou Keita, and Alex Oxlade-Chamberlain in midfield, and Virgil Van Dijk in defense – the back end of the squad is where real confirmation of success has been lacking.
Before the signing of Virgil Van Dijk, Liverpool looked uncomfortable playing from the back, but knowing that there was now someone able to look after the incoming runs, and fend off attackers with the Dutchman, the team improved significantly.
Simone Mignolet had his hot and old spells, which lead to the signing of German keeper Karius on the 24th May in 2016, on a five-year deal. He was given the chance to shine at Liverpool and somewhat failed to do so, as after two sub-par performances throughout the season, Klopp replaced him once again with Mignolet.
The starting position for a goalkeeper has been a very big issue for the side in recent years, and it is now it is up to the club and coach Jurgen Klopp to make a move for a keeper quick before contracts are renewed, and other parties swoop in for a deal.