Prior to the 2015/2016 season, it would be hard to say that many Serie A followers were interested in Diego Laxalt. That is to no surprise as there isn't much to talk of his career prior to that season, as he was mainly bench warming for Empoli, peculiarly finding himself on Genoa's right wing for a game against Roma. However, his last three seasons at Genoa have seen a spark, one which could be the beginning of a meteoric rise to fame; given his diverse skill set.
Of Uruguayan nationality, Laxalt passed through the youth squad of Defensor Sporting until being picked up by Inter Milan in 2013. For three years, Inter loaned him to several teams until he finally found his way to Genoa in 2015 – and was signed permanently in 2016. In this time, he also made a debut with the U-20 Uruguayan squad.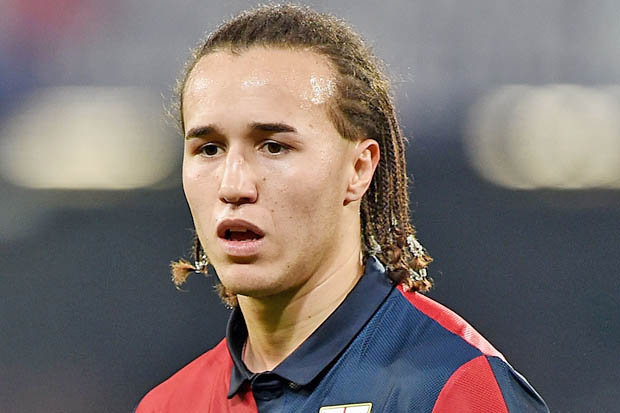 Style of Play:
The majority of Diego Laxalt's game is not based off of his ability to set-up his attacking teammates with great crosses; it begins with the ability to open up the opposition defence to such plays. His dribbling is typically enough to beat other midfielders, and shot accuracy is strong enough to worry the keeper. Naturally this drags defenders out to his wing (even off the ball), leaving holes for him to fire into the box; with typically only one or two defenders left.
He heavily favours driving deep on the opponents wing, giving him a good field of vision so he can play balls into the box with ease. However, he has been known to make crosses from far behind this area.
Laxalt teeters on the edge of what some Italians might call a "dribblomane", or a player who likes to play with the ball at his feet too often. However, he doesn't seem to have a bad habit of keeping the ball with him for longer than he needs to when attacking. Mostly thanks to his keen vision and awareness of the defenders.
However, don't expect Laxalt to destroy players with blistering speed, his game is much more mental and loves outplaying the opponent to make the play he wants.
Strengths:
Diego Laxalt is seen as a left midfielder, with strong crossing ability but with a unique added bonus of great defensive contribution as well. Though his Serie A passing completion hangs around 72%, for Uruguay his passing completion against Russia was 79%. Leaving somewhat of a question on whether his passing weakness is truly his own, or a function of Genoa's untidiness on the pitch.
Laxalt also possesses an incredible first touch and ability to play the ball almost immediately, even under pressure.
With great crossing ability comes a young but potentially beautiful visionary trait; if nursed correctly. Laxalt also has a special knack for seeing holes in the defence before they are there. Exemplified during the game against Juventus on August 26th. He nearly had a goal scored (which would've given Genoa 3) after dribbling through Pjanic, Matuidi, and shooting through a narrow space between Rugani and Lichsteiner. The ball narrowly beat Buffon, but it was a hair too wide.
Laxalt would also be one of the stronger duelists were he to join Lazio, winning nearly ~43% of his duels, according to squawka.com.
Weaknesses:
While Diego Laxalt is great at keeping possession when attacking, he lacks the same ability when trying to hold onto the ball. So, though he can contribute to defense, it would be best to recognize that he should not keep the ball for long in the defensive half.
His aerial skills could also use some work, to help contribute to defending against dead ball situations such as corners and free kicks at the goal mouth; as well as whilst attacking or regaining possession. In fact, this may be one of his more concerning weaknesses as skill in this area is best learned early on in one's career. Laxalt is already 25 and improvement here is more difficult than the other areas mentioned.
As mentioned above, his passing is a bit of a question mark. Whoscored.com lists passing as a weakness of his. However, this season being his first year as a starter on a 1st tier team, which had less than average results, leaves one to wonder if that is entirely Laxalt's fault. Only two teamates had similar play-time as him with higher pass completion, Bertolacci and Zukanovic, both being older as well.
International Performance:
Interestingly, whilst Diego Laxalt is played primarily as a left-sided wing-back by Genoa, several times under the Uruguayan national team he has been deployed at left full-back, almost as much as he has been as a wing-back or midfielder. This makes him an interesting player, with obvious defensive skill though he is recognized as a midfielder. In the International friendlies, in which Laxalt was played at LB, and the 2018 World Cup game against Russia in which he played 90 minutes, the team did not concede a single goal.
This is important for Lazio as a decent replacement on the left for Lukaku is desperately needed, should the Belgian leave, especially one that contributes more effectively to defence while not sacrificing crossing ability (something Durmisi is weak at).
How he fits into Lazio:
Diego Laxalt is one of the potential best fits in this transfer window for Inzaghi's 3-5-1-1 as he contributes defensively while being a massive offensive threat as far as midfielders go. That skill comes with a price though, a probable €13 million chunk, according to TransferMarkt.
Laxalt would most likely be played as LM or LWB during his tenure at Lazio. More than likely he would be a play-maker of the team, possibly set to take the mantle from Savic (depending if he departs). More than that, he adds power to the already stacked Immobile who becomes a hyper-lethal finisher unless the defense throws more than a couple capable duelists/defenders in Immobile's way.
Due to his ground dueling ability, he is also able to help Immobile get past players that Immobile struggles with. While Immobile is great in the air, he is not so much so when dueling on the ground, and Laxalt is an important piece to seal this hole.
It's no doubt he would be a massive upgrade from Lukaku who lacks stamina to perform beyond 30mins of game time. Lotito would be wise to pay what Genoa ask for, as it is only a matter of time before he is snapped up.
If you like what we do, support us on Patreon. We ask for just the price of a cup of coffee each month to help us cover the costs involved with running the website!
For more reports, exclusive news and features, visit our homepage!