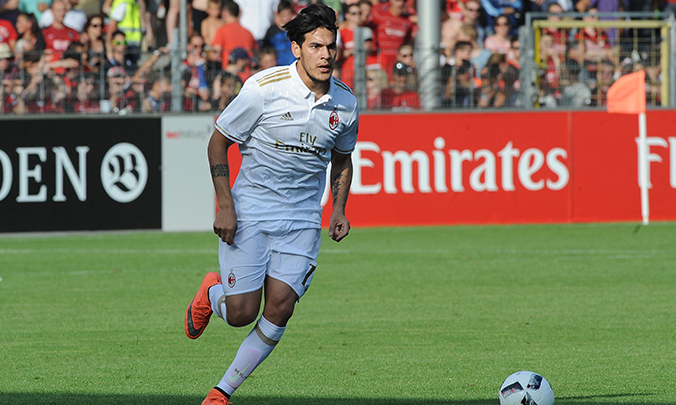 The first ever Paraguayan footballer to ever play for Milan, Gustavo Raúl Gómez Portillo (known simply as Gustavo Gómez) came to the Serie A TIM two years ago in the summer of 2016. The now 25-year-old centre-half firstly played for Libertad in his native land, before moving to Argentina to play for Lanús from 2014-2016. The 6'1 defender impressed in the league, leading to Milan knocking on the door for his signature.
In his first season, Gómez played in 19 matches for the Italian club, starting 11. Though he picked up 4 yellow cards, he played well having an 86.6% pass success percentage. Milan finished in 6th in the league, whilst earning the right to try to qualify for the Europa League (which they successfully did). However, in the summer of 2017 when Milan went on an overhaul, buying multiple players to try to improve the club, Gómez was left out of the equation for the 2017/18 season. This was enhanced with the purchase of defender Leonardo Bonucci, making Gómez the fifth choice center-back. The Paraguayan only had 10 minutes of footballing action in all competitions last season, and he was now looking to move on.
The speculation was that the player wanted a return to Argentina, and it was all said to be done – even the medical visits had been completed (earlier in the week). Gómez after months of negotiations was set to join Boca Juniors – Milan had given the green light for a 6 million euro deal, plus 20% on a future resale. However, after his medicals yesterday, the Paraguayan did not appear in the Boca juniors headquarters: there was said to be a technicality in the contract between Gómez and the Argentine club that infuriated the player's agent.
This has now lead to Lazio joining the race for Gustavo Gomez: there has been contact with Milan and given the problems with Boca Juniors, Lazio is hoping to swoop in for the player. The Rossoneri, however, have an agreement with the Argentinians and hope that it will be respected. We will see what is to come in the following days.
If you like what we do, support us on Patreon. We ask for just the price of a cup of coffee each month to help us cover the costs involved with running the website!
Follow us on Twitter!
Like us on Facebook!
For more reports, exclusive news and features, visit our homepage!