To say that the Cyprus National Team is lack-luster would be putting it mild terms. The small country is not known for its strong footballing presence, but as of late has seen a slight up-turn in the quality of players. Included in this group, is Konstantinos Laifis. A natural left-center back, Laifis can potentially be deployed as a left back or midfielder, though the midfielding role would be a drastic change to his gameplay.
Laifis grew up playing tennis, but later moved on to football, going through Nottingham Forest's youth academy. He would bounce around between clubs until he landed at Olympiakos in the Greek Super League. However, he would only be in Greece for a week before being loaned out one week later to his current club in Belgium, Standard Liege (Juniper Pro League). Laifis has represented the Cyprian national team on 21 occasions and in all competitions, the defender has 12 career goals.
We will now take a dive into the player who has drawn interest from clubs such as Fiorentina, Torino, Bologna, and now Lazio.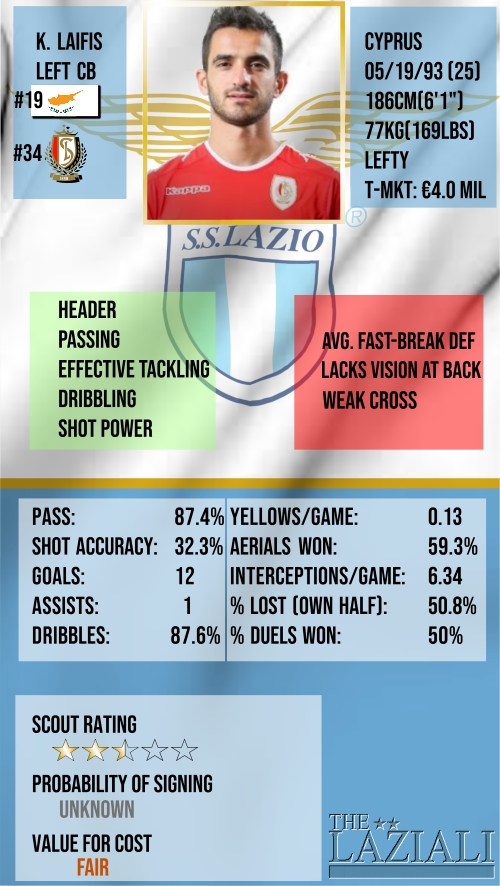 Playing Style
Laifis is not the tallest defender we have scouted (6'1″) but he does have one of the most powerful and accurate shots. His passing is particularly keen, though there is not much actual play-making that comes from the center-back. He seems to have a more offensive aspect to his defending play and that is through his strong dribbling and heading ability. A sturdy player, Laifis is of the 'workhorse' type and regularly sets himself up in 'off-the-ball' situations. Particularly during dead-ball situations, he likes to shift his marker several times before the ball is played in. He does not tend to lose focus, making him a more cool and collected leader.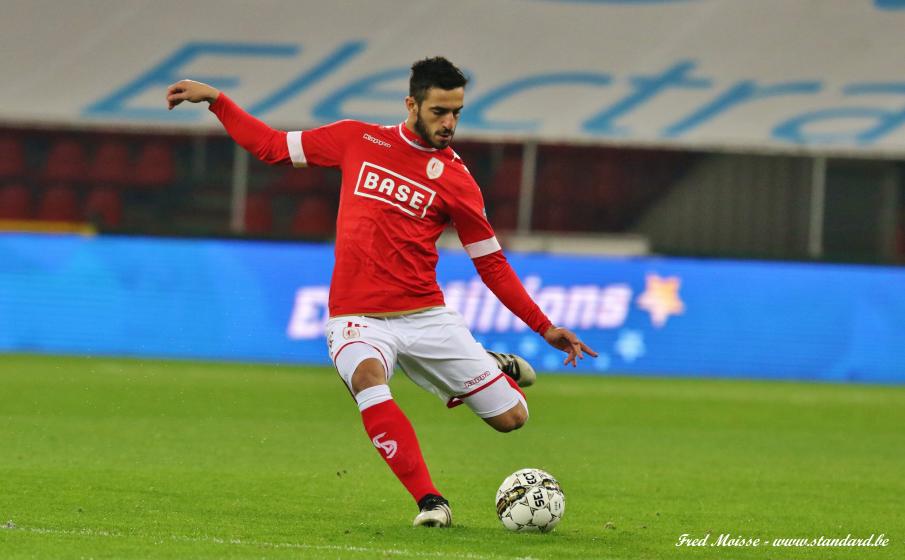 Strengths
Somewhat surprisingly for a defender, Laifis has very strong dribbling skills with a career success rate of 87.6%. He also has an incredible 87.4% pass completion, and wins about 50% of his aerial duels. He is not afraid to take down a player, but despite this, he manages effective tackles without collecting too many yellow cards. In addition, he has around 6 interceptions a match. All in all, Laifis has some important tools that could be put to very good use for Lazio.
Weaknesses
While his strengths display great traits, Laifis has some areas that require work, one of which being an 'average' reaction time to fast-breaks. This is something that Lazio cannot afford going forward – many Laziali can recall the game against Red Bull Salzburg as an example of this weakness. Laifis also lacks a crossing ability, with only about 11% being accurate, and furthermore there does not seem to have a good sense of vision. Getting the ball to move up the pitch from the back is a valuable tool with Inzaghi's setup and the fact that Laifis lacks the ability to do this, is a worrying thought.
How Laifis would fit in at Lazio
Laifis should not be expected to fill De Vrij's shoes. He is not currently near that level, nor does it seem that he ever will be. However, in Laifis, Lazio can find a confident center-back capable of starting a healthy number of games against teams like Atalanta and Fiorentina. This is something Inzaghi lacked in his squad having to play nearly the same starting XI every game, making the cracks in the Eagle's defensive more than obvious. More than likely, Laifis would be setup as a regular substitute for one of the current starters, and can possibly be used as a secondary starter in the less important games. Should Caleta-Car go to Sevilla, Lazio would be wise to sign the player for the fair pricing of 4 million euros. However, the options of Sven van Beek, Caleta-Car, and Diego Reyes should be much more tantalizing to Lotito. Each of which are not only better deals for their price, but have better experience at the club level.
If you like what we do, support us on Patreon. We ask for just the price of a cup of coffee each month to help us cover the costs involved with running the website!
Follow us on Twitter!
Like us on Facebook!
For more reports, exclusive news and features, visit our homepage!