Of the transfer targets rumored for Lazio, few of them are as controversial as Fabio Borini. In that, I mean there are few targets that have such a well-defined line of either hating or loving the idea. Borini spent some time in the lime-light when he was transferred to Liverpool in hopes of being one of the "big players" to come out of Italy and show his quality in the Premier League. That unfortunately proved to be a failure and he had a few seasons of poor performances. However, his return to the Serie A TIM at AC Milan has seen a return to form: while he has not captured the headlines with his brilliance, he has had a surprising turn of solid performance and most fans have noticed this. Today we will be taking a look at the potential signing of the 27-year-old Italian Left Winger from Bentivoglio in the region of Emilia-Romagna.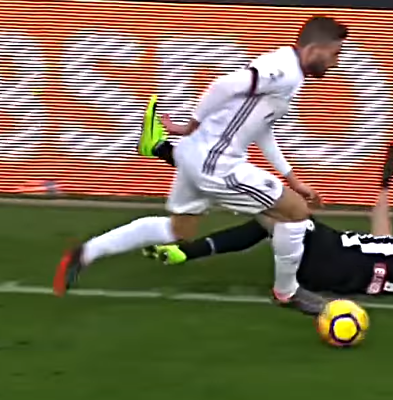 Style of Play
Borini is a very physical and speedy player, with a versatile skill-set allowing him to be deployed as either a winger, midfielder, or full-back. He also likes to duel quite often, having an average of 20+ dueling situations per game (according to wyscout).  You can expect Borini to cross from just past the mid-line of the pitch, often deep towards the box in the center of the goal. If he does drive up the wing, he is likely going to try to shoot. With an on-target rate of 44%, he has a statistically reasonable choice to do so. Though you can not expect him to get more than a couple of opportunities to shoot a game, Borini does try his luck often, and thus scores no more than a handful of goals per season.
Strengths
Typical of Italian wingers, Borini has incredible ball control and pace. His first touch may indeed be his greatest asset. Place that along with his speed on and off the ball, you then get a real threat on the right-flank. In addition to this, Borini is gifted at regaining possession in the opponents half, something Lazio could greatly appreciate. According to wyscout.com, Borini recovered 5 balls a game on average. With an offense with Luis Alberto and Ciro Immobile, any recovery on the opponent's side of the pitch nearly guarantees a clear opportunity for the attacking men. Crossing seems to be quite a strong asset for the winger, like aforementioned, with an average of about one of three meeting the target. Knowing that he tries at least two to three crosses a match, you can expect to see Borini making key crosses when he is played.
Weaknesses
Borini has had trouble performing in the past for a reason. Unfortunately, he is an injury prone player: he missed ten games straight two years ago at Sunderland due to a groin injury. The season before that, he missed two games due to some nasty bruising. The past season at Milan saw an injury free season, but he was also not used as a regular starter in the second half of Serie A season. For being an offensive player he lacks the short passing accuracy most would prefer, hanging around 75% success rate. It is no coincidence that this directly hurts his ability to land direct assists to the forwards. Though he is a versatile, Borini has not had a large amount of experience playing in a wing-back position for a full 90 minutes. This may be a concern given Inzaghi's system, but he does have strong defensive contribution, so it might not be too much of a weakness.
How Borini would fit into Lazio
Borini would be used on the right flank beside a center midfielder, and above the three center-halfs. In a 3-5-1-1, Inzaghi will likely use Borini's diverse skill set to help add extra filtering to the midfield and full-back zones and on attacking positions he will be a great option to move the ball up the pitch to Milinkovic-Savic or Luis Alberto through deep crosses into, or in front of, the 18-yard box.
If you like what we do, support us on Patreon. We ask for just the price of a cup of coffee each month to help us cover the costs involved with running the website!
Follow us on Twitter!
Like us on Facebook!
For more reports, exclusive news and features, visit our homepage!