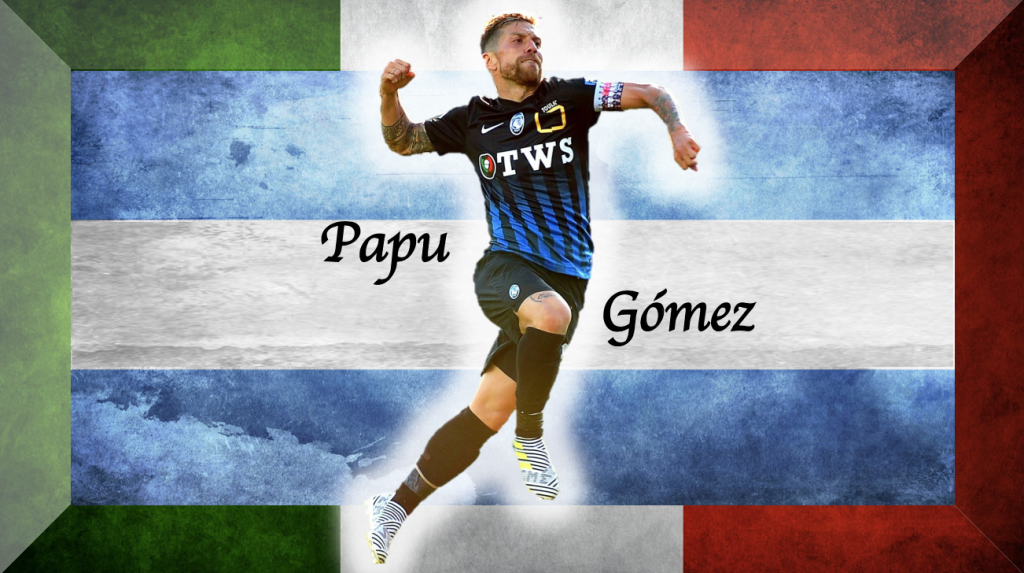 Alejandro Darío Gómez, known to many as Papu or Papu Gómez, is an attacker for Serie A TIM Bergamese side Atalanta. Today, @S_K_MOORE and @AtalantaNow will provide an analysis on the player who is said to be Simone Inzaghi's main priority to fill the 'Felipe Anderson gap' in attack at Lazio.
Background
Born in Buenos Aires in Argentina, Papu has dual-citizenship (Argentina and Italy), as he married an Italian woman. Now 30-years of age, Papu has been spotted and scouted by many in Europe since joining Catania in Italy from San Lorenzo in 2010. After 106 appearances, 16 goals, and 3 years with Gli Elefanti, he went on a brief stint to Ukraine with Metalist Kharkiv after the Italian side were relegated. However, he opted for a return just one year later to Italy, and joined the Nerazzurri. This is where he has been able to become a popular footballer and a fan favourite in the Italian football league: he has been extraordinary for the club, who have now given the Argentine the Captain's armband. Many teams have approached Atalanta for Papu's signature, but the most recent and returning interest is that of Lazio. €15 million is the dollar value that the biancocelesti must offer to acquire the experienced player according to Il Messaggero, Gianluca Di Marzio, Cittaceleste, LaLazioSiamoNoi, Il Corriere della Sera, and many more. One question stands in the way of making this deal a reality however: is 15 million euros 'too much' for a 30-year old footballer?
Option 1: Dismiss the opportunity to sign Gómez 
Gómez will be turning 31 in February and this of course is the most worrying feature for all Laziali. After the sale of 25-year-old pacey Brazilian attacker Felipe Anderson for around €40 million, fans expect and hope to reinforce the squad with not only a footballer of quality, but a footballer that will be able to become a part of the team for multiple seasons, just as Felipe Anderson and so many others have managed in the past. This leads me to believe that signing Papu would be strictly for a Champions League push, trying to compete with the likes of Juventus, Napoli, Roma and Inter for a place in the top 4. An attack consisting of Immobile, Gómez, Luis Alberto, and Milinkovic-Savic is quite impressive, but would obtaining the player for around 2 seasons allow Lazio to accomplish this goal of playing in the Champions League? In addition, is the topic of exactly that – the Champions League. Papu's only experience in European competition is from last year in the Europa League – 7 total matches to be exact over his entire career, resulting in a disregard of how he will play against other top clubs around the world. Lastly, there is small discussion surrounding his size: he is one of the smallest players in football at a surprising 5'5″. However, as we have seen his performances throughout his many campaigns in the top flight of Italian football, this should not be a worrying factor.
Option 2: Sign Gómez
Steven asked @AtalantaNow – a fan-made twitter account following all news Atalanta – about the qualities and traits of Papu Gómez. Below are the questions from one of The Laziali's founders, and the accounts answers which provide why the player 'ought to be signed'.
Why has Gómez been able to find success in the Serie A TIM?
Papu's game is very suited to the Serie A. He shows this week-in-week-out that he has the ability to dictate the tempo of the Atalanta attack and is the key creative force in the team. Obviously, the last couple of seasons have seen Papu play the best football of his career leading to an International call-up and debut with Argentina. Papu really enjoys playing in Italy, and being a creative leader combined with the trust received by his coaches is a key factor to why he has been so deadly in the league.
Why is Papu liked by the fans?
He is a small South American play maker with 2 decent feet; he is able to score and create goals, and even has a funky goal celebration! Who wouldn't love that? In all seriousness Papu is not only liked, but loved by the fans. It's one thing to score and create goals, but when times are tough and you don't have the ball, he is always there battling, always there looking to create a chance. Fans will always adore hard-working creative players and Papu is a fine example.
How has the 30-year-old adapted in his time at Atalanta?
As previously stated the last 2 seasons have seen the best football of Papu's career. As a player he feels at home and has the trust of the manager as well as the responsibility the lead the team creatively. He has taken full advantage of the added responsibilities to become not only a legend in Bergamo but also one of the most exciting creative players in Serie A.
What is your personal opinion on Gómez?
Papu is a player that gets me out of my seat and at the end of the day, that's why we love watching football. A chip over the keeper, a free kick, a 25-yard thunderbolt or firing past the keeper when one-on-one – he scores all types of goals and makes them too! Should that day come when he does depart Atalanta then he will have left his mark in Bergamo as an incredibly exciting player who also fought hard for the shirt and the people of Bergamo. No one will forget the role he played in our glorious return to European football.
How would Papu would fit into Lazio?
Gómez played as a left striker in Atalanta's 3-4-1-2 formation – one that is very similar to Inzaghi's 3-5-1-1. This is a main reason Inzaghi wants the player – his experience would allow him to enter the squad with ease. In addition, a partnership of Immobile and Papu Gómez is music to fans ears, as this would be a player of quality that Italian football fans are familiar with, compared to an outsider that Tare and Lotito usually bring into the squad that Laziali worldwide are unaware of. The first option would be for Lazio to put the same 3-4-1-2 into play that Atalanta used, placing Papu in the same left-striking role with Immobile next to him and Luis Alberto in the attacking midfield role; the second option would be to place him in the secondary striking role behind Immobile. The former, however, seems unlikely as this would result in Luis Alberto being displaced from the starting 11.
Playing on the left-side of attack, Gómez originated playing as a left winger which is why he was able to accustom to the formation change Gasperini brought about. Like previously stated, Gómez is fantastic with the ball at both feet which not only helps his playmaking ability, but also that of his dribbling and scoring abilities. This is where Gómez excels: dribbling towards the flanks to create time and space for his teammates to enter the opponents 18-year box, or press the defenders by cutting inside towards goal. Though 30 years of age, the Argentine still has the stamina and pace to beat opponents with a quick turn, or change in motion allowing him to create these chances for himself and teammates. Gómez is also a very intelligent player with the quality that allows him to dictate play. He does not try to force plays to occur, he waits for the perfect time or gap to appear and takes it. His favourite move to beat opponents is that of slowing down, dropping a shoulder, and using the outside of his favoured right-foot to change direction.
If you like what we do, support us on Patreon. We ask for just the price of a cup of coffee each month to help us cover the costs involved with running the website!
Follow us on Twitter!
Like us on Facebook!
For more reports, exclusive news and features, visit our homepage!