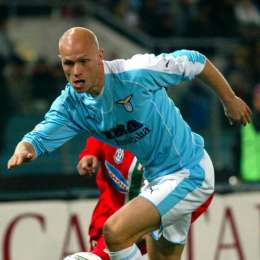 This summer's arrival of Riza Durmisi reminded me of another Danish winger in Lazio history, Christian Keller. His playing days at Lazio are not much to write about since he really failed to impress and shortly left Rome. It is the time after Lazio that is more dramatic and sadly more tragic to witness.
The first stop is the weekend of New Years' Eve 2007. Christian Kellers' father, Peter Keller, was divorced from Christian's mother and was now with a new woman named Pia Larsen that Peter had a new child with. It was sadly a stormy relationship and when Pia didn't want a nightly visit from Peter, she called one of her sons for help. It all ended up in a fight where Peter Keller tragically got stabbed and died due to the injuries.
At this time Keller played with the Norwegian club Stabaek and he actually managed to pull off a good season and was voted "player of the year" by the fans. He then gets the chance of another adventure, this time in Turkey and the club Kasimpasa. He returns back to Denmark and Randers after two seasons; after that Kasimpasa side was relegated. Keller later gets the chance to play for the Danish national team in some "unofficial games".
In March 2016 erupted a new scandal around Christian Keller, when it was revealed that he had a long-term relationship with the wife of his teammate Jonas Borring. At the time Borring and his wife were, in reality, separated but lived under the same roof for the children's sake. Keller's wife was quoted in the Danish tabloids as saying that Keller "didn't have the balls to tell her the truth". Keller was suspended by Randers.
"I do which is the best for Randers" – Keller then said – "even if this means not playing. I've been here for a long time, I respect both the club and the people who work here."
Jonas Borring left the club after the public humiliation. Keller's teammates at Randers then refused to play with him even though he was the team captain. Randers later broke the contract with Keller that also went through a tough divorce following the events.
Christian Keller later signed for Viborg, a club that he previously played for before he went to Italy. In the summer of 2017 Christian Keller officially retired from football. So now you know.
If you like what we do, support us on Patreon. We ask for just the price of a cup of coffee each month to help us cover the costs involved with running the website!
Follow us on Twitter!
Like us on Facebook!
For more reports, exclusive news and features, visit our homepage!