Reports have circulated recently regarding a possible move to Lazio for Sevilla attacking midfielder Franco Vazquez. Nicknamed "Il Mudo" (The Mute) due to his quietness, this has been established on the basis that following the sale of Felipe Anderson to West Ham and Milan still needing to send money to Lazio for the remainder of the Lucas Biglia deal, there is money available for reinforcements.
The number one target has been suggested by many outlets as Atalanta's Papu Gomez – but as that pursuit starts to lose bit of its momentum, recent memories of Vazquez' excellent performances previously for Palermo have provoked some interest from Igli Tare and co. as a slightly lower-cost alternative target. According to calciomercato.com, "[Vazquez] has an affordable cost for the biancocelesti: Sevilla, for his card, ask for 10-15 million, his salary is 2 million per year, sustainable figures that are well suited to politics of Tare and Lotito."
However, as per Corriere Dello Sport, whilst Gomez could be considered a replacement for Anderson, Vazquez is a significantly different proposition, and they suggest the interest has resulted from a change of thinking after having been beaten to the signature of Gelson Martins by Atletico Madrid: "He is a playmaker, he is not a winger [like] Papu Gomez or Felipe Anderson. Lazio tried to convince Gelson Martins, an international striker, after being released from Sporting Lisbon. Not being able to get to him (he was offered more money by Atletico Madrid), we thought of tracing a player with different characteristics: a man from the attacking midfield".
Lazio have invested carefully this window, with the likes of Durmisi, Berisha and Acerbi brought in to address particular gaps in the squad. Does a pursuit of Vazquez represent a shift from this pragmatic policy? We'll take a closer look at the player below, and examine the likelihood of this move coming to pass.
Background
After struggling to impress following a 2011 move to Palermo and in a subsequent loan to Rayo Vallecano in Spain, Vazquez had a breakout season in Serie A in 2014-15, and demonstrated it was not a fluke, one hit wonder season, by following up with a similarly strong campaign over the 2015-16 campaign.
In fact, the Argentine sat 35th in all of Europe on WhoScored's list of top performers for that season – outperforming the likes of Christian Eriksen, Koke, Pjanic, Arturo Vidal, and many others in their ratings.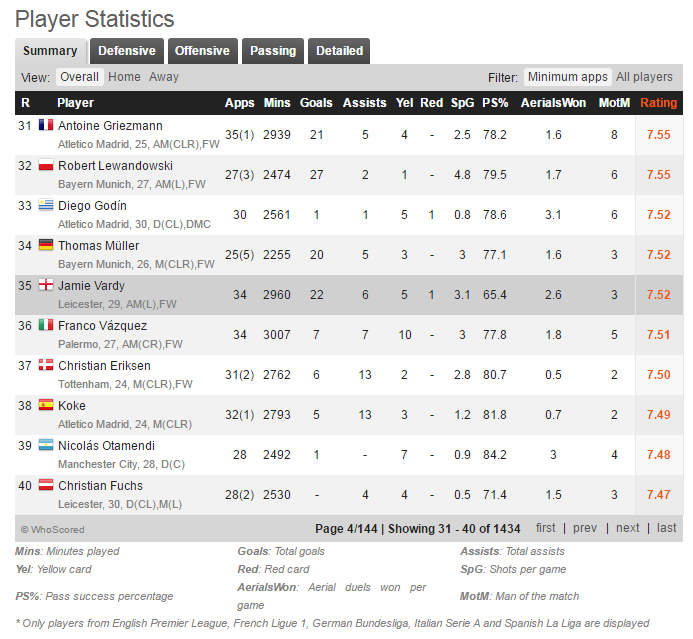 This kind of performance with a team just narrowly escaping relegation lead Vazquez to be coveted by an array of top European sides. In July 2016, Vazquez made his move to Europa League winners Sevilla, and has played consistently over the last two seasons.
His performances, however, have not matched the heights of his last term at Palermo. Vazquez is given a 6.74 overall rating of his 2017-18 season, placing him well outside the ranks of Europe's top performers over the past season – 818th to be precise.

Although Sevilla have underperformed in the last couple of seasons compared to recent years of European triumphs, it is nothing approaching the chaos of the Zamparini-era Palermo that Vazquez thrived within, suggesting that either the player has declined a little, or that the league (one he struggled to make headway in previously) does not suit him all that well.
We would be wise to recall the 'lies, damn lies and statistics' cliche – others around this score include the likes of Marcus Rashford (6.76), Piotr Zielinski (6.75), Marko Kovacic (6.73) and Borja Valero (6.72). This suggests that the ranking does not tell you all you need to know about a player's talent – but there are some conclusions to draw: it is fair to make the point that Vazquez at a big club challenging for honours like Sevilla is much less crucial to the team's success as he was at Palermo; and the fewer games played and goals scored metrics reflect that. It is also reasonable to suggest that with two more years on the clock, the player is adjusting his game to suit that yard or two lost to age – although at only 29 he is by no means over the hill.
Strengths / Weaknesses
On WhoScored.com, a picture is painted of Vazquez as an explosive attacking midfielder; someone who both attracts and commits fouls, who keeps busy in defensive work but has an attacking focus (and perhaps neglects to do the basic things correctly).
Indeed, this picture below is compounded by the CIES Football Observatory for his profile.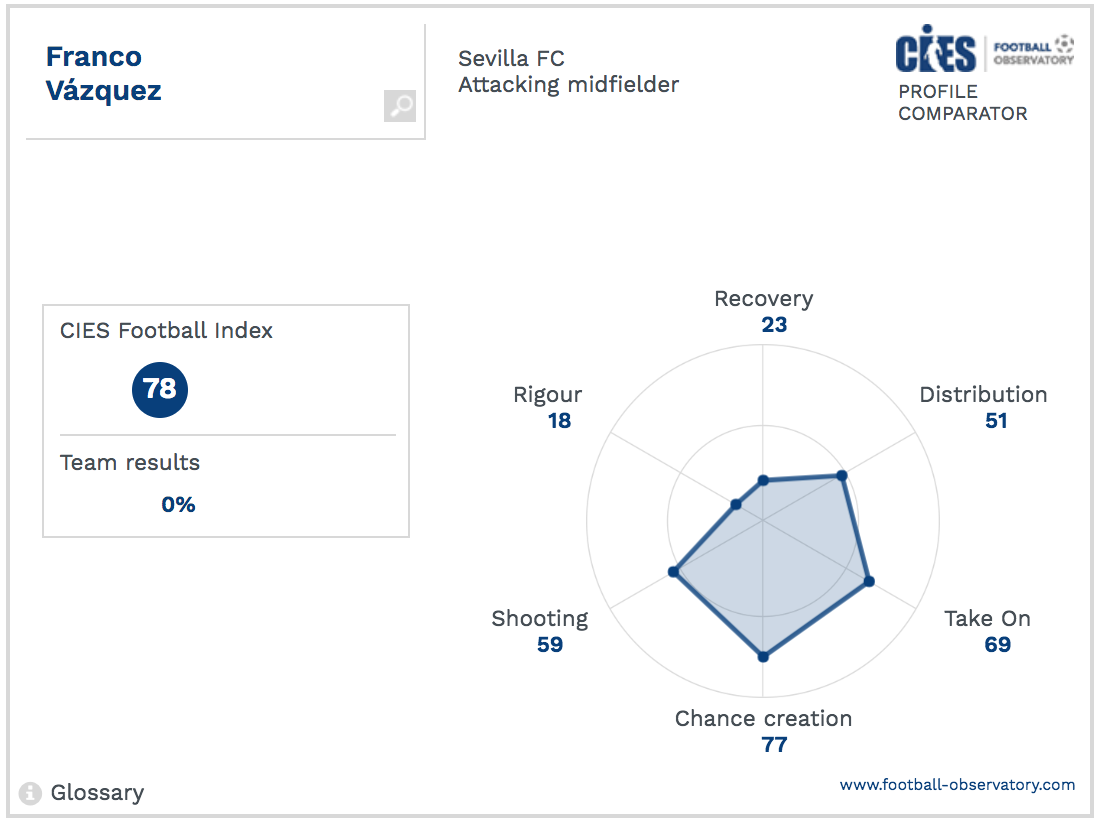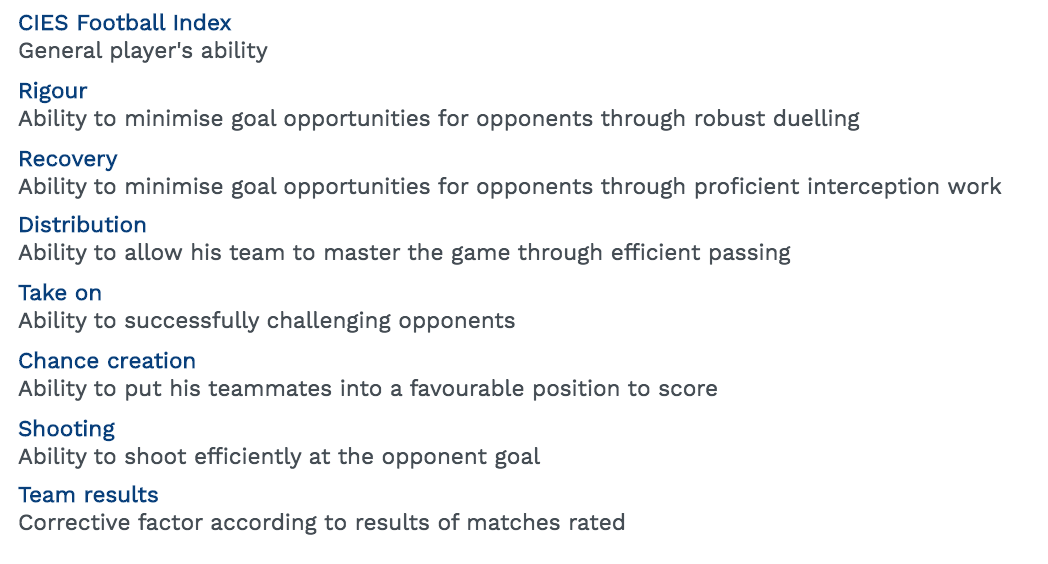 So, how would he fit into Lazio?
First of all, we can make the assumption again that Inzaghi's team will continue with the 3-5-1-1 formation that has served Lazio well over the last couple of seasons and this would suit Vazquez perfectly. When Palermo had lost Kyle Lafferty and Abel Hernandez to the Premier League upon promotion to Serie A, Beppe Iachini made the decision to back his young Argentinians, pushing Vazquez further forward to sit behind Dybala in a 3-5-1-1. This act of faith paid dividends – the pair contributed a combined 22 goals as the team earned a respectable 11th place in Serie A. Problem? That slot at Lazio belongs to Luis Alberto: Better distribution, shooting and chance creation mean that our new number 10 is a lock-in for the position behind Immobile.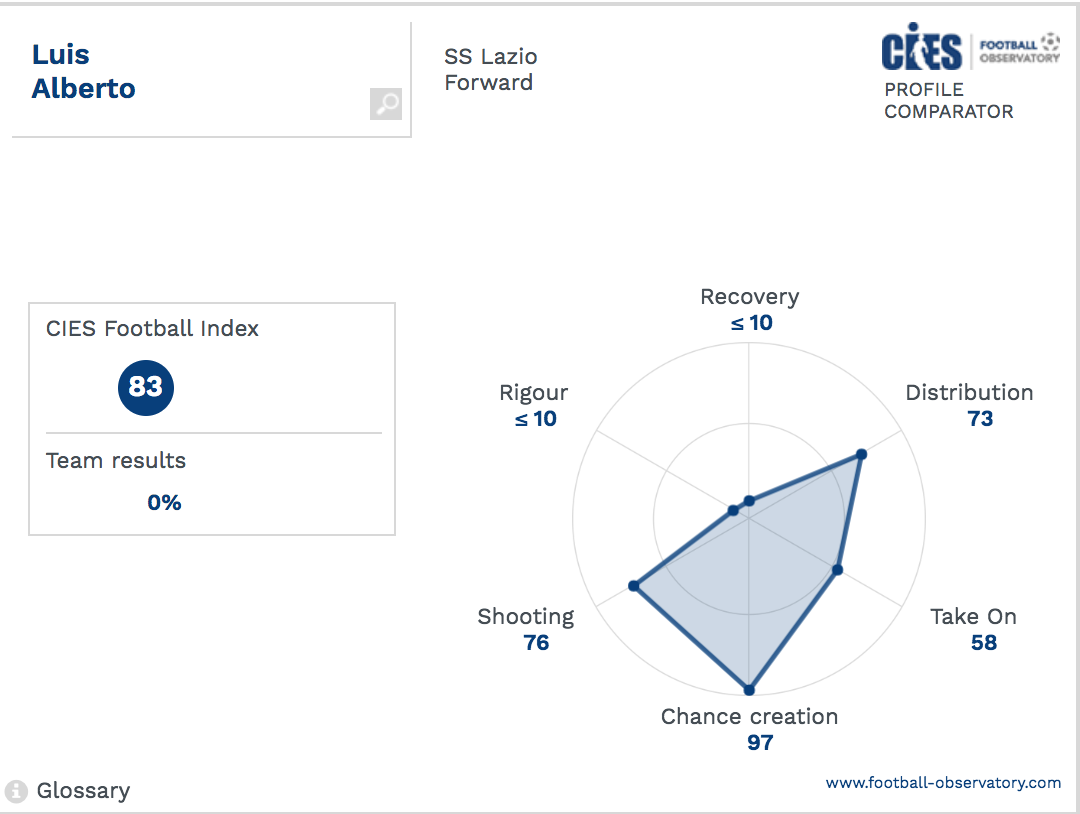 Calciomercato.com echo this point: "Emphasizing a tactical aspect, the Argentine, who also played two [games] with the National team, holds the same role as Luis Alberto: he is a playmaker, acting like glue between the midfield department and the attacker (Immobile); the former Palermo [man] provides few tactical alternatives to Simone Inzaghi." However, there is potential for a little flexibility, as Vazquez played a few games at centre-midfield and right-midfield last season.

So, would he provide an option perhaps in a Sergej Milinkovic-Savic role? There are parallels in attacking attributes, but for a box-to-box midfielder that this role in Inzaghi's midfield requires, Vazquez is missing the mark somewhat with regards to defensive qualities.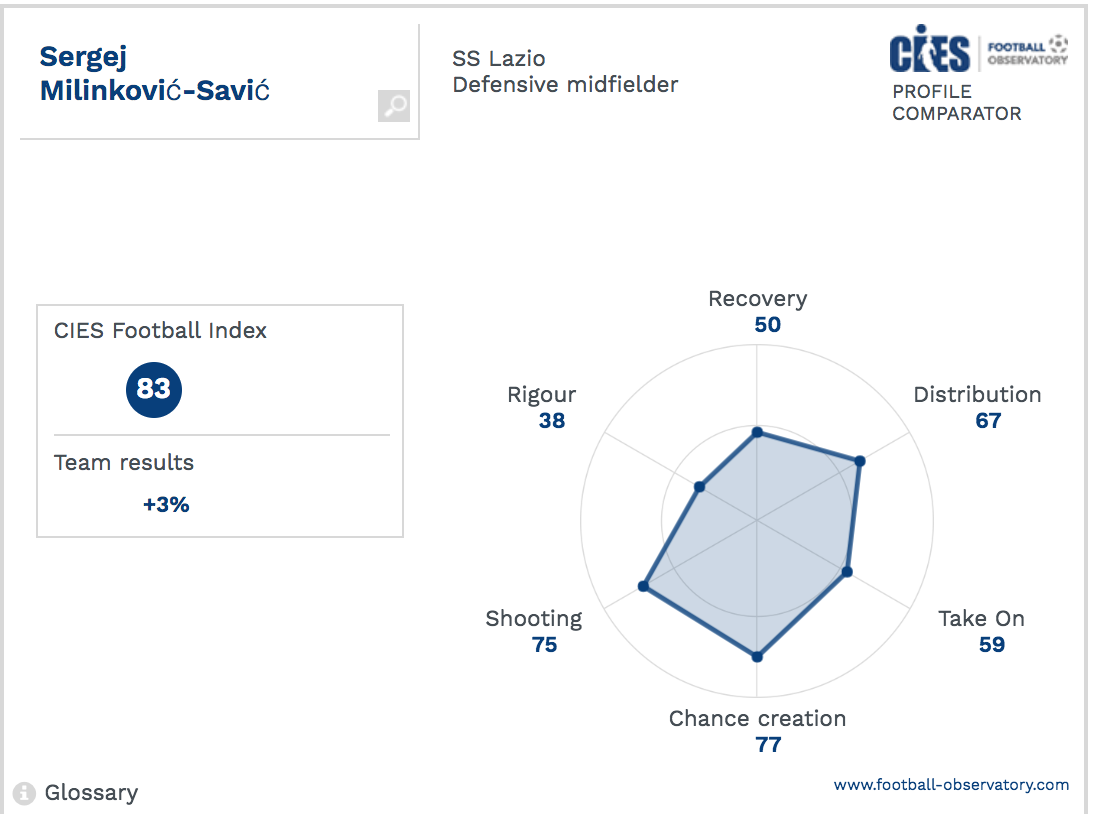 It's probably fair to make the assumption that Berisha was identified as cover (or in the case of Lotito's dream €100m+ sale of the Serbian, replacement) in this position – sadly for graph fans there's no information from the CIES Football Observatory on Valon Berisha due to his experience of playing outside of the top-5 European leagues.
Could we look further back into central midfield? Of course, part of Milinkovic-Savic's success is owed to the freedom afforded by the defensive discipline of the likes of Marco Parolo. We can see this in his profile.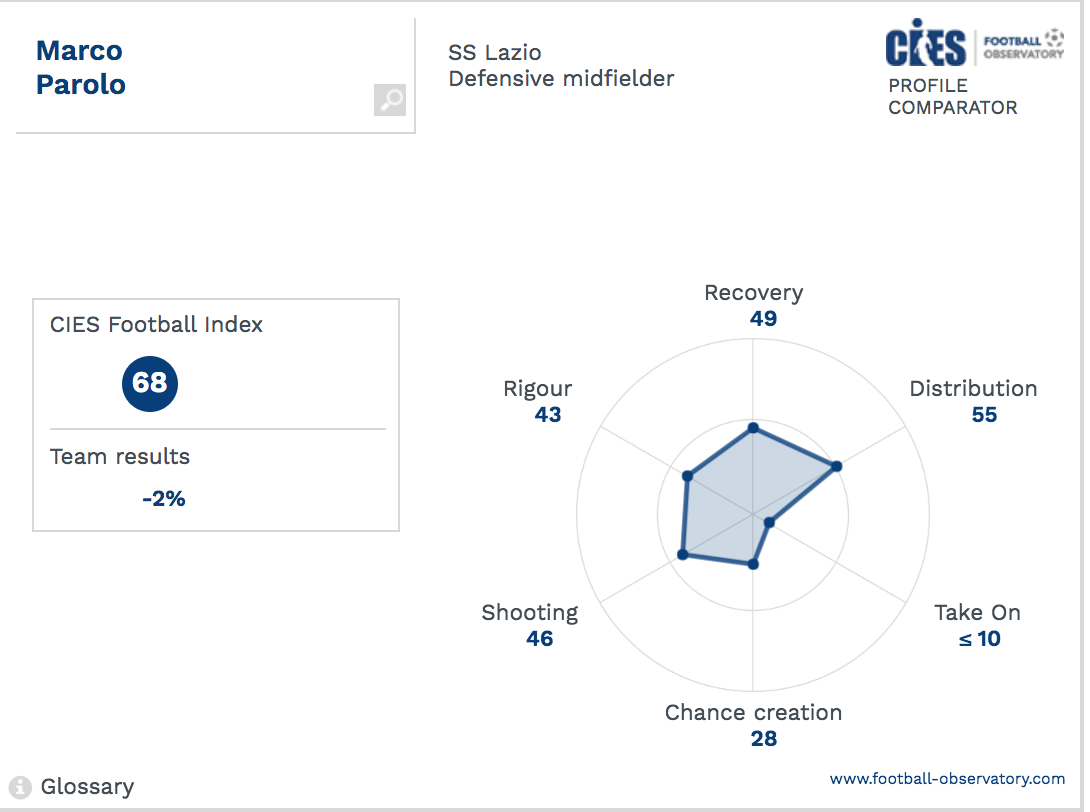 …and of course a key contributor to that midfield security is our lynchpin Lucas Leiva.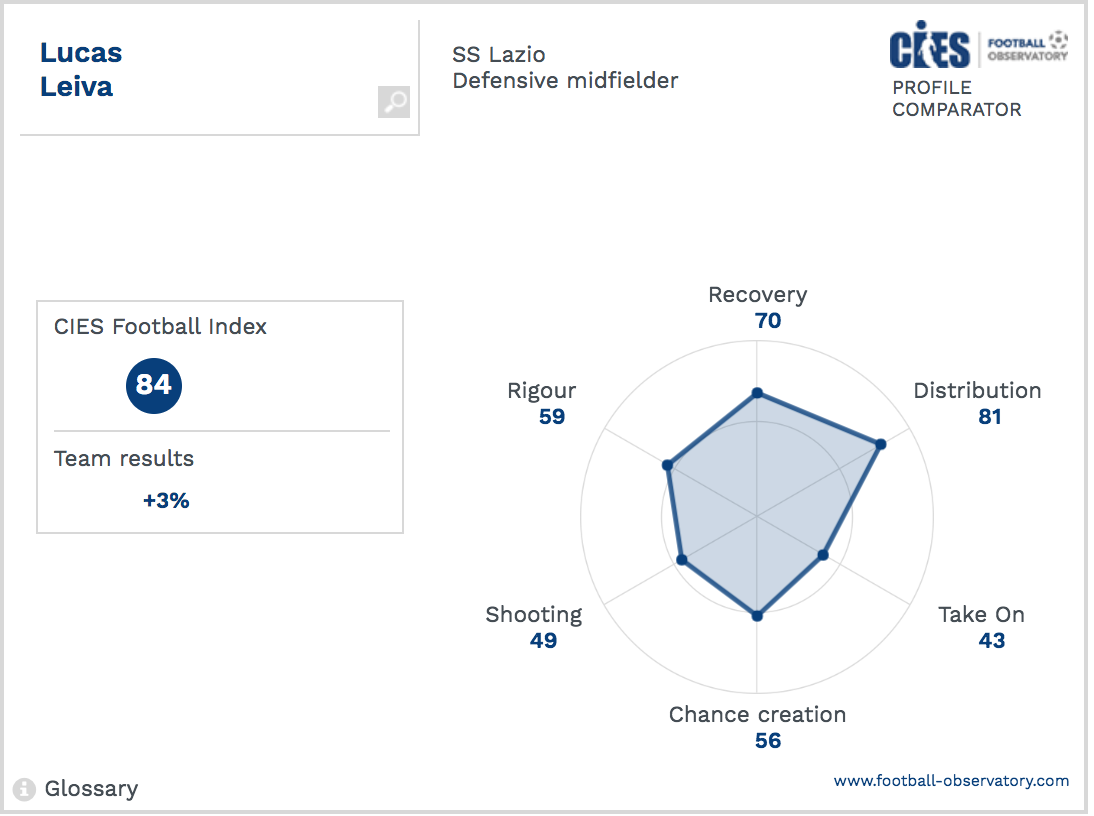 It's hard to see the Argentinian deputising in either of these kinds of roles, especially considering Alessandro Murgia looks to be the heir-apparent to one of these midfield slots.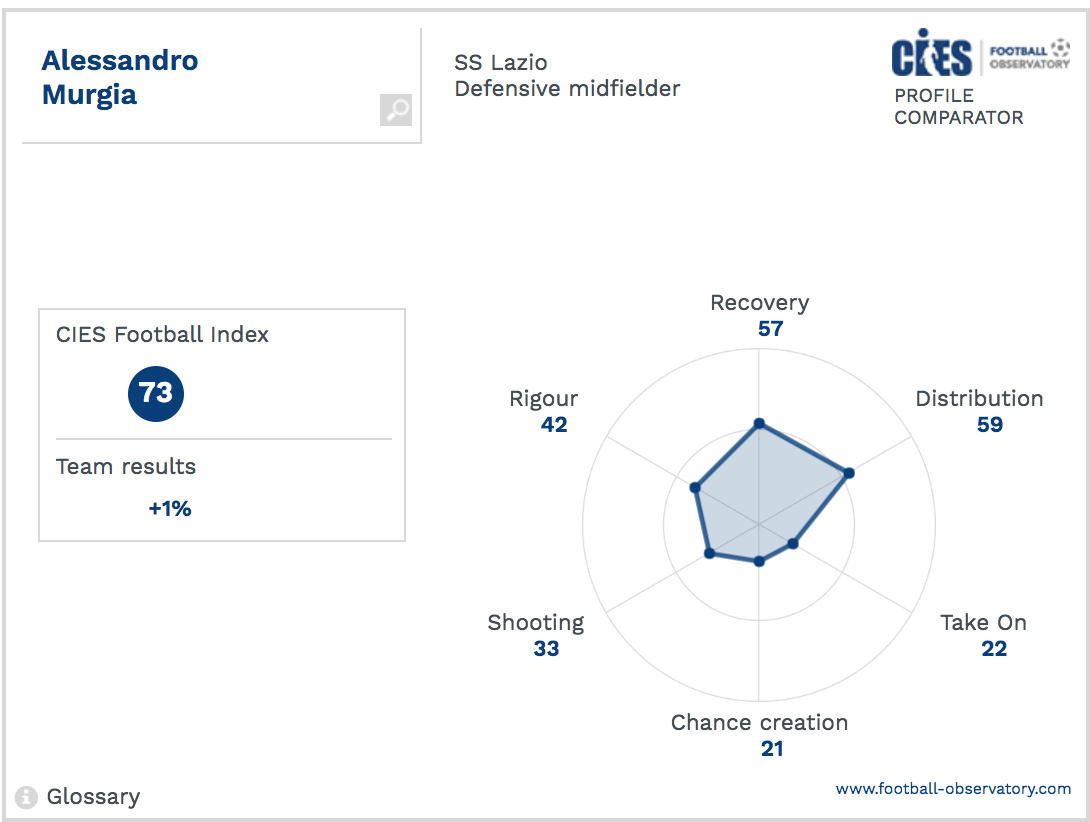 When looking at the squad in depth, it's hard to understand just what purpose a transfer for Vazquez would serve. Neither a direct replacement for Anderson's squad-role, nor a true challenger for other positions in Inzaghi's system, it's hard to imagine Tare and Lotito shelling out in this case – despite his excellent performances in Serie A not long ago.
We know they love a bargain, but this transfer looks like it might stray into the territory of 'buying for the sake of it', which seems much better suited to our neighbours in red under James Pallotta. It would make much more sense to invest a little more money from the Anderson deal and capture Papu Gomez after all.
Written by Dom of The Laziali.
If you like what we do, support us on Patreon. We ask for just the price of a cup of coffee each month to help us cover the costs involved with running the website!
Follow us on Twitter!
Like us on Facebook!
For more reports, exclusive news and features, visit our homepage!