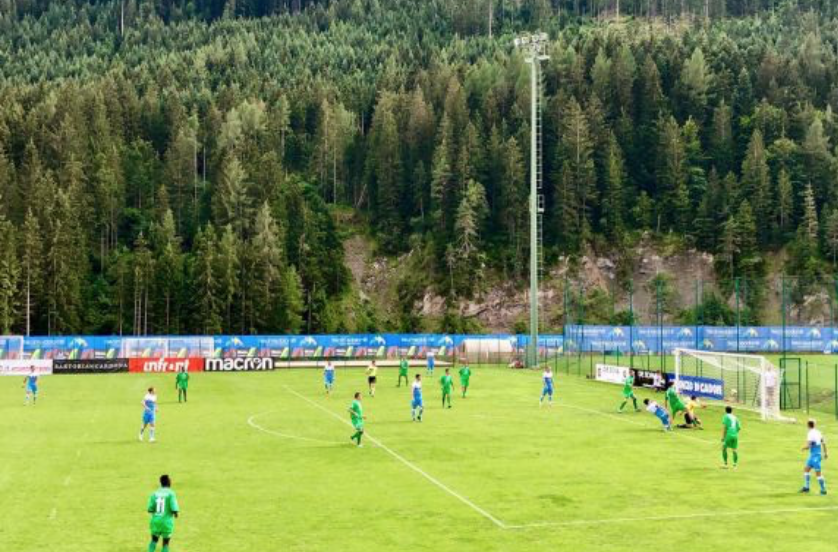 Lazio played the Top 11 Radio Club 103 side from Auronzo di Cadore today at 11:00 EST in what was their second friendly match since the restart. They won by a score-line of 14-0, with 7 goals coming from each half. They played very well, creating many opportunities and dominating possession for most of the match. Here is the summary of goals that were scored each half, along with the line-up's.
First Half (7-0) 
Proto; Wallace, Acerbi, Radu; Marusic, Parolo, Leiva, Berisha, Lulic; Luis Alberto, Immobile.
Parolo 6′ / Immobile 11'/ Immobile 26′ / Berisha 31′ / Luis Alberto 37′ / Lucas Leiva 42′ / Parolo 45′
Second Half (14-0)
Adamonis; Patric, Luiz Felipe, Bastos; Basta, Cataldi, Di Gennaro, Murgia, Durmisi; Pedro Neto (71′ Jordao), Caicedo (71′ Rossi).
Felipe Caicedo 46′ / Pedro Neto 51′ / Pedro Neto 65′ / Rossi 77′ / Rossi 79′ / Cataldi 88′ / Rossi 90′
Summary
Ciro returned to the pitch and it only took the King 2 minutes to score. Laziali sighed with relief as they have been yet to see their prolific scorer in action until this match. As soon as he scored, he looked towards the stands to where his wife Jessica was cheering in the stands. While Luis Alberto scored a goal and showed some flashes of skill, dancing on the ball, he is not yet 100% – he has only been back training with the group in Auronzo for 2 days, coming back from his injury back in May. However, both the Italian and Spaniard favourites are back on track. Marco Parolo played his usual centre-midfield position and managed to score 2 goals as well.
Valon Berisha was sided in the first half in the place of the absent Milinkovic-Savic beside Parolo and Lucas Leiva, showing a calm and concentrated performance in the regular 3-5-1-1 formation. He scored a goal and provided an assist for Immobile, but the Kosovar does not speak Italian yet, just some of the most intuitive words (yes, no, pass, shoot, cross). In the dressing room, all of the staff speak to him in English: he is integrating slowly. On the other new signings: Francesco Acerbi has fit right into the squad as a true leader, starting in the middle of defense between Wallace and Radu; Mattia Sprocati was not used (with the match against Auronzo he scored two goals); Silvio Proto started in-goal in the first half; and Riza Durmisi started on the left flank in the second half.
A special mention for youngsters Pedro Neto and Alessandro Rossi who scored 2 goals and 3 goals respectively in the second half. After his 7-goal performance against Auronzo di Cadore and his "transfer" to Luzern in Switzerland, he returned due to Claudio Lotito being convinced by his performances and played very well yet again.
If you like what we do, support us on Patreon. We ask for just the price of a cup of coffee each month to help us cover the costs involved with running the website!
Follow us on Twitter!
Like us on Facebook!
For more reports, exclusive news and features, visit our homepage!