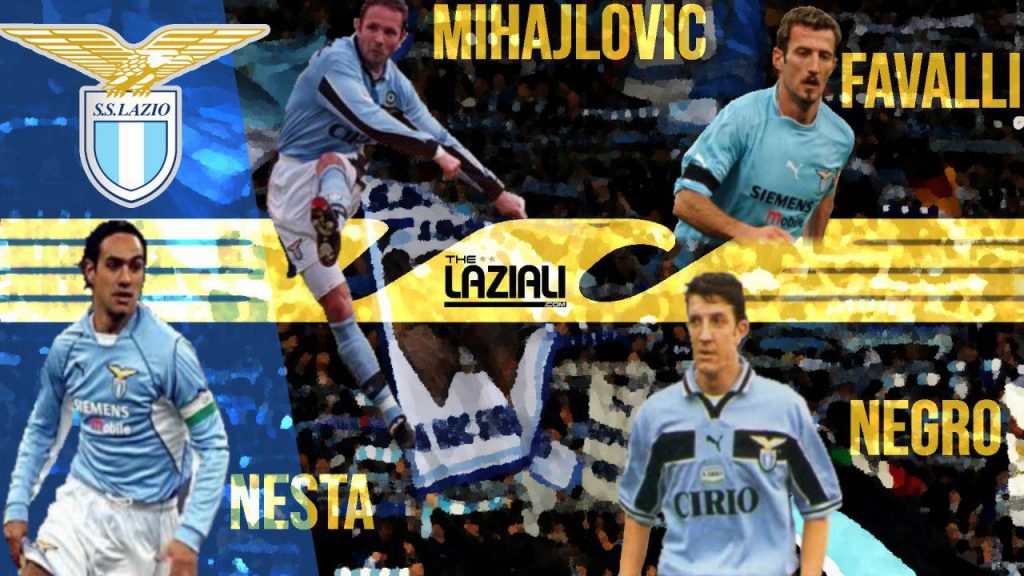 The Laziali will have a five-piece feature piece surrounding a "Lazio Team of Legends" since the birth of the club in 1900. This team was selected by the Laziali fan base who voted in polls on Twitter in 2019; firstly a piece on the manager and goalkeeper, secondly a piece on the defenders, thirdly a piece on the midfielders, fourthly a piece on the attackers, and finally a piece on the substitutes. Below, a deep dive into the defenders of the starting 11.
Giuseppe Favalli
There are few players in calcio who have been a part of many successful clubs in their careers. However, Giuseppe Favalli was one of them. Wherever Favalli went, it seemed that the club he had transferred to was destined for greatness. In the Serie A, he had 15 club honors, 8 of them obtained with Lazio. Favalli was also a member of the legendary Eriksson squad and played alongside the all-time great Nesta. In fact, Favalli was capable of playing center-back when needed but spent most of his time playing on the left flank. Though he had a similar build to Nesta, even playing similarly, he would find himself in his teammate's shadow. After Nesta left he became the team's captain. It is no surprise why he is such a fan favorite given the reasons above, but if that were not enough, he still holds the record for most appearances for the Biancocelesti at 401 matches.
Alessandro Nesta
If Silvio Piola is the greatest striker Italy has ever produced, then Alessandro Nesta is surely the greatest defender, more so, the greatest player Lazio has ever produced for Italy. Initially discovered by a Roman scout (Rocca) his father denied the offer, specifically because his father was a Laziale. Totti was similar to this situation, as his mother wanted him to come to Lazio but understood Totti's father was a Romanista. As a youth, he played in many roles but found his stride as a defender and joined the first team in the '93/'94 season. In a bit of irony, he scored the winning goal against Milan in the '98 Coppa Italia – a club he would join after leaving Lazio. Three years in a row he would win Serie A defender of the year award from the league and its fans. He was an excellent talent both on and off the ball, but perhaps his most amazing feature as a defender was the ability to begin plays from the back effortlessly. Having vision more common in midfielders or a trequartista, Nesta was unique as a quick, tactical and complete defender. He had no weaknesses, only pure-play.
Sinisa Mihajlovic
A quick look at Mihajlovic's stats might fool you into thinking he was a midfielder or perhaps a decent secondary striker. In truth, he was a defender with the deadliest of curves. Specifically, he is regarded as one of the greatest free-kick specialists, able to salvage any dead ball situation. He is tied with Pirlo for most goals in Serie A from free kicks, second behind Del Piero for most goals from free-kicks in all competitions, and one of two players who have scored a hat-trick through free kicks, the other being Lazio player Giuseppe Signori. Though he was a defender, Mihajlovic had more exemplary characteristics from top strikers and attacking midfielders than he did from top defenders. Known for his long passes, crosses, and incredibly hard curved shots, he was a nightmare for any goalkeeper from a dead ball play.
Paolo Negro 
Paolo Negro could play at either right-back or central back, mostly due to his natural physicality as a defender. Prowess in the air, and a powerful long shot, Negro had the capability to threaten from the backline and scored 19 goals during his Lazio tenure. The most important aspect of Negro was his discipline. A master tactician is the only and apt descriptor for his knowledge of zoning opponents, making clear-cut opportunities dissolve in an instant. Most of this ability was due to his patience, something that is not common even among this list of greats. After retiring he went on to coaching Cerveteri and Zagarolo, before accepting a role to manage the Primavera for a recently reformed club now called "Latina Calcio" in Serie D.