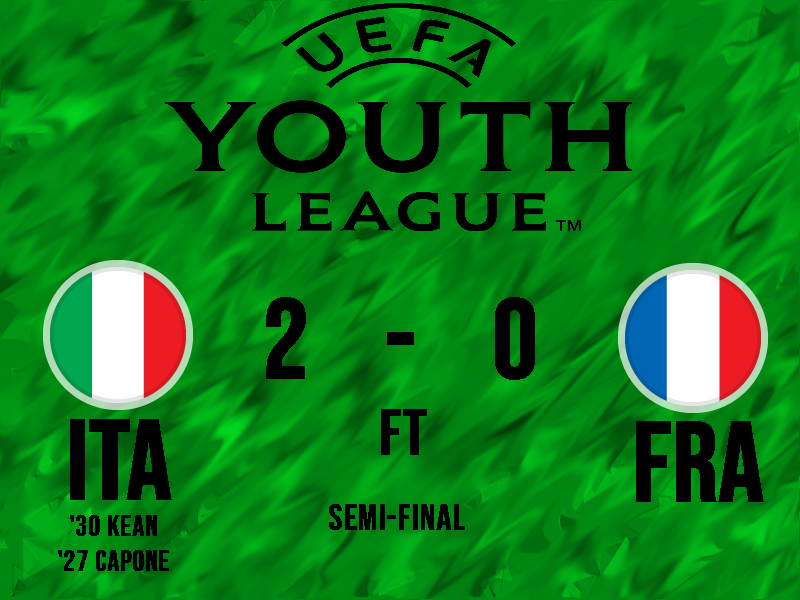 Just yesterday, the U19 Italian team routed France by a 2-0 scoreline in the UEFA U19 championship semi-finals. Though both teams were arguably similar in skill and even on paper, most Italian fans would be likely to say that this win was a welcome surprise: this is due to the recent lack-luster performances across all competitions (most recently the failure to qualify for the 2018 World Cup) from senior and youth Italian national sides. However, this recent U19 performance has tifosi everywhere on the edge of their seats: They are now into the UEFA U19 finals against a Portuguese side that beat Ukraine 5-0 (though Italy beat Portugal in the group stage 3-2). The finals will be this Sunday July 29th at 12:30 – below are some interesting stats listed by UEFA about these two squads (check for more in depth details here).
Portugal were runners-up last year;
Italy were losing finalists in 2016;
Italy won 3-2 in group stage meeting between the two sides;
It is the same Portuguese generation that won 2016 U17 EURO.
The Italian side is filled with players from either Milan, Juventus, or Atalanta. However, the most skilled player on the team is without a doubt Gianluca Scamacca from Sassuolo, who has already having a proper career making debuts in the Serie A, as well as for the Italian U21 side. In the three championship U19 qualifier games, Scamacca has netted 5 goals; overall he has 10 caps with 7 goals and 2 assists. Not bad at all for an Italian young striker.
Other players worth of note are Roma's midfielder Zaniolo (2 goals, 7 caps), Juventus' Moise Kean (2 goals, 5 caps), and AC Milan's goalkeeper Alessandro Plizzari (6 clean sheets, 13 caps).
One should be careful to assume that their performance so far means future success in both the competition and for Italian football. First of all, Portugal is a tough side. Secondly, we don't know how these players will grow. Some may jump to the main squad, but may not find the same synergy there. Others could fall off-form and no longer be mentioned.
For now consider this final a true first test of the potential talent Italy has built up. It seems as though the horrendous defensive hole that Italy had been desperate to solve may now be realized with this generation of talent.