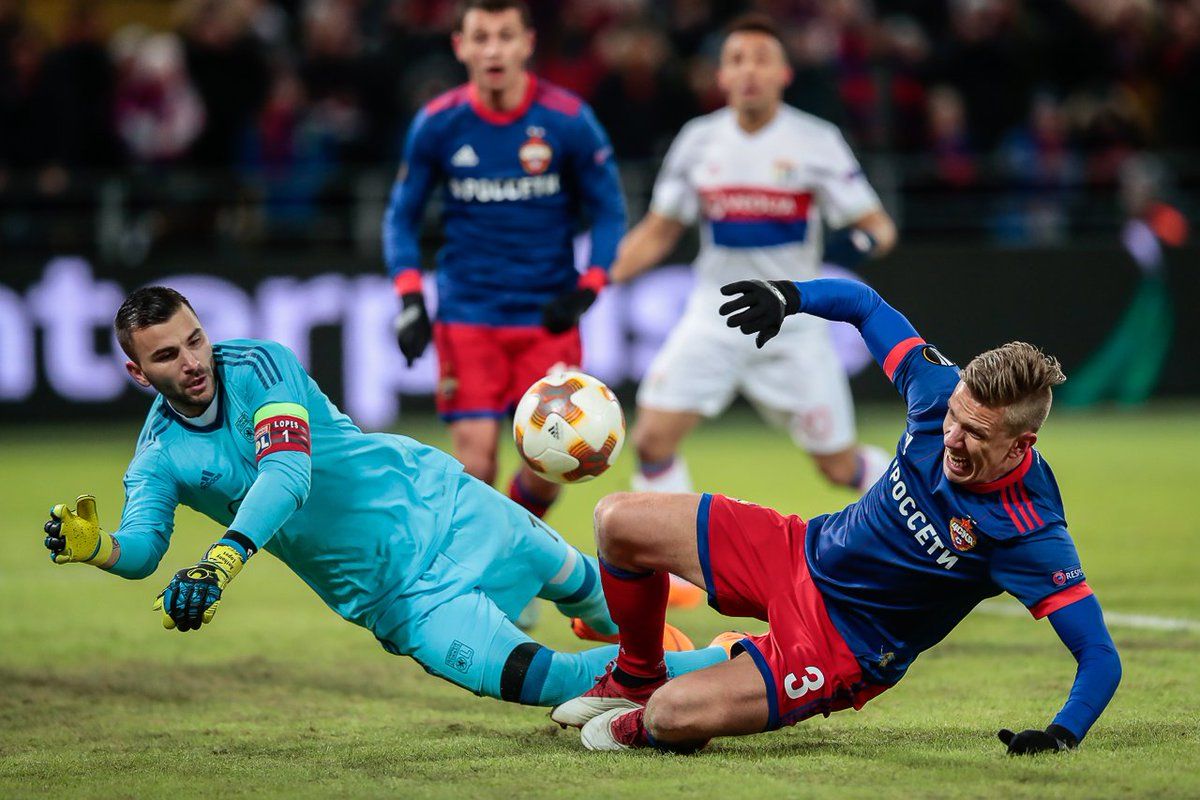 Free-agent Pontus Wernbloom looks to be edging closer to a new club, following his departure from CSKA Moscow and Lazio were said to be in the mix. As reported by The Laziali at the end of July, the Swede was of interest to Igli Tare as a low-cost addition to the midfield – although they would have had to fend off interest from a number of clubs to land him. However, with the new signings of Joaquin Correa and free agent Croatian international Milan Badelj, who plays the same position as the Swede, Wernbloom looks unlikely to now be joining the Laziali.
Ever cautious of spend, Claudio Lotito is always keen to avoid a transfer fee, and is encouraged by wage demands that are relatively modest – Greece's SDNA reported that the Swede was close to a move to PAOK back in late June, with wages sitting around the €1.2m mark – something that would have been a green light for Lotito. Indeed, Lazio were not be the only club in the mix – according to LazioNews24, Fiorentina and Bologna were also attracted to the 32-year-old and there are multiple sources reporting serious interest from Galatasaray. This demand is no surprise for a player who, despite being naturally a defensive midfielder, managed seven goals across 35 performances in all competitions with CSKA last season – and is in possession of more than 50 international caps. Today, @Domiow from The Laziali will take a closer look at the Swedish midfielder, while examining what this move could have meant for the biancoceleste.


Season stats via WhoScored.com
Background
Wernbloom has built a career out of being a versatile and combative centre midfielder – useful in the air and tenacious in the tackle. Assuming responsibility from a young age, Wernbloom played a crucial role in securing Goteborg's first championship for 11 years as a 21-year old in 2007. He learned quickly the value of tactical flexibility in the following season – following striker Marcus Berg's departure, the youngster was sent to do a job up front as a target-man, a role he's played to good effect later on in his career, too (via football.london).
After a move to then-champions of the Netherlands AZ Alkmaar, Wernbloom was bought by CSKA Moscow, where he made an immediate impact – as illustrated by ESPN's exhaustive piece prepared in advance of CSKA's Europa League clash with Arsenal last season.
"In February 2012, he [Wernbloom] put the CSKA shirt on for the first time on the biggest occasion imaginable: against Real Madrid in the Champions League. And, even though he is a Madridista, he duly scored an injury-time equalizer and instantly became a hero. Now, more than six years later, the Swede is a legend because he never gives up and always leads by example."                                        (via ESPN)
Indeed, the Swede spent his time in Russia making decisive contributions to the team's success.
"He was immense in central midfield when winning three championships, and regularly made important contributions up front too. The injury-time winner against Lokomotiv Moscow in 2012 springs to mind and, in May 2015, Wernbloom saved CSKA's season and ensured they would qualify for the Champions League by netting A late equalizer at Rostov on the last matchday."   (via ESPN)
Repeating the success shown in his early days at Goteborg, CSKA coaches Leonid Slutsky and later Viktor Goncharenko would throw the midfielder up top, using his aerial ability to devastating effect. However Wernbloom himself was under no illusions as to what his normal job was.
"I'm left alone, our defenders are ahead, opponents run to the gate, and I knock them down to break off the attack. Yes, I've been getting cards all my career. But this is my work!"       (via Sport-Express.ru)
Given his ability to excel in multiple roles, Wernbloom may have added something different to a tactically inflexible Sweden team in the World Cup. However, after having sat on the bench throughout the entire Euro 2016 tournament, the 51-cap man decided to retire from the international game, and rejected calls for his return to the national side this year. This of course is great news for potential suitors like Lazio – with many star players in need of extended rest over the summer period due to international duty, taking on fresh reinforcements is an attractive proposition for teams that need to hit the ground running in August.
Strengths
According to WhoScored.com, Wernbloom ranks highly on physical attributes – at 6'2 (187cm), being strong in aerial duels and flick-ons is as you might expect: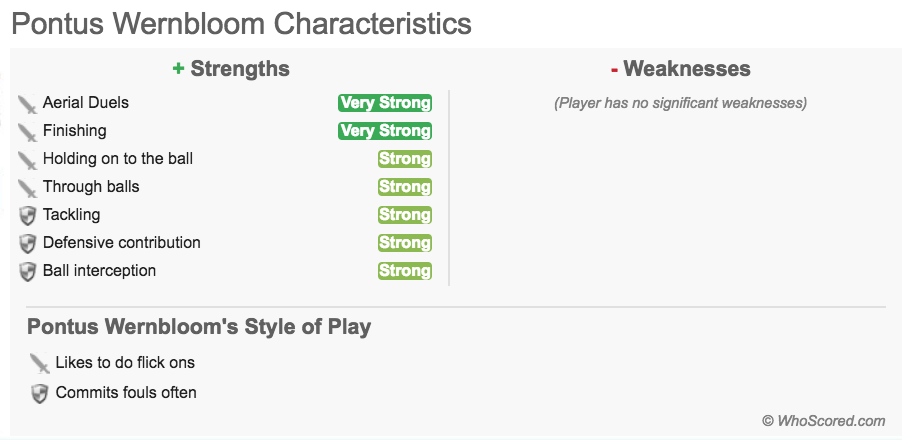 However, key strengths such as through balls and interceptions suggest he has good vision and can read the game well; coupled with a high stat for finishing we can conclude that Wernbloom is much more intelligent a player than a 'big lad to throw up top in a crisis'. That said, as per the interview with Sport-Express.ru above, the player knows the importance of sticking to the important work of his natural position. Defensive contribution, tackling, holding onto the ball and the odd tactical foul! All in all, Wernbloom looks a well-rounded midfielder, with the ability to contribute significantly in both attacking phases of play as well as defensive.
So how would he have fit in?
As ever, the assumption is that Inzaghi will not be drastically changing the team's shape or approach. Three at the back, two wing-backs, three in the centre, one number 10, and Immobile. Wernbloom would have needed to occupy one of the central midfielder slots, currently filled by Lucas Leiva, Marco Parolo and Sergej Milinkovic-Savic. So, how does the Swede compare? According to Transfermarkt, one of the most comparable players to Wernbloom is Marco Parolo – and when looking at his characteristics from WhoScored.Com, you can see why: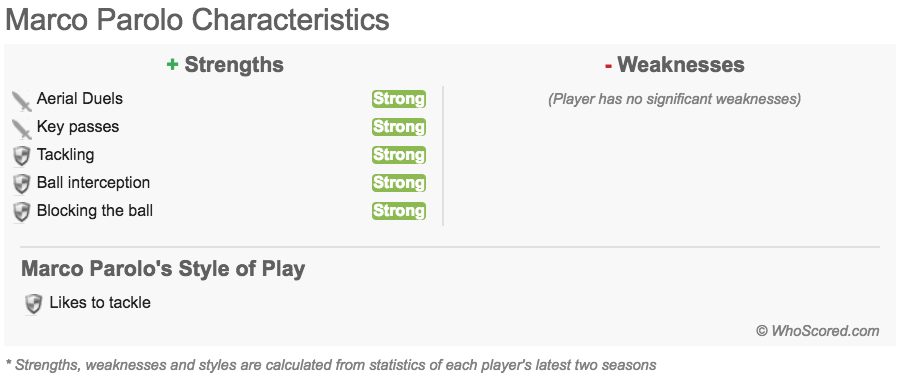 They're roughly the same age, roughly the same height, and have a similar skills profile. It seems that Wernbloom makes more of his physical attributes than the Italian, and it's easy to envisage the two competing for a starting slot. However, when we take a look at Lucas Leiva, we notice, again that the skills profile looks similar:

For those who have watched Lucas play for Lazio, it's not unreasonable to think that he offers a lot more than the WhoScored profile suggests. Sitting at the base of the midfield, running the play in a slightly more static role than the midfielders either side of him, it would have been hard to see Wernbloom deposing the Brazilian in this tactical role in Inzaghi's system. We've seen that Wernbloom is an explosive, physical player who likes to get forward. Perhaps he resembles our most valuable midfield asset, Sergej Milinkovic-Savic?
Sharing a 'Very Strong' attribute for aerial duels, and overlapping strengths for through balls and defensive contribution, there's a comparison to be had here. If Lotito cashes in on his star player, could Wernbloom be a potential replacement? The quick answer is no! Milinkovic-Savic's ability to run with the ball should not be underestimated. The Serbian's dribbling ability is a key component of his game, driving at opponents and opening up space to exploit in the top two-thirds of the pitch. A rare skill in the modern game and a contributor to his inflated transfer value – and one that Wernbloom does not offer. Even if Lazio do cash in on Milinkovic-Savic, the replacement has already been identified in Valon Berisha – the Kosovan international acquired from RB Salzburg earlier in the transfer window. Not by any means a like-for-like change, but the Berisha ofers an attacking threat from midfield that would require no major tactical shift. With Lucas a lock-in for the defensive midfield playmaker role, the only realistic slot for a player like Wernbloom to compete for is Parolo's. A more radical approach would be to treat the Swede as a plan-B in the absence of Immobile, or in situations where a target man is needed to cause chaos in the opposition area – after all, he managed to out-score Caicedo last season!
Conclusion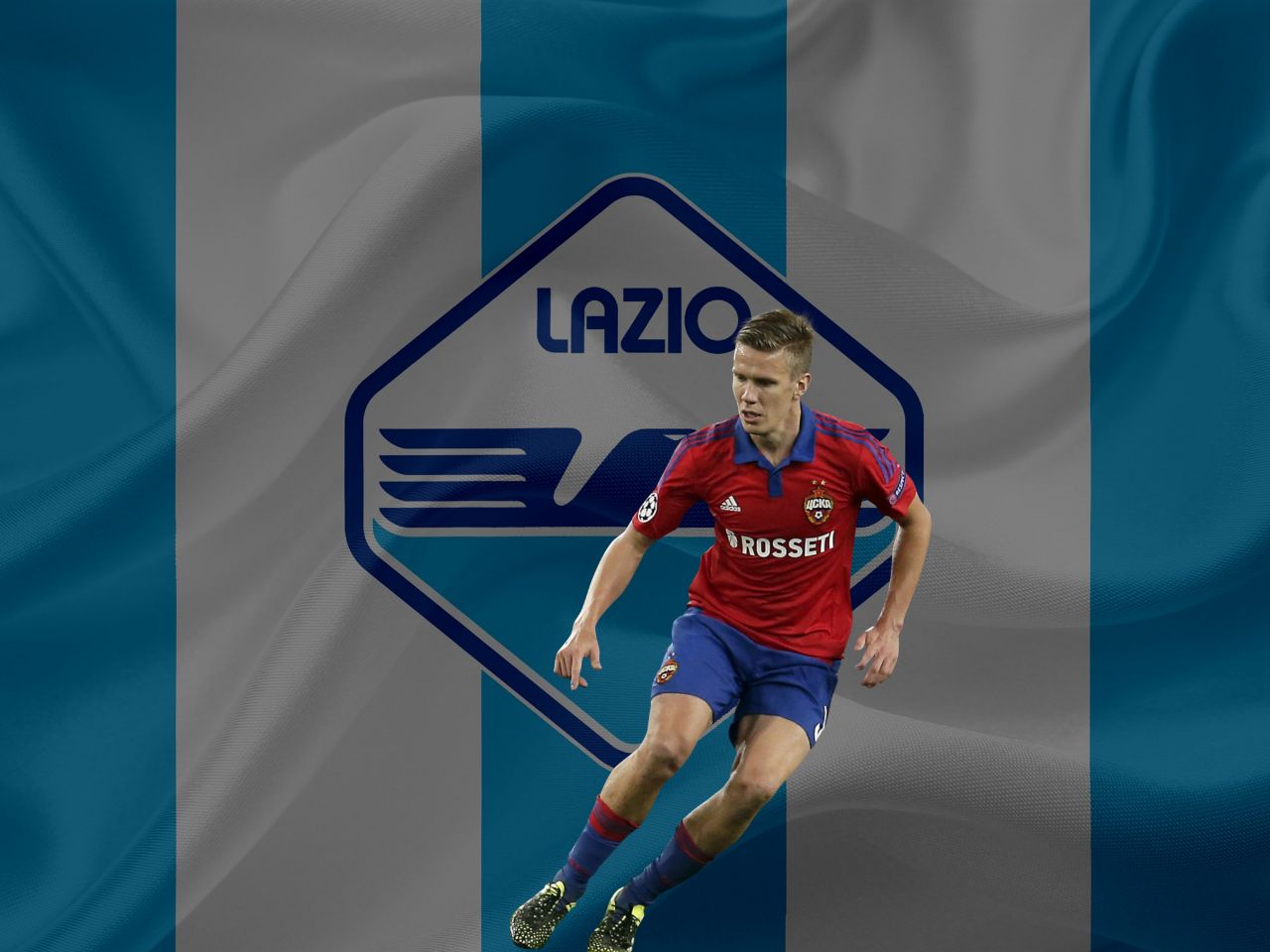 If Lazio are looking to augment the squad as opposed to signing a player to compete for a starting slot, then the pursuit of Wernbloom makes sense. Last season, the biancoceleste felt fatigue towards the end of the season as a result of a thin squad – with Murgia's inexperience and Di Gennaro's injury issues meaning the midfield was short of real cover. Lazio could have done with a little cynicism in central midfield when looking back at critical games against Salzburg and Inter, which Wernbloom would certainly have offered. However, like aforementioned, it would be hard to see Wernbloom enter the squad in this largely competitive and filled midfield of Lazio. Milinkovic-Savic, Lucas Leiva, and Marco Parolo are the starting three, and there is also Berisha, Badelj, Correa, Lombardi, Minala, Murgia, Cataldi, and so many others.
Would the Swede still move to Italy? His agents, Global Sports Management, thankfully have a number of players on their books at Italian clubs. There's Hiljemark at Genoa, Krafth at Bologna, Ingelsson at Udinese, and Gustafson at Hellas for example (per Transfermarkt). The man himself in an interview with FIFA remarked on different footballing cultures:
'In Europe it can sometimes be a real kindergarten: they tell you how you need to prepare for a game, how to behave, what to eat, how many hours you have to sleep.' 
He then went on to comment that the freedom granted by Slutsky at CSKA contributed to some of his happiest times as a footballer. Italian football's reputation for discipline and the stereotype of confinement to team hotels might not prove attractive, although Inzaghi's approach is certainly more relaxed than most.
In conclusion, in Wernbloom, Lazio would have landed a versatile addition to the squad at minimal investment, better equipping the team to compete over the dual domestic and intercontinental fronts. Competition from other clubs aside, the risk for Lazio in the Swede would have been the player himself not wanting to sit on the bench – at his age he'll be keen to play as much as possible, and as we've already seen upon his resignation from the national team, he's not likely to settle for less.
If you like what we do, support us on Patreon. We ask for just the price of a cup of coffee each month to help us cover the costs involved with running the website!
Follow us on Twitter!
Like us on Facebook!
For more reports, exclusive news and features, visit our homepage!