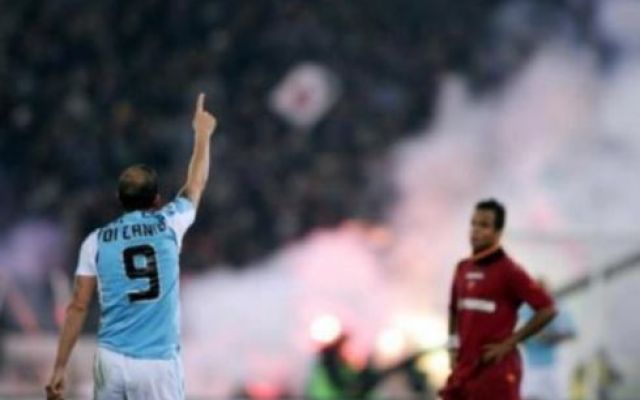 During the summer, former Lazio player and, to many, 'Lazio hero', Paolo Di Canio turned 50 years old. However, this created controversy; there was no celebration or mention from Lazio as a club on social media. It makes me wonder if Lazio as club intentionally want to turn away from Di Canio and if they, in that case, are right to do so?
It is no secret that Claudio Lotito and Paolo Di Canio are not the best of friends. Lotito showed Di Canio the door after that the striker became a concern; due to his importance amongst the fans and especially the Lazio ultras "Irriducibili". However, the fact is that he also had become a liability to Lazio as a club, regarding the public image of Lazio as a "fascist club". Di Canio did to no surprise not get a new contract and he left Lazio once again.
I personally do not know how many times I have been confronted with the images of Paolo Di Canio making the fascist "roman salute" gesture towards the stands after a derby goal in 2005. The idea then, supposedly, that my Lazio is a fascist club and so am I.
The question is not if Di Canio is a fascist or not but more what Di Canio's statement and actions have done to the image of Lazio and Lazio fans all over the world. Former players that have a connection to the club, are also wanted to mean something good for the club.
Di Canio recently stated that Sergej Milinkovic-Savic is not worth €120 million. That Sergej is just tricks and not on the level of Real Madrid or Juventus. To what purpose did Di Canio say that? To the benefit of Lazio?
When Di Canio has been asked about Lazio in the media, he has often criticized Lotito and the team's strength. You have not been seeing him much in the stands and trying to support Lazio as a club. The conflict with Lotito seems to have been more important. In fact, players like Cesar and even Mauro Zarate have shown more affection towards Lazio than Di Canio has done recently.
I am not questioning if Di Canio is a Lazio fan, more-so if he has earned the unquestioned right to be remembered as the great player Paolo Di Canio or if he should be treated as the person Paolo Di Canio? One that has actually caused Lazio and Lazio fans a great deal of harm by his actions.
If you like what we do, support us on Patreon. We ask for just the price of a cup of coffee each month to help us cover the costs involved with running the website!
Check out our YouTube channel!
For more reports, exclusive news and features, visit our homepage!