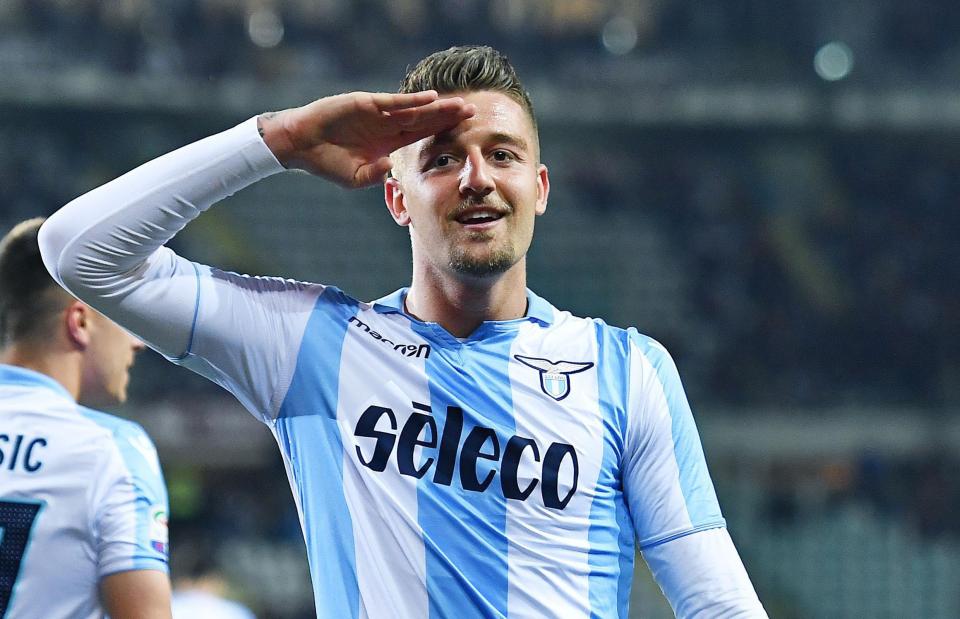 Lazio look to pick up their first three points of the season as they prepare to host fellow Roman and newly promoted side Frosinone. The visitors have picked up one point from their first two games back in Serie A, a 0-0 draw at home to Bologna; whilst they were smashed 4-0 by Atalanta in the first week of matches. Lazio, on the other hand, have no points from two games, being unlucky to suffer 2-1 and 2-0 defeats to Napoli and Juventus respectively. Join TheLaziali.com in our match preview of Lazio vs Frosinone.
Frosinone strengthen their team with an array of new signings, including Arsenal's Costa Rican forward Joel Campbell. Another one of Frosinone's new signings, Emil Hallfredsson, will likely not play in Lazio vs Frosinone due to a recovering thigh injury. The visitors will be aiming to pick up as many points as possible in their realistic dream of escaping relegation. However, disaster struck for Frosinone before Serie A even began, as they were eliminated early from the Coppa Italia in a shock defeat to Sudtirol.
Lazio vs Frosinone has only occurred twice before, in the 2015/16 season when Frosinone were last in Serie A. This fixture finished 2-0 to Lazio whilst the away leg at Frosinone finished 0-0.
Lazio finally have a match they are expected to win and will likely go out attacking from the start, with Inzaghi likely to rely on a turnaround in form for Luis Alberto to supply Ciro Immobile and get the Biancocelesti back to their goalscoring ways. Defensively, Frosinone looked a completely different team in the 0-0 against Bologna than they did in their 4-0 drubbing by Atalanta. However, Lazio's individual quality is much closer to Atalanta than Bologna and therefore expect the away side to dig in and try to salvage a point.
Lazio vs Frosinone – team news and predicted line-ups
Lazio (3-5-1-1): Strakosha; Radu, Acerbi, Wallace; Lulic, Leiva, Milinkovic-Savic, Parolo, Marusic; Luis Alberto; Ciro Immobile
Frosinone (5-3-2): Sportiello; Molinaro, Krajnc, Salamon, Brighenti, Zampano; Hallfredsson, Crisetig, Chibsah; Perica, Campbell
Lazio vs Frosinone – Keys to the Game
Superb Sportiello? One of Frosinone's brightest stars in their last game against Bologna was goalkeeper Marco Sportiello, who pulled off two fantastic saves in the first half to deny Bologna and was a constant threat throughout. In contrast, Sportiello looked a different player to how he did against Atalanta and Lazio's ability to succeed may be down to which of the two sides of Sportiello we see.
Sleeping Sergej? Sergej Milinkovic-Savic nearly left Lazio in the summer but ended up staying at the club, with a possible contract renewal in the works. However, in the first two matches of the season for Lazio, against Juventus and Napoli, Sergej Milinkovic-Savic has been invisible, not showing the ability or skills that last season earned him a price-tag of around €150 million. Lazio fan favourites and former players suggest that it will be only a matter of time before the real Sergej returns and, if he does against Frosinone, the away side could be in real trouble.
Can Lazio concentrate? One thing that can be blamed for a lot of Lazio's lowest moments over the last year is concentration. In last season's Europa League clash against Red Bull Salzburg, Lazio lost focus and ended up throwing away a place in the semi-finals. Whilst, furthermore, Lazio threw away a lead to lose to Inter Milan on the last day of the season and therefore just missed out on a place in this season's Champions League. Lazio need to eliminate these blackouts and concentrate further on the game at hand.
Lazio vs Frosinone Prediction
Lazio and Frosinone are coming together at an ideal time for the Biancocelesti. Lazio are in need of points and newly promoted Frosinone should prove to be no real problem for Simone Inzaghi's men. If all goes well, this won't be a matter of if but how many for Lazio; a vital chance to build up morale again.
Lazio 3-0 Frosinone
If you like what we do, support us on Patreon. We ask for just the price of a cup of coffee each month to help us cover the costs involved with running the website!
Check out our YouTube channel!
For more reports, exclusive news and features, visit our homepage!