We have seen it time and time again with football clubs. A successful redesign, a beautiful kit, new fan gear, or a big transfer. These small or big changes can be all a club needs to line their pockets with massive profit purely through fans and their monetary power. The latest clubs to enjoy this success are Juventus with a perfect logo rebrand and Cristian Ronaldo joining the bianconeri, raising their stock price and jersey and ticket sales immensely. Additionally, Parma with their third kit fire-sale, which reportedly sold out in under 24 hours, was another example of this in Italy this past summer. Campaigns such as this do more than just bring in money, they bring passion as well. For example, Parma plays as a reinvigorated side, almost mirroring their 1990's strength.
Lazio has seen such a rebrand success in the past with its 2015 115th anniversary home jersey that it has renewed for this season. A beautiful kit no doubt, with many satisfied with its return due to the plain solid sky blue of last year that was quite boring to be honest. What was also recycled is the club logo, a sign that Lazio is somewhat struggling to find a new design that truly clicks.  This is an aspect of club football that I feel tends to get looked over, and perhaps it is time for Lazio to rethink its design and modernize the look of the brand. Below, we review an artist who has done just that, quite beautifully I might add. The name is EZ Design and only one can hope that Claudio Lotito sees this and somehow decides to jump right on in.
The Kit Designs
My word, there are very few kits I have seen that have quality out there and the amount of creativity in the following pieces by EZ Design are quite something. More than a few ideas have been released by the artist, some of the more interesting ones below.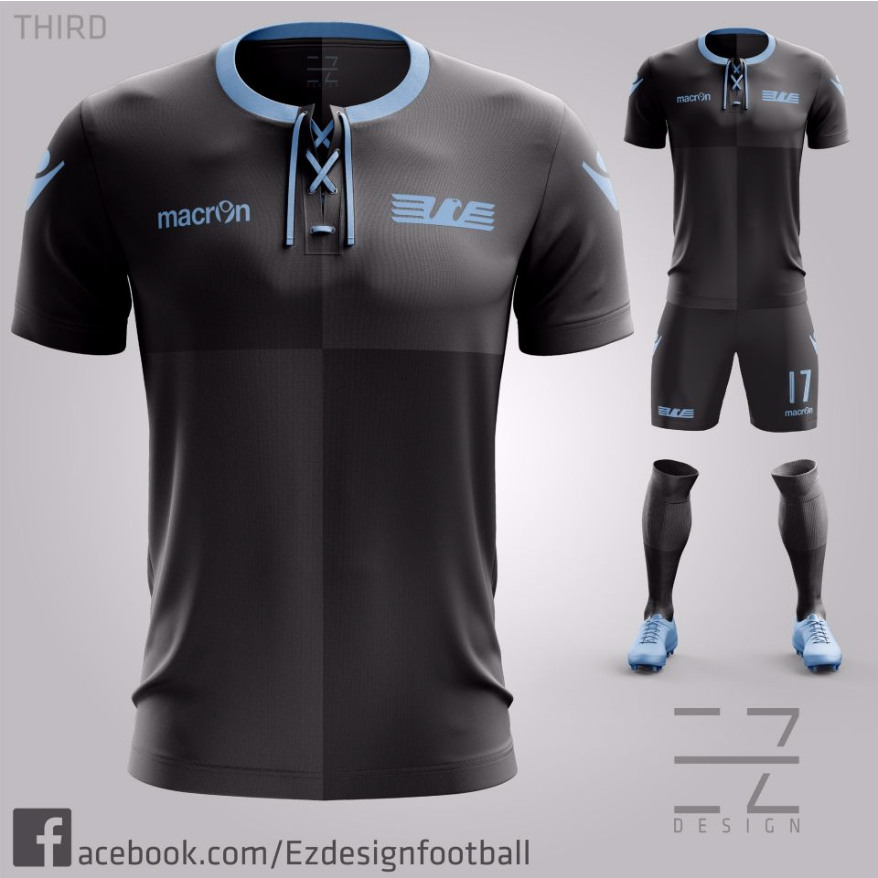 A beautiful four-way checkered pattern of a black and dark grey combination with a logo change is quite appealing to the eye.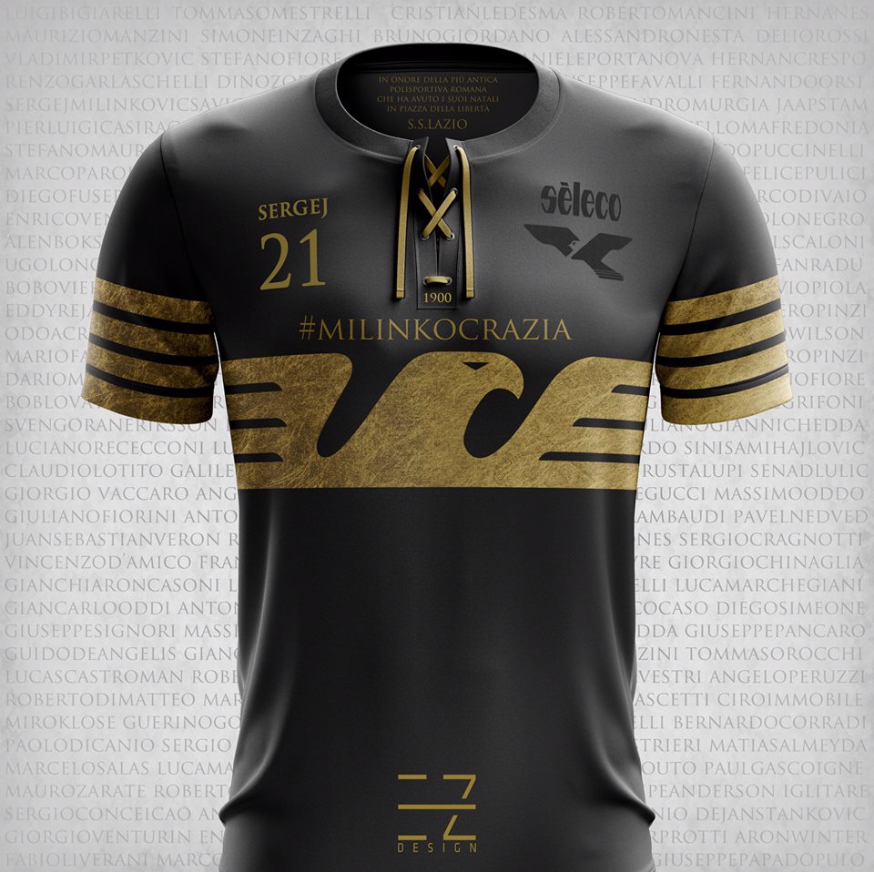 I cannot say that I am in love with this one, but I like the idea. Especially the more classic lace-up jersey, I find it fits incredibly well with the Lazio image of being a more traditional team. I can understand what the artist intended here.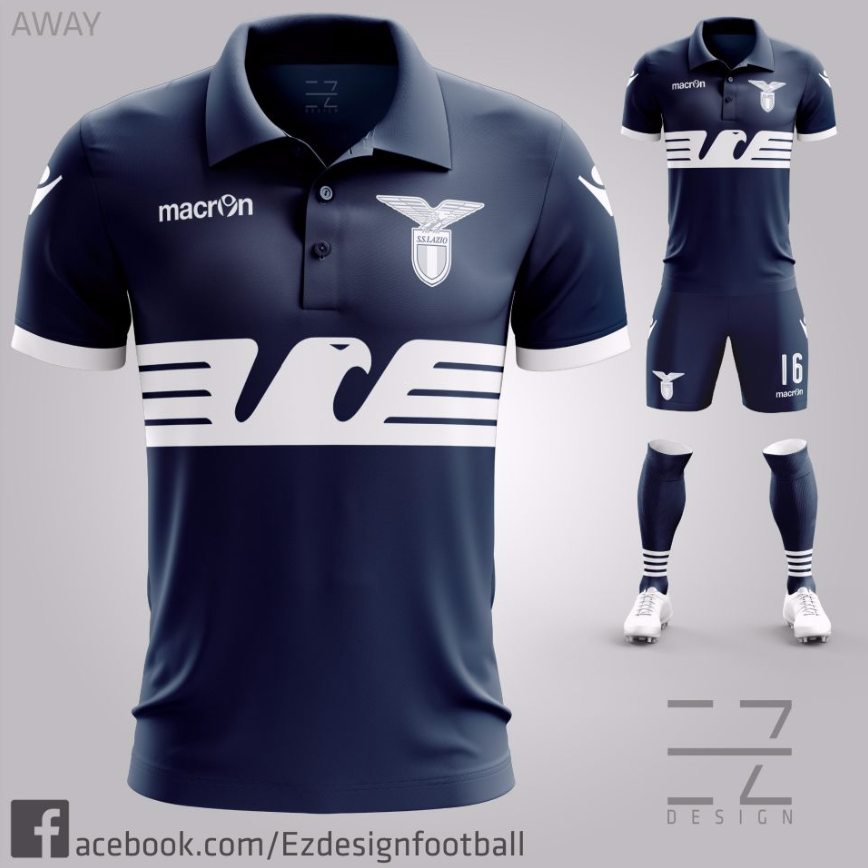 A kit seemed to take cues from Tottenham's color scheme which I have always found appealing to the eye on the big screen.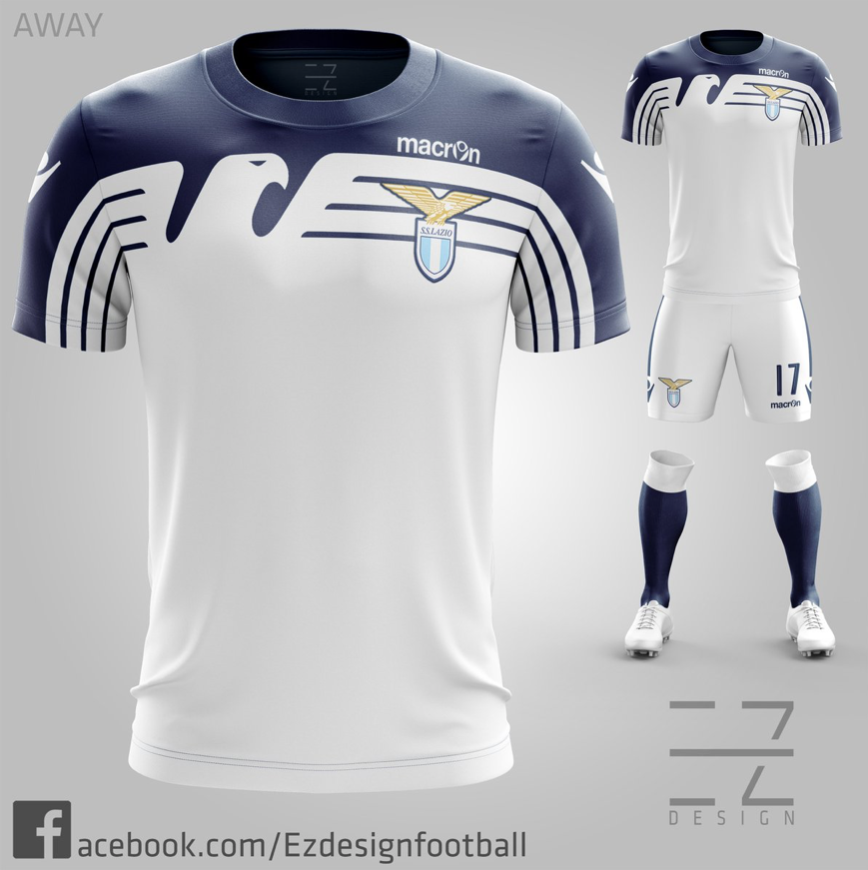 Again, the talent is obvious here. I would actually have reversed the colors for this jersey and had the navy blue as the main color. I believe it would make the eagle pop-out more and feel a lot stronger. Still, it is a beautiful idea but not the one I'm finding myself frothing over.

The "Should Be" Home Kit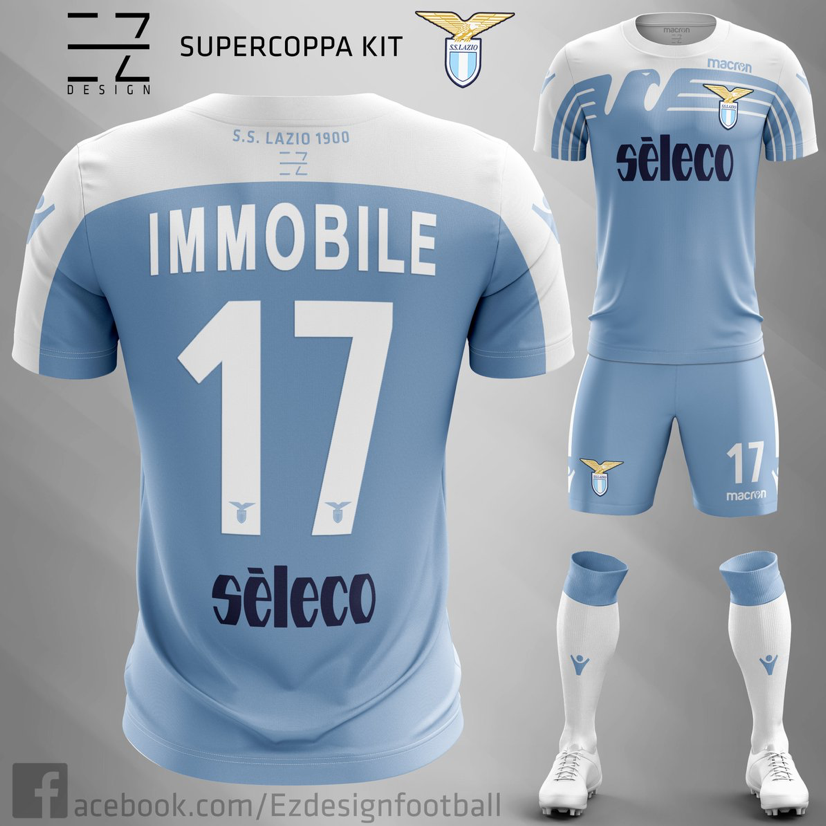 The design that I would love to see make it to the pitch is outlined above. You have never seen a Lazio kit that stands out like this. Now, I realize it says "Supercoppa" but just keep in mind the theme I am presenting here. Nothing says Lazio like the Biancoceleste colors, and see how that eagle suddenly pops out when the main color is contrasted with white. A truly amazing piece, so amazing I even asked the artist if there was a way he knew how to get these printed.
The "Should Be" Away Kit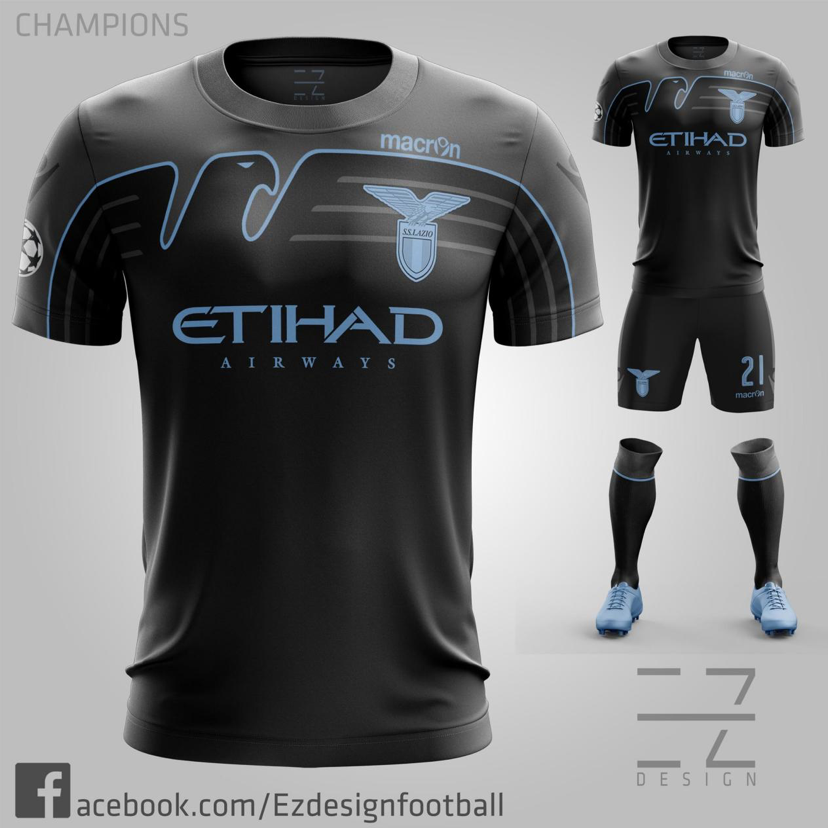 Once again, ignore the "Champions" label, this is an amazing away color scheme. Virtually no teams in the entirety of the Serie A wear a black and grey scheme with colored highlights. That is somewhat due to this particular color scheme being criticized for paying homage to "fascists", a ridiculous claim at best. This was one of the reasons I was able to find the black-grey-blue scarf for such a cheap price despite how beautiful it is. I believe this is an incredibly intimidating outfit, perfect for invading another team's stadium. The outlined eagle really gives it a whole new feeling of menace. Think of Lazio turning up to your home rocking these bad boys. You can just imagine the unease.
The "Should Be" Third Kit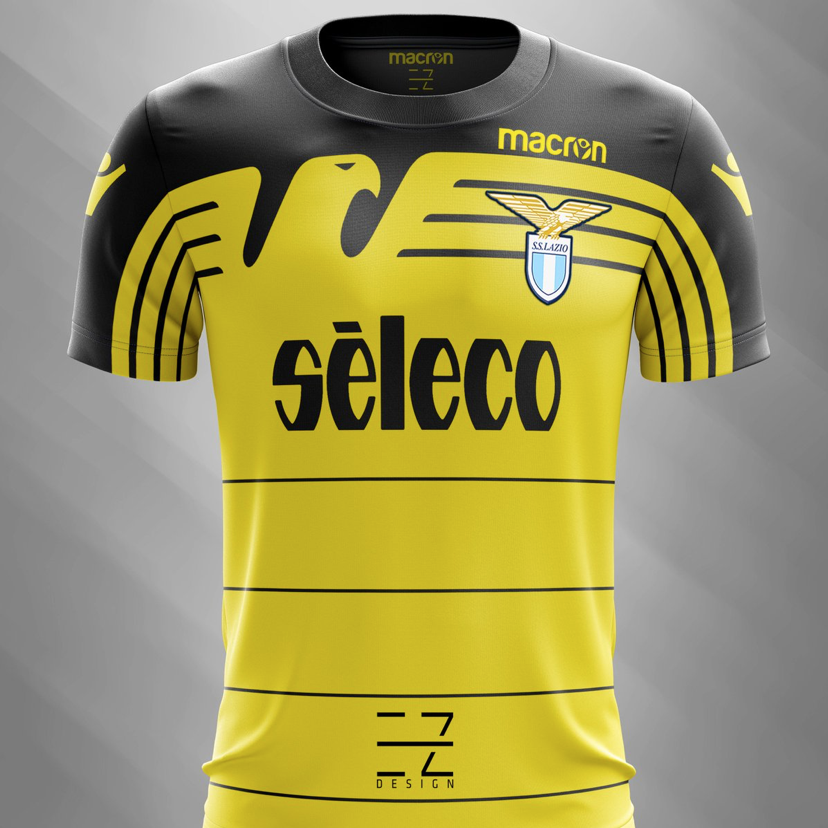 Call me crazy but Lazio looks gorgeous in yellow. A long time ago it was a color that we used, but it has since fallen out of favor and now is a color more common to the lower division teams and a few of those newly promoted into Serie A. I don't know why, but sometime shortly after the 90's era, the bright/loud colors fell out of favor in Serie A. Now instead, the league has a more bland pallet. Even Parma's third kit does not pop like this (as much as a masterpiece that one is, I even own two of them myself). EZ Design really tops it off with this unforgettable color scheme cementing what I think would be one of the most memorable (and best selling) kit line-ups in Lazio history.
Yes, yes I can hear the critics now: "Who uses the same design three kits in a row?" Well, when it is that good, it is that good – let a Laziale dream.
It doesn't stop there for EZ Design though. The artist redesigned many team kits and while not all of them are personally a hit for me, most of them are a massive upgrade for the clubs. I also suggest looking at his Barcelona concept and one for the recently relegated Bari. Even his proposal for Juventus and Inter deserves a good shout-out. You can check out his facebook page here for many more info and designs. Claudio Lotito, I encourage you to hire this man before someone else does.
Until next time this is Francesco Maoli bringing you the hidden gems on all things Lazio.