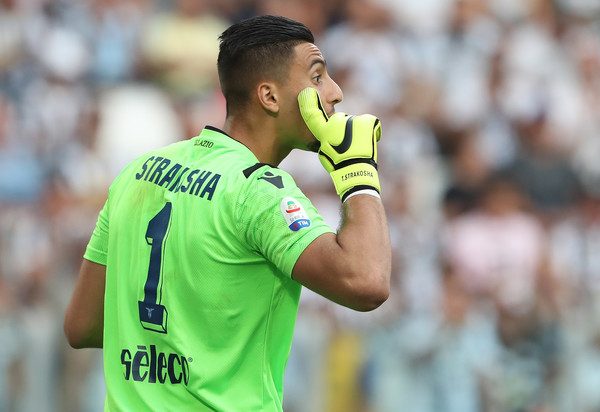 One of the breakout stars for Lazio over the 2017/18 season, Thomas Strakosha has cemented his spot at the helm of Lazio's goal. A young goalkeeper from Albania who plays with confidence and composure, the keeper has played a huge part in the reason for Lazio's success. So far this season, he has played in 19 of the potential 23 matches – the only four matches he missed were in the Europa League in matches against Apollon Limassol (home and away) and Eintracht Frankfurt (home and away). A reliable component of Simone Inzaghi's side, Strakosha has conceded 20 goals so far this season – most of which have not been his fault – and has only been able to keep four clean sheets, a surprising amount considering they are almost halfway through the season. He makes an average of 2.6 saves per match in the league and has stopped a total of 45 shots showing his quality (ranks tenth in the number of total saves in the Serie A TIM).
Against Cagliari in Matchday 17, it was almost a perfect match for Inzaghi and his biancoceleste, but an extra time penalty resulted in a goal against, breaking Strakosha's clean sheet. This resulted in a 12 match clean sheet-less run; the last time Lazio did not concede a goal was against Parma back on October 21. An absolute negative record since Inzaghi has taken over,  the Italian manager has never done so poorly from this point of view. In the Claudio Lotito era, only Domenico Caso and Giuseppe Papadopulo have done worse, going 18 straight matches without a clean sheet. Two games remain before the break, during which the goal of the club and manager will be to win in the best possible way, which includes not conceding. After that, there will be time to rest and prepare for the second half of the season, for which Inzaghi already knows what he will have to work on. The resumption of the championship in 2019 is set for January 20th.
We are raising money for 'Show the Racism the Red Card', a charity dedicated to helping eliminate racism from football, you can find out more information about donating here.
FOLLOW us on Twitter!
LIKE us on Facebook!
SUBSCRIBE to our YouTube channel!
For more reports, exclusive news and features, about Lazio and Serie A, VISIT our homepage!