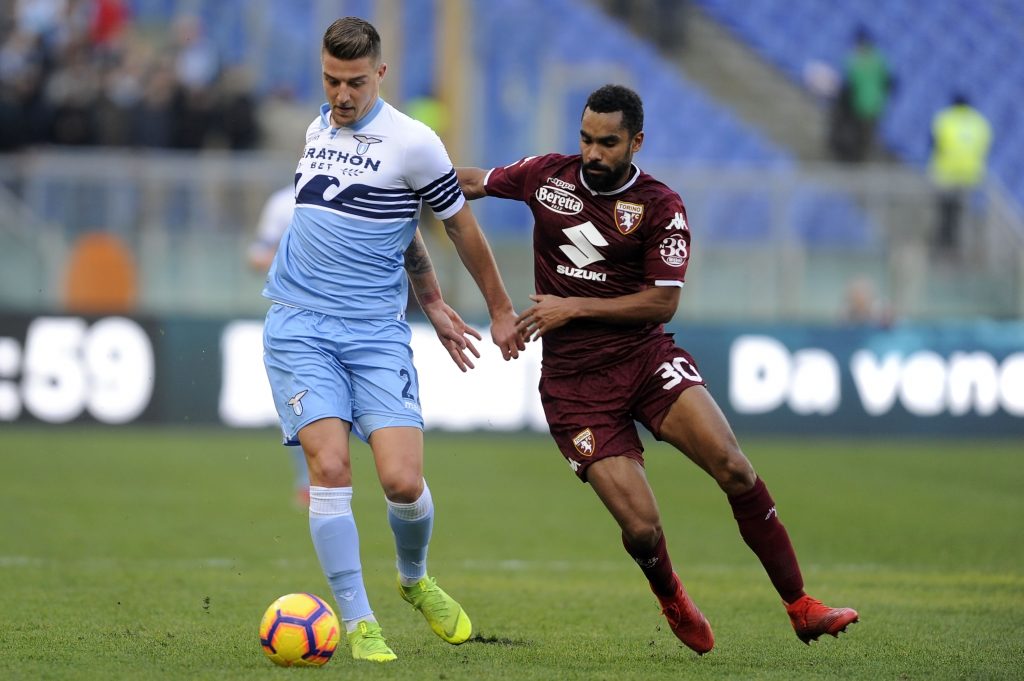 A 1-1 draw to end 2018; Lazio hosted Torino at the Stadio Olimpico in Matchday 19 of the Serie A TIM. Not the desired result Simone Inzaghi and his side were hoping for, but dealing with poor officiating, they will take this point and move on.
Lazio started very well in the first fifteen minutes. With creativity and fighting spirit, the Romans sought the way forward. However, Torino got the first good chance of the match in the 17th minute when Lorenzo De Silvestri shot the ball against the post. The match then got quieter on both sides, Lazio defended strong and consistently, leaving the guests from Torino with no chance to create until the extra-time of the first half. Adam Marusic clings to Andrea Belotti in the box and he gratefully accepts and falls to the ground resulting in a penalty and goal for the Granata. 1-0 for the visitors.
Marusic concedes an unnecessary penalty in the box. Silly defending here, but a bit of a soft call. Torino goes up 1-0 after Belotti converts to close the half. #LazioTorino pic.twitter.com/QEXtzxFpMQ

— Las Vegas Laziali (@LVLaziali) December 29, 2018
Both teams return to the second half without substitutions. Lazio starts again dominating and seeks for the equalizer. But the guests get a huge chance in the 59th minute, when Lucas Leiva clear the ball badly in his own penalty box. He puts it in front of the feet of De Silvestri, who shoots wide over the goal. Lazio survives the short pressure phase of Torino. Then suddenly, from 30 meters out, Sergej Milinkovic-Savic, powerfully shoots the ball into the top left of the goal, screaming past Salvatore Sirigu. What. A. Strike. Lazio draws level at 1-1.
MILINKOVIC-SAVIC WITH A STRIKE!! All level 1-1. #LazioTorino pic.twitter.com/WntGyifWe5

— Las Vegas Laziali (@LVLaziali) December 29, 2018
Lazio continued to believe in victory and pushed forward, exerting pressure on both flanks, but could not bring the ball into the net. In the 86th minute Marusic picks up a direct red card for complaining loudly to the referee after a small foul. four minutes later in the 90′, Meite also gets a questionable red card. Lazio still tried to score the winner, but the guests fought back with all means and seemed to be satisfied with the draw, which they also got.
Ratings
Strakosha – 7
Luiz Felipe – 7
Acerbi – 7
Radu – 6.5
Marusic – 5
Milinkovic-Savic – 8.5
Parolo – 6.5
Lulic – 7.5
Correa – 6.5
Luis Alberto – 7.5
Immobile – 6.5
Below, some of Laziali's post-match thoughts:
Am not happy with the outcome of this match especially the approach in the 1st half whereby we had so little chances to grab the lead before being a goal down. But am happy how the 2nd half panned out since Lucas #Leiva was brought in. He helped improve the attacks. #LazioTorino

— Olalekan Owolabi #StayHomeSaveLives (@OgbeniOlalekan) December 29, 2018
https://twitter.com/Lazioland_forum/status/1079045087156469761