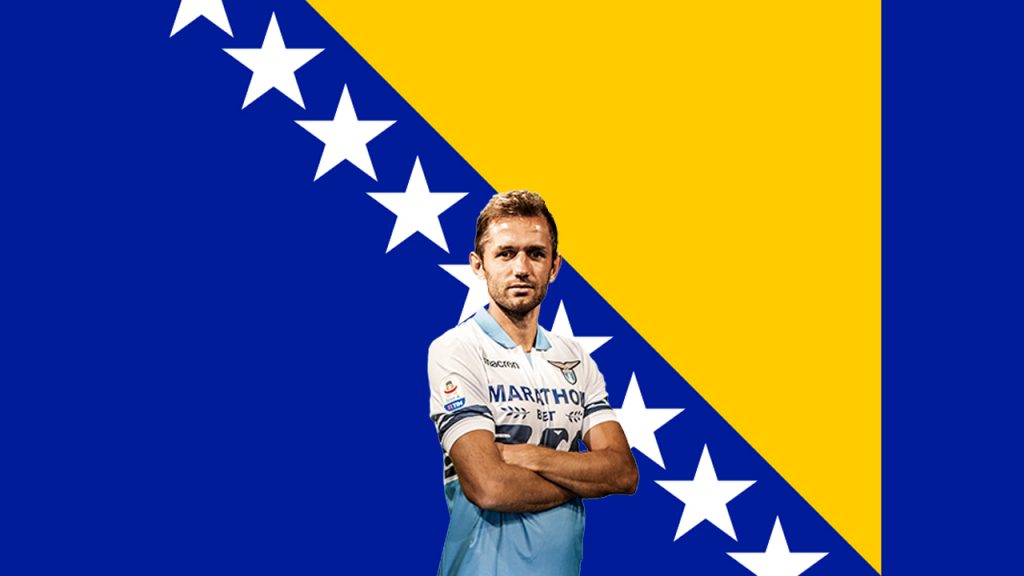 Many words are synonymous with Lazio. Biancocelesti, Aquile, Olimpico, and Aquilotti can make many people think of the beautiful team in light blue. However, one which may mean more to many a Laziale than any of these other words is 'Lulić'. Lazio's Bosnian captain is a cult hero in Rome, he's part of the furniture, wearing the captain's armband and famously scoring that goal in the 2013 Coppa Italia final to give Lazio a historic cup victory over fierce rivals Roma. Below, a closer look at Senad Lulic; his background, his time at Lazio, and just exactly how he keeps the team ticking.
Senad Lulic: Background
Senad Lulić was born in Mostar in present-day Bosnia and moved to Jablanica, where he spent most of his childhood. However, due to the conflict in Bosnia, Lulić moved to Switzerland with his family – where he would then get his first place at a football club, playing for Chur 97 from the age of 12. Lulic signed his first professional contract with the Swiss minnows in 2003 at the age of 17 and spent three more years with the club before moving to Bellinzona. After helping his new club reach the Swiss Super League, the Bosnian completed a switch to Zurich-based Grasshopper and eventually completed a move to BSC Young Boys in 2010.
In Bern with Young Boys, Lulic played for just one season – scoring 9 in 44 in all competitions, which, to this day, is his highest tally whilst playing for a top-flight club. Whilst at Young Boys, Lulic caught the eye of S.S. Lazio and club Sporting Director Igli Tare traveled to Switzerland to negotiate with then Young Boys boss Vladimir Petkovic. Lulic signed for Lazio and Tare was so impressed with Petkovic that when the club parted ways with Edoardo Reja in 2012, Petkovic was shortlisted and subsequently signed as head coach.
The Lazio Story
Senad Lulic is in his eighth season at Lazio, featuring in 301 total matches for the Biancocelesti; scoring in his 300th against Bologna in December 2018. Lulic's biggest moment for the club came with the 2013 Coppa Italia Final, where the Bosnian scored a dramatic winner against Derby della Capitale rivals AS Roma, to give Lazio a historic cup victory over their fiercest rivals.
Lulic became the captain of Lazio in the summer of 2017 when Lucas Biglia left the club in favor of a move to a rich AC Milan side. Biglia won a total of 0 trophies with Lazio during his time at the club and as captain but, once the Argentine left and Lulic became captain, the Biancocelesti lifted the Supercoppa Italiana just a month later. Lulic has been a mainstay for Lazio in recent years and one can only hope that he ends his career with the club, offering his all for the capital city club.
How Does Senad Lulic Fit in at Lazio?
Lulic plays primarily as a left-wing-back for Lazio in a three-at-the-back formation, offering support both offensively and defensively to the rest of the team. A committed tackler of the ball, Lulic always gives his all for the side and is not afraid to get stuck in when called upon. The Bosnian offers as much going forward as he does defensively, just as willing to make a big charge down the left flank and cut into the box as he is to run the length of the pitch to add defensive cover for the back three.
Lulic is a natural leader and his presence on the field seems to bring confidence to the rest of the players; whilst the fans adore him and are keen to cheer on their captain. The Bosnian usually gives his all on the field and this, more often than not, can make the difference in big games – where Lulic tends to shine. We need only look at that Coppa Italia final to show that when called upon, Senad Lulic is Lazio's knight in shining armor.