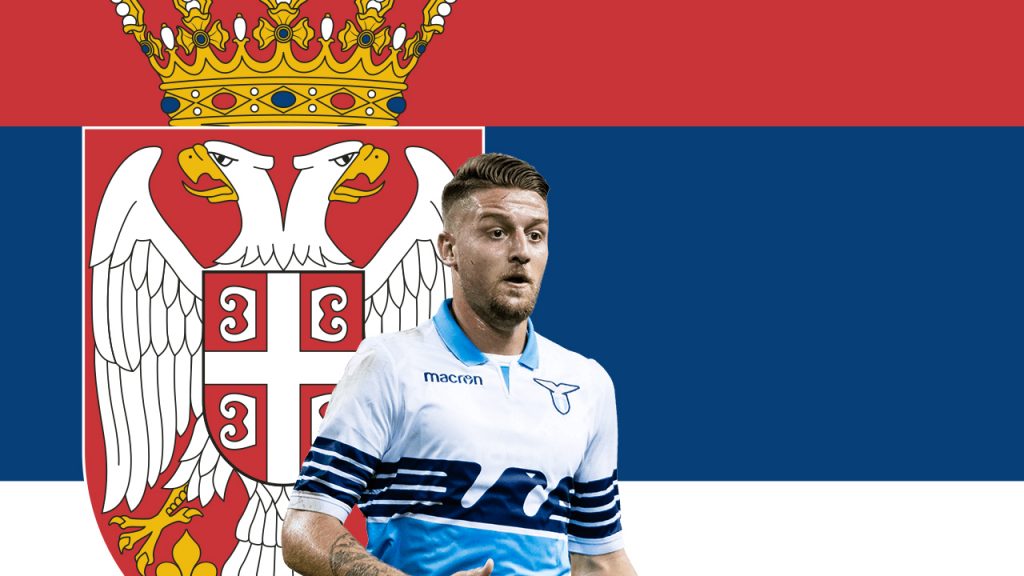 Sergej Milinković-Savić: Introduction 
It is fair to say that Sergej Milinković-Savić has been a wanted man since his breakout season with Lazio in the 2017/2018 Serie A season. When this feature first released, back in March of 2018, the Serbian player was just starting to be noticed by some of the biggest clubs in Europe. Manchester United, Tottenham Paris Saint-Germain, Real Madrid, Barcelona, Inter, Milan, and Juventus were all teams said to be interested and touted as possible destinations. However, what felt like a tremendously long summer – which also included average World Cup performances – the player remained with Lazio; Biancocelesti club President Claudio Lotito demanded an excessive amount of money (€100+) to even consider his departure, which no club reportedly met.
The following season (2018/2019) was a difficult one for both Milinković-Savić and club. Although Lazio finished with a Coppa Italia, they finished in eighth place in the Serie A and exited the UEFA Europa League in dramatic fashion to Sevilla in the Round of 32; the Serbian scored just seven goals and provided just three assists in 41 matches in all competitions. Criticized for their lack of effort, many had thought Lazio was about to experience a downfall after a few positive years; Milinković-Savić – amongst other stars Luis Alberto and Ciro Immobile – were said to be on their way out, in addition to Sporting Director Igli Tare and Manager Simone Inzaghi. However, this lack of success was mainly due to the inability to make a decision regarding what the club wanted to achieve – they were battling on three fronts (Serie A, UEFA Europa League, and Coppa Italia) all with the overarching objective of securing a UEFA Champions League spot for the 2019/2020 campaign.
Enter the 2019/2020 campaign. One in which Lazio and Milinković-Savić are playing the best football of their lives. Currently sitting in second place in the Serie A – the only competition they have to play for after being eliminated from the UEFA Europa League and Coppa Italia – they are on a 20 match unbeaten streak, while Milinković-Savić has five goals and seven assists in 30 appearances.
Background
Sergej Milinković-Savić started his youth career at Grazer AK, an Austrian sports club before moving to FK Vojvodina in Serbia at the age of 11. He spent six years at Vojvodina as a youth player before signing his first professional contract with the club in 2012. He scored 3 in 13 league appearances for Vojvodina, helping the club win the Serbian Cup in the 13/14 season. Fast forward to June 2014, where the young Serbian was snatched up by Belgian outfit Genk, for a fee of around €900k. There, he played 24 games in the 2014/15 season, scoring five goals in the process. Milinković-Savić signed for Lazio in 2015 for a fee of around €16m and has since made 110 league appearances, finding the net 19 times. In the 2015/16 and 2016/17 seasons, Sergej played 25 and 34 league games respectively, scoring 1 and 4 goals. In the 2017/18 season, Sergej excelled himself, with the Serbian midfielder scoring 12 times in the league in 35 appearances; while in the 2018/19 season, his production dropped with just 7 goals and 3 assists in 41 matches across all competitions.
Playing Style
In 2017/18, Sergej was instrumental to Lazio's success, whilst throughout the 2018/19 season, he played much more of a supporting role. He found the net on fewer occasions and altogether did not play as well as he had done in his breakout years, resulting in backlash and a decrease in value. However, despite not playing as well as expected, Sergej was still an important player and was still growing; he was nowhere near his peak maturity and his consistency would only grow with age.
This 2019/20 season, the midfielder has become a complete midfielder and a target man, in the modern sense of the terms. He is excellent at holding up play in the box and therefore creating space for Lazio's attacking force to dominate. Not only is he necessary to Lazio's support play, but to their actual goal-scoring too. He has been one of the most prolific midfielders in Europe's main leagues and, with Ciro Immobile and Luis Alberto, helped Lazio become one of the highest-scoring teams in Europe's top five league. Parallels between Sergej and Yaya Toure in his prime could be made; they are world-beating complete midfielders with an eye for goal.
Milinković-Savić is usually positioned just outside the box, usually facing the ball at all times, rarely looking away from the man with the ball. This is important as it allows the rest of the midfield and attack to play balls off him; his pure physicality helping keep any potential defenders off his back. This is an example of the 'pass-and-move' football that Simone Inzaghi has implemented into this Lazio side, yet Milinković-Savić doesn't move much. He is vital for giving the rest of the side the freedom to move in the final third that a conventional center-mid doesn't. In addition, he is allowed to dominate space due to the typically open defenses of the Serie A; his physicality makes him a vital piece in Lazio's build-up play and it helps him get on the scoresheet too. His height and strength are also a dangerous threat, especially in the box.
Sergej Milinković-Savić: Final Thoughts
The main concern about Sergej Milinković-Savić can be related to is his inconsistency. Sergej, as aforementioned, was crucial to Lazio's successes in their highs, but in periods in which the club overall fails to do well, he does not prove himself a stand-out-man; he plays as a mere shadow of his former self. Whether he is struggling with fitness or lacking confidence, when something is not clicking for the Serbian, it shows. However, this 2019/20 years has been one to praise; he has scored vital goals in crucial matches and his experience is beginning to show.