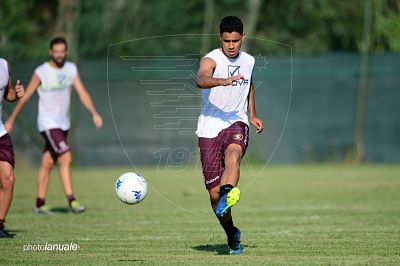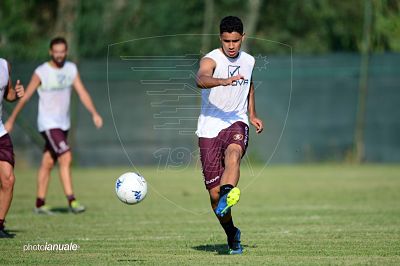 Editor's Note: This article was written by Dominic José Bisogno (@DJBisogno on Twitter), who recently launched Salernitana USA, a Twitter account dedicated to English coverage of the Salerno-based club. At TheLaziali, we are eager to show and celebrate the link between these two clubs, regardless of the fact our mutual friend is Mr. Lotito himself. Dominic will be publishing monthly Salernitana reports to TheLaziali – where he will discuss the team's progress as well as informing us all on how the Lazio contingent on loan in Salerno are doing. We hope you enjoyed; you can follow Salernitana USA here!
December proved a dismal time for US Salernitana 1919, who ended the month with one win, one draw, and a tragic four losses. Perhaps even worse, the club conceded thirteen goals in that time while scoring only seven. This run of losses, which tripled their loss count in the 18-19 season from two to six, also left the club in eleventh place after spending weeks on the edge of Serie B's promotion playoff spots. The turn of events has been an unpleasant reminder for supporters of the previous season, which saw the club make a significant playoff push before slumping back into the middle of the table, eventually finishing in twelfth. As of the writing of this article, Salernitana are 11th with 24 points and a 6-6-6 (yes, really) record to their name with eighteen games played.
Change in Management
Struggles on the pitch led to the firing of Stefano Colantuono, who joined the club in 2017 after spending a year managing Bari and managed his final match on December 16th, 2018. Colantuono's replacement, Angelo Gregucci, is a man who holds deep history with both Salernitana and Lazio. Gregucci made 187 Serie A appearances for Lazio before entering a career in management, which has led him to managing Salernitana on two different occasions, first from 2004 to 2005, then in 2014. This makes Gregucci a familiar, if somewhat unaccomplished, face for the club both before and after its bankruptcy and reformation in 2005.
Gregucci's third and most recent stint as manager began well, with the club earning its first win and first draw of the month as previously mentioned, but his somewhat reformed side would still struggle in their 2-4 loss to Pescara, who came back from 2-0 down to beat the home side for the final match of 2018.
Lazio Loanees
Changes in fortune and management have, of course, affected the three loaned players from Lazio currently calling US Salernitana home. Those players are André Anderson, Djavan Anderson, and Davide Di Gennaro.
Djavan Anderson's place in the squad, as previously reported on this site, has been a slim one under both managers, leaving his loan in question. Lazio have reportedly received an offer from Foggia to take the 23-year-old under their stead in hopes giving him more playtime. Anderson has only made two appearances in December, playing 45 minutes during Colantuono's second to last game and finding two minutes of play under Gregucci in a 0-0 draw with Cosenza.
Davide Di Gennaro's time in the squad has suffered far more than Anderson's under Gregucci, as the Milan-born midfielder has made no bench or pitch appearances for the club in December. His last appearance was on November 4th , in a 1-0 loss to Venezia. There is
consistent rumour that Di Gennaro is looking to leave Salernitana and return to Lazio where he has previously made five senior team appearances.
One loanee has benefited from recent managerial changes, that being André Anderson. The Brazilian central midfielder made three appearances for the club prior to Gregucci's arrival, combining for 56 minutes of play. Since Gregucci's arrival, Anderson has started two games, one a draw the other a loss, for a combined 152 minutes. André Anderson has yet to score or assist, unlike Djavan Anderson and Di Gennaro who have a goal and two assists between them this season, but is surely closer to doing so now that he seems set to be actively included in the squad.
The success of players like André Anderson, who have gone from ignored to front and center under Gregucci, will be key to Salernitana's hopes of regaining momentum and earning a playoff appearance.
If you like what we do, support us on Patreon. We ask for just the price of a cup of coffee each month to help us cover the costs involved with running the website!
Check out our YouTube channel!
For more reports, exclusive news and features, visit our homepage!