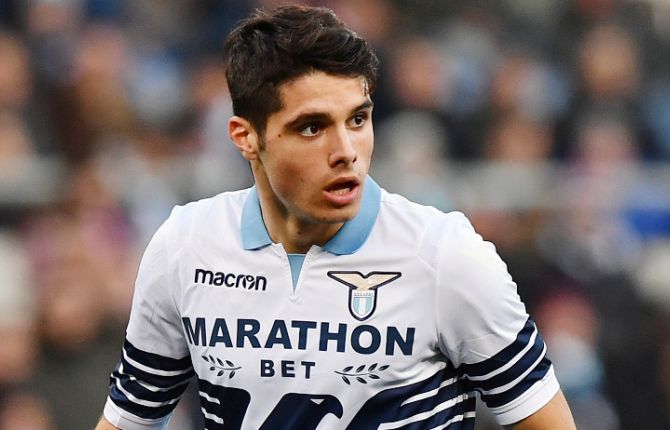 18-year-old Portuguese winger Pedro Neto made his Serie A debut against Juventus last month in their 2-1 defeat at home, coming on in the dying minutes to replace a tired Bastos. Neto arrived on loan from Portuguese team Braga in August 2017, along with Bruno Jordão, with an obligation to buy the pair for €26 million. Speaking in an interview to the Lazio Style Channel, Neto had nothing but praise for manager Simone Inzaghi and the club:
"My debut was beautiful, I remember the crowd and all the fans present, it was a wonderful feeling. Since I arrived I have waited for that moment and that opportunity. It was a great satisfaction, I worked hard to be here, being the fifth youngest foreign player to have made his debut with Lazio in their history is a source of pride for me. I dedicate all this to my mother and father, who always follow me and I always listen to their advice and suggestions.

"I did not feel the pressure for the price that Lazio paid for me, I know my value and how I worked to get this. I knew that the Serie A TIM would be very difficult – we work more defensively here than Portugal, tactically it is just another story.

"I made my debut in Serie A on the same day that Cristiano Ronaldo was at the Olimpico, it was great. He and Cancelo are for me points of reference and examples to follow.

"The Lazio fans are incredible, when I hear the crowd explode in a roar toward me, it means that I did something good, it is an indescribable feeling. I have to improve in the non-possession phase, this was the most complicated thing I had to learn when joining Lazio. In Italy, if you are young, it is difficult to play because it's "mature" football. I was thinking of debuting earlier, but I did it at the right time, when the coach thought the time had come and felt it was right. I have a great relationship with Inzaghi, he has helped me a lot, he always encourages me to do better.

"Rome is a beautiful city, the weather here is beautiful, not like in Portugal where at this time of year the weather isn't the best. When I don't train I stay at home, otherwise I visit the centre of Rome. I saw the Fontana di Trevi and the Vatican for example.

"With Lazio, I found myself right away, there are many quality players who have helped me a lot. Lucas Leiva was fundamental in my introduction, but also people like Bastos, Luiz Felipe and many others. I had to take an example from the stronger players, I worked hard to make my debut, I made myself a very humble disposition: it is a value that I learned from my family, which has always taught me that to get far and to big goals you have to be like this.

"It is a difficult moment for Lazio as we have many close matches, we are working to express ourselves better. The Italian championship is difficult, there are many teams fighting for the Champions League spots. Against Sevilla it will be a tough game, it will be a match against a great team, we hope to progress. It will be a difficult game because the Andalusians have many qualities, but we are strong too and we can find the goal in various ways.

"I have to keep working hard to achieve my first goal in Serie A, I have to improve in all aspects, but especially in the non-possession phase. I want to be good at everything I do. I scored a beautiful goal with the national team and aim to have as many moments as possible.

"I could have accepted the offers from Barcelona or Manchester United, but I decided to come to Lazio because it was the right project for me, it is a team of great quality. When I arrived Nani helped me a lot in my inclusion in the team.

"I often spend time playing video games, I have never played against Immobile. Bruno Jordao is poor with the joystick, and I also played against Bastos and Wallace, however I also defeated them.

"Young people must never get knocked down because they do not play, we must always work with our heads down and be ready at the right time. Not having qualified for the Champions League last year was painful, it was a pity to not achieve this goal. We have matured and we have learnt a lot since last season. My role is mainly that of a winger, here I have to act as second striker. I listen to 100% what the coach tells me and I want to learn as much as possible and make myself available in the best possible way for the team."
Neto was substituted on for goalscorer Felipe Caicedo against Empoli last week – you can expect to see more of this youngster in the future.