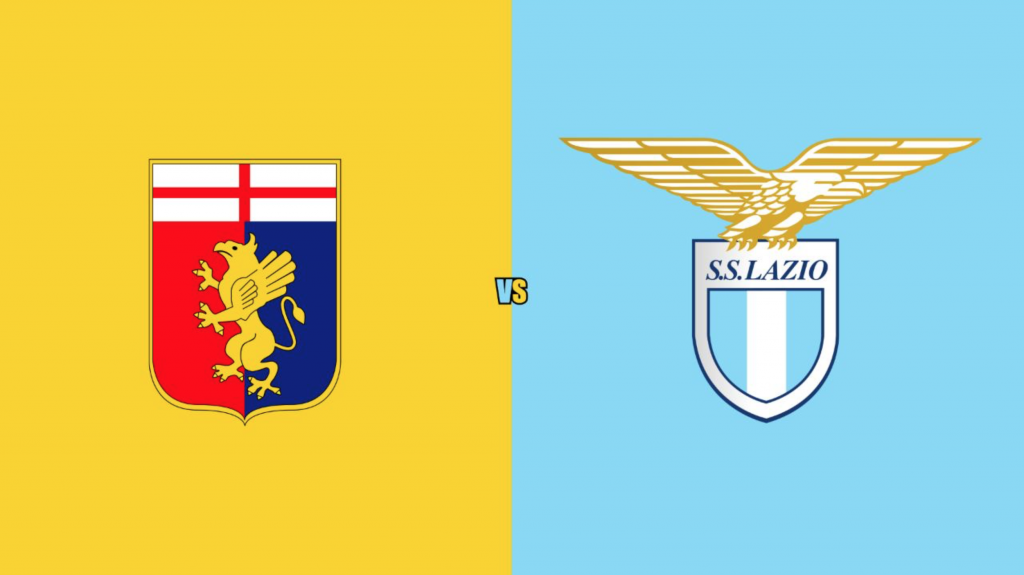 Lazio traveled to the Stadio Luigi Ferraris to take on Genoa in Matchday 24 of the Serie A TIM. A depleted squad with 10 injuries, Simone Inzaghi was forced to take risks when choosing his starting lineup. Although most of the eleven that took the pitch were regulars, there were some anomalies. Patric was chosen to start as a right center back and the central midfield was composed of the unnatural trio of Romulo – Danilo Cataldi – Milan Badelj.  Although shorthanded, the Biancocelesti put up a good performance despite losing 2-1. They showed desire and courage to step up and perform – especially playing with only one designated defender for the last 25 minutes – rebounding after a 1-0 loss at home to Sevilla in the Europa League. Below, S_K_MOORE and The Laziali team break down the unfortunate and undeserved loss…
The Goals
The first goal of the match was the end result of a brilliant play from Lazio. After receiving a pass at the top of the 18-yard box, Badelj made a sharp turn and drove towards goal. He found the advancing Ciro Immobile, who then provided a perfect give-and-go to the Croatian, and the 29-year old placed the ball with precision into the bottom right corner. 1-0 to the Biancocelesti after 44′ of play.
The next two goals came from Il Grifone. The first was scored in the 75′ after a miscue from Inzaghi's side in their 18-yard box. A corner was whipped in and the ball bounced a few times before Lucas Leiva – who was just brought on to the pitch – smacked the ball off Antonio Sanabria as he tried to clear it. The ball went past a helpless Thomas Strakosha in goal. 1-1. The second was scored deep into extra time. Off a poor clearance from Senad Lulic – and consequentially Felipe Caicedo – the ball fell to Domenico Criscito just outside the 18-yard box and he smashed it off the far post and into the net with his left foot. The Rossoblù took the lead with just one minute left to play and Lazio went from three points to none in under 25 minutes. Breakdown.
The Substitutions
All three available substitutions were used in this match. The first occurred just 10′ after the start of the second half, as Inzaghi replaced Immobile with Felipe Caicedo. This was largely due to the fact that the Italian attacker was not 100% match fit and he did not want to take a risk in injuring him further. The second substitution was made in the 64′ minute. Cesare Prandelli's side pressed hard for an equalizer and Inzaghi wanted to put on a defensive player that he could rely on to protect the back three. This substitution was Lucas Leiva for Romulo, which eventually backfired as less than 10 minutes later, Stefan Radu was forced off with an injury. This left Lazio forced to make another change, but the issue was that they had no other defensive choices; Francesco Acerbi was the only known defender on the pitch. Young Portuguese midfielder Bruno Jordao was brought on for his first appearance in the white and blue colors sending Senad Lulic back to the left center back role. At this point, Lazio were still up 1-0, but their formation looked something like this:
Strakosha

Patric – Acerbi – Lulic

Marusic – Badelj – Lucas Leiva – Cataldi – Jordao

Correa

Caicedo
Quite the worrying sight.
Thoughts
"Above all else, this result was a truly concerning one for Lazio. Against a side that have won just 4 times in their last 20 games and we take a late 2-1 defeat; in a match we led at one point. I find myself not even sure who to blame. I'm not sure if the right fitness training is going on at Formello, Inzaghi is clearly out of his depth whenever he has to hold on to a lead against opposition with the slightest bit of talent and half the players looked about as aimless as it gets. Serious chats must be had in the next week; between the coaching staff and the players, as well as between the upper management and Simone Inzaghi – so the club can assess what steps must be made in terms of prioritizing competitions and ensuring that this doesn't happen again… but we all know it will."
"Today, Lazio faced a very strong Genoa. Despite shortages to thir squad, Lazio held strong against Genoa and created a lot of high-profile opportunities. After two questionable substitutions from Inzaghi in the second half, Lazio the game started to get out of hand and Genoa rewarded themselves for their strong performance. All in all, a poor second half performance by the team and esspecially the coach."
Ratings
Starters
Strakosha 6.5
Radu 6.5
Acerbi 6.5
Patric 5.5
Lulic 6
Romulo 7
Badelj 7.5
Cataldi 6.5
Marusic 6
Correa 6.5
Immobile 7
Substitutes
Caicedo 5
 Leiva 5.5
Jordao 6
Inzaghi 4