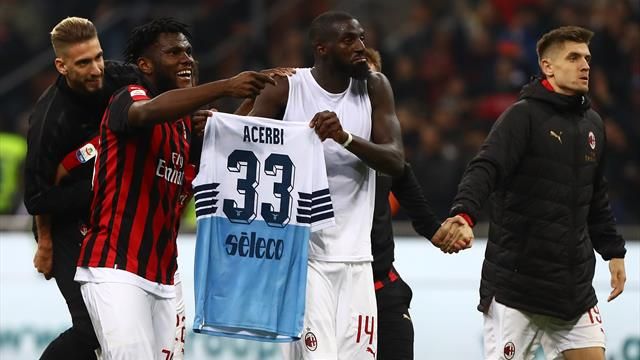 As reported by Corriere dello Sport, the Federal Prosecutor of the FIGC, Giuseppe Pecoraro, has taken video evidence against two of Milan's midfielders – Franck Kessie and Tiemoue Bakayoko – who were producers of a gesture of little nobility towards Lazio's Francesco Acerbi at the conclusion of the Serie A TIM match yesterday. As ANSA has learned, Pecoraro is said to have taken this evidence and sent a report to the sports judge for an application of a TV test. So, what exactly partook?
The two Rossoneri, celebrating the victory over Lazio together with their teammates under the South Curve of the San Siro, had shown the fans' Acerbi's shirt (Bakayoko and Acerbi swapped shirts) to the fans like a trophy. The gesture was immediately criticized both by Acerbi himself and striker Ciro Immobile, before Milan manager Rino Gattuso even joined in, inviting his players to apologize.
The apologies have come from the Milan players via social media, but in the meantime, the indignation of many fans for their gesture have been unleashed.