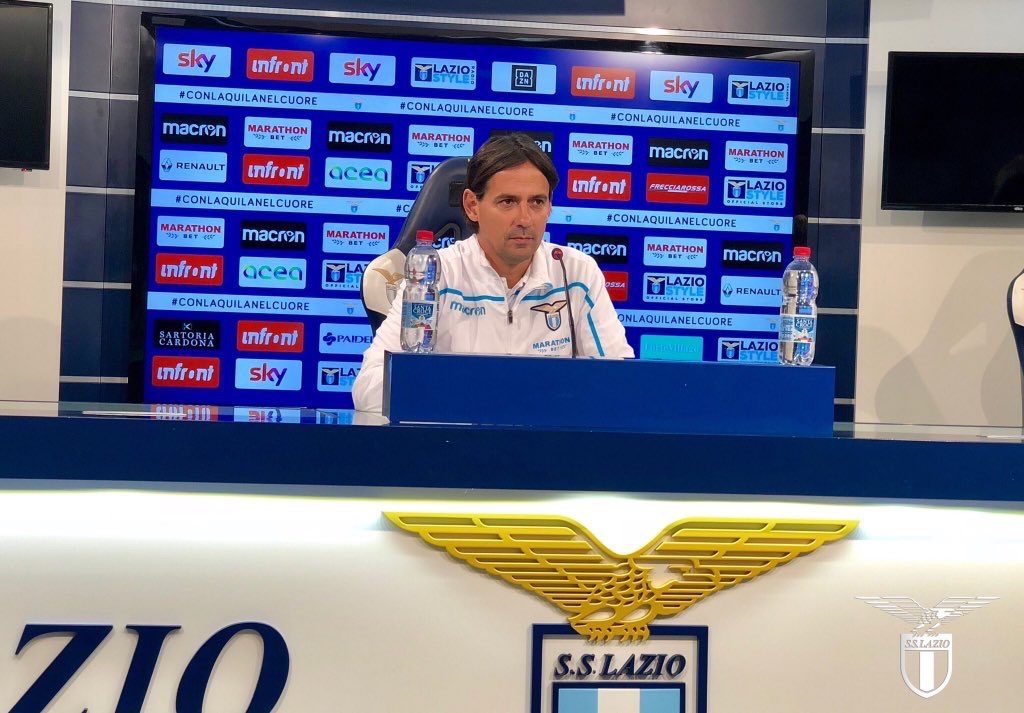 Lazio's game against Sampdoria tomorrow is critical if they are to stay in the running for the final Champions League Qualification spot. Simone Inzaghi spoke in a press conference before the game. As reported by Lalaziosiamonoi.it, here are his words:
What should we expect from the last five games of the season?
"Six games to go, six. They are important and are not just simple games waiting for us. We have to play them in the best possible way. Our path to Europe is waiting."
How do you get the motivation to play against everyone in the same way?
"Previously you asked me the opposite, why shouldn't we win like the big teams. It's hard to give a precise explanation. In four games at the San Siro, we won three, and we lost the fourth because of unclear episodes. It means that there are human qualities and values. We've had a decline that shouldn't have happened in such a critical period. But we want to keep fighting until the end, this year we will have played about 50 games."
Do you have many regrets?
"There's nothing we can do, so let's look to the future, like Sampdoria. They have quality and individuality, on Wednesday there was a tight game, I saw the guys play well. Tomorrow I'll choose the team that will give me the most guarantees."
What changed between Chievo and Milan?
"First factor: there were 11 of us at the end. If we were 10 in Milan, we wouldn't have gone to the final, just as perhaps against Chievo we would have won with 11. We have to look ahead, it's our third final in three years, a great goal to achieve. Let's think about Sampdoria, then we'll do the same with Atalanta, Cagliari and then the Coppa Italia final."
Regrets for dropping points against the smaller teams?
"After the San Siro game we paid a price psychologically. We let our grip go, which I was recommended not to do. It can happen after important goals, the team is mature, beyond that who will play will have to play a great game. We must not give up an inch."
Injuries? Who needs rest?
Durmisi has a resentment, because he was not summoned like Berisha. Radu has not recovered, we have five absences, six including Lukaku. I have an important squad, I have to choose, in front of me I have three players who are satisfying me. Immobile and Correa have played a lot, today I tried playing Caicedo with Correa. Then maybe tomorrow I can change. Wallace is returning to a good level, he didn't get injured on the beach, but in Milan his return on the pitch was an important restart. I'm considering him, he's impressing me, he's training at fully capacity, so there could be an opportunity for him to play tomorrow. I'll decide after tomorrow morning."
Can Immobile impress you in the Coppa Italia final? He has created so many assists this season…
"I told you, it's not just goals that need to be created. In Milan he had a great game, assisting for Correa's goal and working a lot without the ball. He's played a lot, you have to evaluate the conditions, this morning he told me that he's recovered well. Like Correa, who played half of the match against Chievo, I didn't want to overwork him, he wasn't 100%. I have the obligation to manage their energy, and Caicedo gives me great answers, it wasn't easy to leave him out at the San Siro, he had scored in the two previous games. But I'm the coach, I have an obligation to make the choices that I think are the right ones."
Correa, Caicedo and Immobile playing together a possible solution? Do you like the Coppa Italia final between the championship days?
I would have preferred to play it at the end of the season. A final can leave repercussions on the teams involved, the calendar has been like this before and you can't go back. I've thought about it, you can do it mid game or from the beginning. You can play Cataldi tomorrow, even though Badelj has shown me that he do the mezzala role too. Here, too, I'll decide it tomorrow."
Without Luis Alberto and Milinkovic-Savic what changes?
"Two important absences, like all the others. The only drawback of my team is the fact that I've never been able to have the whole squad at my disposal. In the first leg we missed Leiva, now we have Milinkovic-Savic out and a few too many players disqualified. We have to make up for the absences, those who will play, will play well."
Why do you often change your defence? Can Badelj play?
"I still have to choose, tomorrow we'll see. I have five players available, there will be no Radu, so we'll see the best solution. Badelj is an option, he could play in front of the defence, then he can play as a mezzala. He has similar characteristics to Leiva. There may be a chance for him, as for Cataldi and Jordao. Tomorrow I will choose."