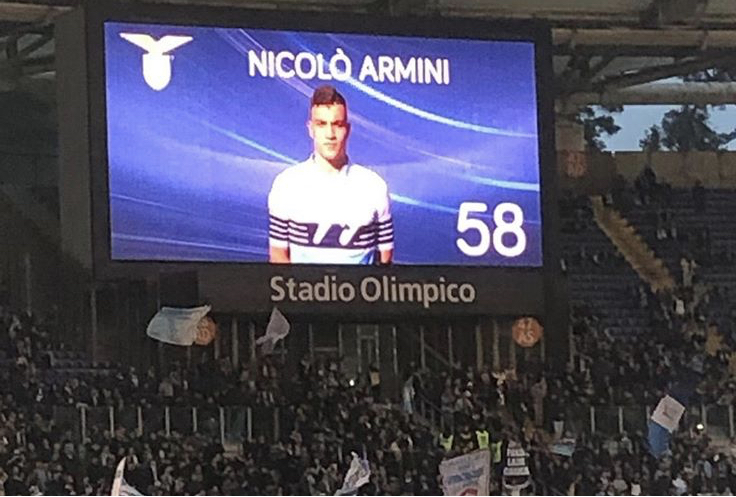 Since Alessandro Nesta had to leave Lazio for Milan due to financial problems in Sergio Cragnotti's days, Laziali have grieved and longed for their lost son.
"We want, we need, a new hope. A new Alessandro Skywalker."
As of late, many Lazio fans have dreamt of Milan's Alessio Romagnoli; after his transfer from Roma to the Rossoneri, he confessed his blue and white heart to the world. But he remains a distant high-priced dream.
Many young players have picked up the "next Alessandro Nesta" shoes since then, but have never really stepped foot on the Stadio Olimpico. Even someone like Alessandro Tuia was, despite his name, not even close to reaching the expectations from the Lazio faithful.
Last Monday night we saw a glimpse of another hope since young center-back Nicolò Armini, born 2001, who came on to replace Luiz Felipe against Bologna. 
Armini has played in every age level in the Lazio youth sector. He and his family are Lazio fans thick and through. His great idol is, of course, Alessandro Nesta; he has played with the shirt number 31 and the text AN 13 and NA 31 on his boots. Last November he was awarded for best young defender born in 2001.
Nicolò and his younger brother Yuri also got to celebrate together after the Bologna game with the Coppa Italia trophy. Yuri also got to finish his week pretty well after beating Cristian Totti's Roma in the Under 14 Final with Tommaso Rocchi's Lazio youth team.
Nicolò is a versatile defender, able to play on all positions at the back. During the season he has been a bit injured but is in fact the captain of the Lazio Primavera team. His young age also makes it possible for him to play on and grow for another season with the primavera. But the question is if Nicolò is already about to make his step up the ladder to the senior team for next season.
Rumour has it that he might get another chance by Simone Inzaghi to show his potential in the last Serie A game for the season against Torino.