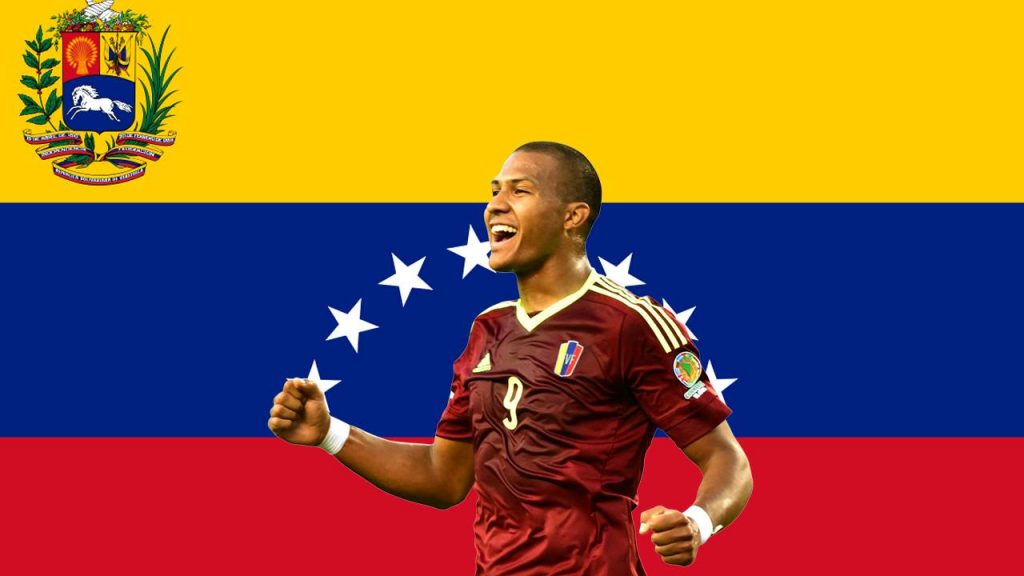 Following a strong debut with Newcastle United FC this past year, Salomón Rondón has returned to West Bromwich Albion FC. However, as the Baggies failed to obtain promotion for the 2019/20 season – and will, therefore, be remaining in the Championship – the striker looks destined to depart. While most reports are suggesting that he is most likely to remain in England, quite frankly, no one is sure where the attacker may end up: in addition to interest from several Premier League clubs, Roma, Fenerbahce, and Marseille are said to have shown interest for the player. Nevertheless, at 29 years of age, Rondón is in the prime of his career and still has much to offer to the game at both a domestic and international level. For this reason, The Laziali are proposing that Lazio make an attempt to sign the Venezuelan international, who has just one year remaining on his contract.
Career Overview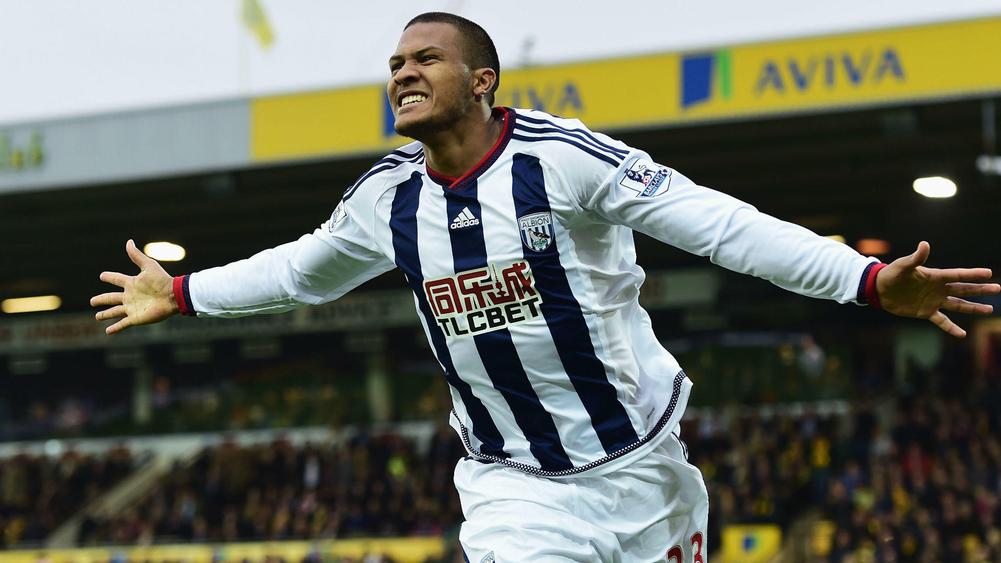 Born in Caracas, Venezuela, Salomón started his professional career with Venezuela's Aragua FC, where he won the domestic cup in 2008. At the end of the campaign, he moved to Spain and was signed by Las Palmas. Scoring 12 goals over two years in La Liga 2, you could tell he needed some time to adapt. However, he played well and showed genuine promise. This resulted in an eventual transfer to La Liga side Málaga ahead of the 2010/11 season.
He impressed most at La Rosaleda, playing alongside the likes of Nacho Monreal and Isco, and under the management of Manuel Pellegrini. A big factor in the side's qualification for UEFA Champions League football in 2011/12 (his second year at the club), before he even got the chance to play in the European competition that he had helped Málaga qualify for, he was transferred to Rubin Kazan in the Russian Premier League. More than doubling their profit, in total, Rondón scored 27 goals for the Spanish club in 72 appearances over two years.
Kazan would finish sixth in Rondón's only full season, but his seven goals and one assist in 25 league appearances were only a small showing of his work for the club in his first year. In Europe, the Venezuelan scored five goals and provided one assist in ten UEFA Europa League starts. He impressed most when brought on as a late substitute against Inter, during which he scored twice in a spell of 31 minutes. Returning to the club for a second season, he netted 12 goals and picked up an assist in the first half of 2013/14, but a metatarsal fracture hindered him to 19 appearances in all competitions.
When the winter transfer window opened, Rondón had been approached by league giants Zenit Saint Petersburg (who were playing in the Champions League) and before completing his second year at the club, he made a switch to the side. The attacker put away terrific numbers in the second half of the campaign, with eight goals and four assists from 12 matches played. 2015/16 would bring another 20 goals and two trophies – winning the league title and the Russian Super Cup – however once again, after two years with a club, he needed to move on.
The next step in his career was a move to the Premier League, and his success in finding the back of the net earned Rondón a record transfer to West Bromwich Albion. A side struggling to remain in the first tier of English football, the striker would score 28 goals over three seasons with the struggling club, helping them to a 14th placed finish and a 10th placed finish in his first two seasons, but unable to prevent their relegation the third (2017/18).
Making it clear that he wanted to remain in the top flight, he spent the past season on loan with Newcastle, in which he scored 12 goals and provided seven assists from 30 starts.
Analysis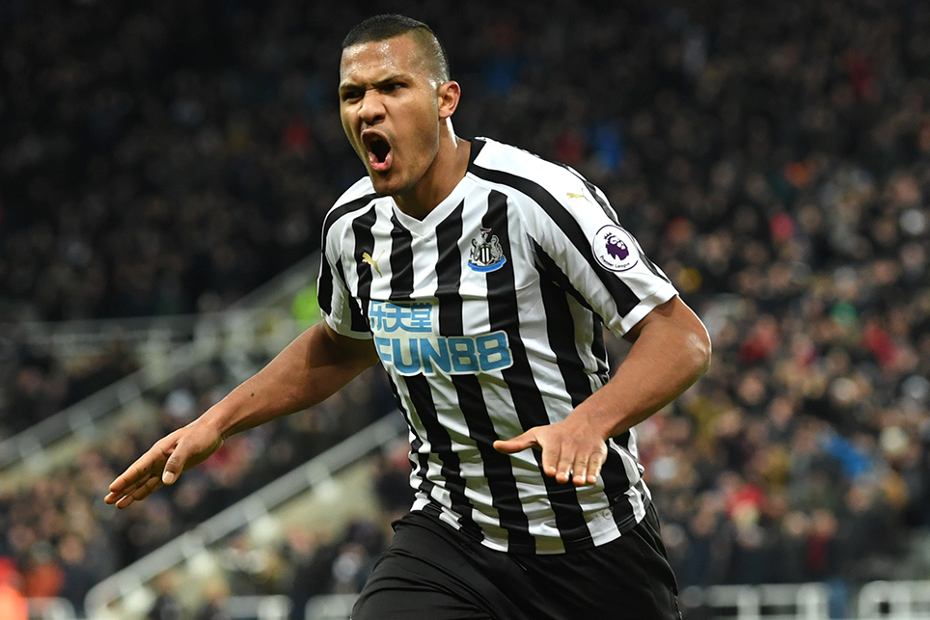 The best way to describe Rondón is as a classic number nine. With West Brom and Newcastle, he was often used as the lone attacker in a 5-4-1 or 4-5-1 formation while with the Venezuelan national team, he has played as the striker in a 4-3-3 or 4-2-3-1.
Despite playing in a variety of formations over the last five or so years, the player's position and style of play have remained largely unchanged. It has been made clear that one is able to get the best of out him when he is lined up alongside highly skilled wingers who are able to whip a cross into the 18-yard box, or secondary strikers who can work off of each other. An example of this is his partnership with Ayozé Perez at Newcastle this past year – they combined for 25 goals and 11 assists in all competitions.
Looking at his specific skill-set, Salomón has a strong understanding of knowing when and how to hold up play. He uses the advantages of his 6'1″ build to shield the ball and either turns his defender or lays off the ball to an oncoming runner before he himself sprints back towards the opposition's goal to finish the play.
He is a terrific header of the ball, being a massive threat to even the strongest center backs in the world of football. From his 131 total professional career goals, 34 have been scored by using his head, proving how lethal he can be when left unmarked. This is another reason he is capable of playing alone up top, becomes he suits and fills the role of the traditional striker so well, overpowering individuals in the aerial duels. An interesting fact: Rondón became just the second player in Premier League history to net three goals in the same match by scoring solely with his head in a 3-1 victory over Swansea in December of 2016.
In addition, the Venezuelan is two-footed, meaning he is capable and comfortable is using either his left or right foot to score goals; he has never taken a penalty before at club level before (and only scored one free-kick), so nearly every one of his goals has come from open play. However, it is important to note that he is not a selfish player. Salomón knows when to take chances himself or when to pass up on the opportunity to set up his teammates, as made evident by his 35 career assists.
The final trait that impresses most is his consistency. Each year, he is able to endure whatever challenge is presented to him at the club level in addition to proving himself on the international stage. He recently broke the record for the most goals scored for the Venezuelan National team (24), writing his name in the history books by completing this feat with 56 fewer games played than Juan Arango (the former Mallorca and Mönchengladbach player who held the record).
Lazio
Although there have been no reports of contact between Rondón and Lazio, this is a transfer that The Laziali would love to see take place this summer. On the lookout for a striker to support Ciro Immobile, the 29-year-old would be a perfect acquisition to help the Biancocelesti stay on track and finish in a top-four spot. Le Aquile are currently missing that aggressive striker who is able to stand his ground, win aerial battles, and put the ball in the back of the net when an opportunity is given. Ecuadorian Felipe Caicedo is one who is similar to the forward in some ways, but his inability to remain consistent every time he steps on the pitch and his inability to play a full 90′ is where these two players are dissimilar.
Rondón's success on the pitch is often determined by the quality of service he receives via crosses and long balls, which can prove to be both a weakness and a strength in the modern game that often likes to forget about the latter. This applies to Simone Inzaghi's side and formation, as build-up build up play and counter attacks come from the middle of the pitch. However, if the Venezuelan were to be picked up by Lazio, the Italian would likely change his ways to accommodate the center forward.