Lazio x Sergio Cragnotti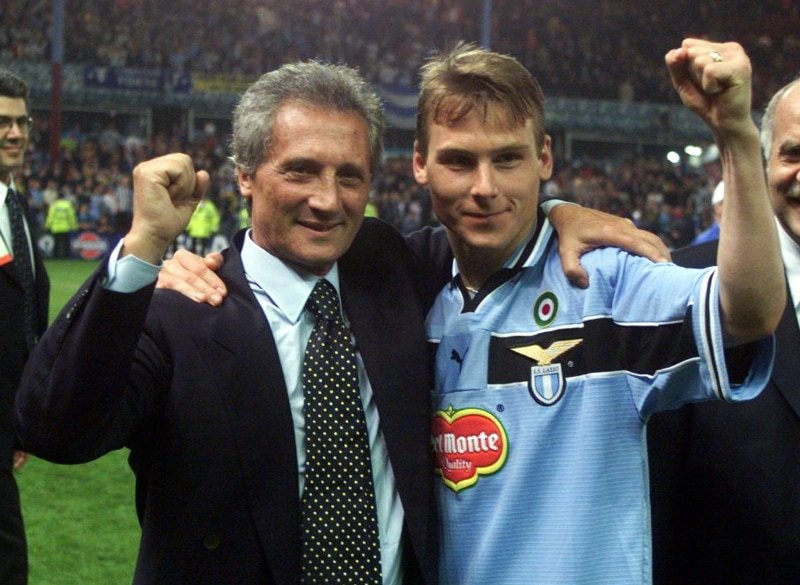 In 1992, Sergio Cragnotti purchased Lazio. An owner who went to all ends to win, this began a transformation that would bring the Biancocelesti to a prestigious status for nearly a decade from 1992-2002.
A talented squad with elite players in this period, billions of dollars were invested into the club as they bought high-profile players such as Hernan Crespo, Christian Vieri, Sinisa Mihajlovic, Alessandro Nesta, and Simone Inzaghi. In addition, he also brought in well-established managers, one being Sven-Goran Eriksson in 1997. It was with him under control of the first team where the club won a series of titles.
First, in 1998, Lazio won the Coppa Italia and the Supercoppa. In the following year, they missed out on the Scudetto by just a single point. However, in 2000, Le Aquile attained a Scudetto and the European Super Cup. Looking back, the 1999/00 and 2000/01 seasons are commemorated as a result of Lazio's team, which can arguably be considered to be the greatest squad in the history of the club.
Although the team went through a short-lived period of success, in 2002, Lazio started to decline. Cragnotti's spending started to catch up to him and the Biancocelesti were suffering from corruption allegations. Due to these financial problems, they had to sell most of their stars to generate funds. This included Hernan Crespo, Juan Sebastian Veron and fan-favorite Alessandro Nesta. Despite a less talented squad, in 2004, the team won its fourth Coppa Italia. This proved that financial constraints would not limit the team from winning. Just one year later, however, Lazio hit rock bottom. In an era of uncertainty, Cragnotti was forced to sell Lazio with his company Ciro filing for bankruptcy. This resulted in the team being controlled by caretaker financial managers and a bank pool. Enter Claudio Lotito.
Lazio x Claudio Lotito 
In 2004, Lazio had certainty again as an entrepreneur named Claudio Lotito had purchased the majority of S.S. Lazio. This new owner entering meant a new era would begin for the club. When the Italian took over, he was left with a budget of €84 million in revenue, €86 million in losses, and €55 million in debt. Uncomfortable budget constraints, the Italian was ready to face – and conquer – this challenge.
Since his arrival, he has brought nothing but stability and good fortune to the club. The owner of Lazio for over 15 years, while some fans have not been fond of the current owner, they at slightest have to agree that he saved a club from turmoil. As it stands, Lazio's financial situation is now positive as the club made €38 million in revenue in the 2018/2019 season, according to the President himself. This is very encouraging news to hear as many clubs face financial restrictions and penalties from FIFA due to breaking Financial Fair Play regulations. Thankfully, Lazio is not a club who will over-spend – as they once used to. However, what they have done in recent times and will continue to do, is bringing about a winning side by combining high caliber players with academy stars and those who 'appear under the radar'.
In Lotito's time, he has brought important players such as Miroslav Klose, Ciro Immobile, Luis Alberto, and Sergej Milinkovic Savic to name a few. He also brought in Igli Tare and made him his right-hand man as Sporting Director as soon as the Albanian retired from football. The two, together, have completed some of the finest business in football, winning three Coppa Italias and two Supercoppa's; quite the impressive feat considering where they started.
While we sometimes feel the squad Lotito is shaping is not good enough, that's most definitely not the case with this team, as it's been able to achieve many trophies and be successful through this new era of Lazio. A club that once encountered difficulties, it looks as if they have put this period behind them; they have finally overcome this obstacle to become a stable team, as Lotito himself states below.
"I think the club has made real efforts to form a competitive squad next year… The fact we are second only to Juventus in Italy for the number of trophies won in recent years shows we have created a sense of stability. The difference now is that Lazio fans feel secure going into the future and our growth from here on cannot help but be exponential. We're very proud to have taken, over 15 years ago, a Lazio on the verge of bankruptcy with over 500 million euros in debt. But over time, we proved the skeptics wrong, as we built the foundations on concrete and not sand. Look at how many clubs are now struggling or have been wiped out. We set the example for many in Italy."
Without a doubt, it has been a successful 15 years with Lotito in charge. Hopefully, the owner will eventually take the club to the next level to compete in the prestigious UEFA Champions League. For now, all we can say is: Grazie Mille, Claudio.