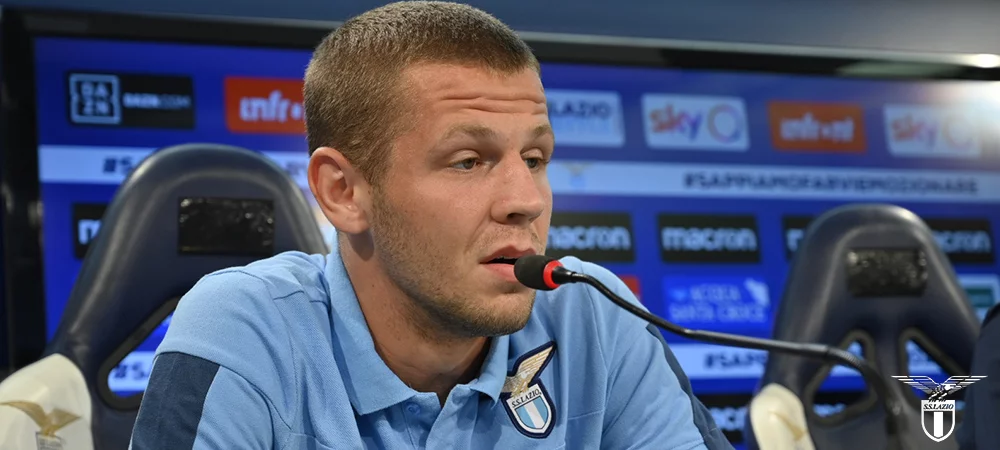 Yesterday there was the official presentation for Denis Vavro, Lazio's new 23-year-old Slovakian defender who arrived from FC Copenhagen earlier this summer. The player's first press conference with the Biancocelesti also took place, here are the questions and answers:
Your feelings about your upcoming debut?
"The feelings are very positive, I'm ready for Sampdoria, I want to prove myself. I have a long contract with Lazio, I want to start on the right foot."
What are your thoughts on Lazio and Serie A?
"The team is very strong, we have ambitious goals, we want to get off to a good start. I'm happy to be here, I've already had the chance to appreciate the fans, the city and the history of this team."
Did you feel comfortable right away? What was the difficulty you initially encountered?
"Maybe the language was an obstacle at first, it was a little difficult. However then everything else went smoothly."
What's your biggest strength?
"I like to fight and just play football."
Sampdoria, then the derby right away. And you chose Lazio and not Roma…
"I chose Lazio because it's a great club, I heard about Lazio's offer, I didn't hesitate to accept. Before Roma there's Sampdoria, let's just think about the league debut. Then we'll focus on the derby".
Is there a defender you're inspired by?
"My idol was Skrtel."
Did you talk to Skriniar before you came to Lazio?
"Milan is a very strong defender, he told me that Italian football is a different kind of football than Danish football, for example. It's much faster, you play with short passes. I like it. I also really appreciate Chiellini in Italy.
What do you expect from Italian football?
"A championship where you have to fight hard. It's certainly very competitive".
You have a great kick, with the power you have you could try to shot right away…
"We haven't talked about this new rule, I'm aware that I can shoot on goal when I'm in a good position. I scored two goals in Copenhagen.
What's the difference in playing with a three-man defence?
"It's not a problem for me to defend with three, I feel very good, especially on the centre-right. I like both defending and attacking. I'm learning the new movements that Inzaghi wants, I'm ready. Sometimes I've done it with Denmark in the second half of a game."
What made you curious about Inzaghi's way of working? Did you already know Rome?
"Rome is a beautiful city, which I had already had the opportunity to visit. Inzaghi often speaks to me in Italian to get me in as soon as possible, I've already seen videos of how he defends the team and I often see in the friendly matches."
Are there some strikers you'd like to face: a duel that fascinates you?
"I don't know, no one in particular."