After a disappointing 2-1 loss in the first Matchday to CFR Cluj, Lazio tried to turn the tables around as they faced Ligue 1 side Rennes in their second fixture of this 2019/20 UEFA Europa League campaign. Lazio did come off a very comfortable 4-0 win over Genoa this past Sunday which really served as a morale boost as they headed into this tough Group E clash against the French side.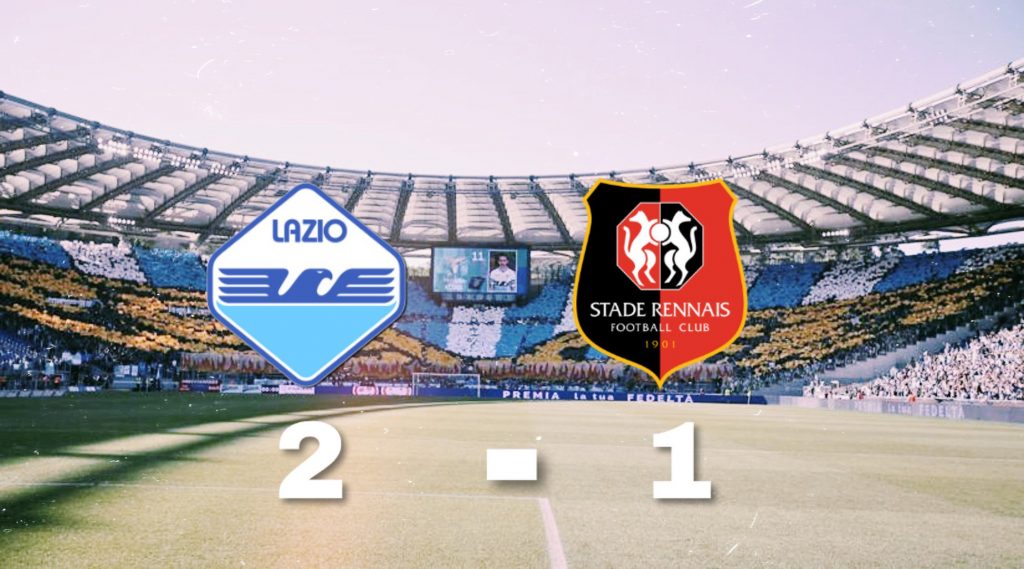 Match official Serhiy Boyko blew his whistle and the match kicked off at the Stadio Olimpico. The first half didn't really have much action from either sides. Some semi-climactic moments came when Rennes appealed for two penalties. The first was immediately waved off and the replay showed a clear dive from attacker Flavien Tait. The second appeal was about an unintentional hand ball against Francesco Acerbi as it hit off the defender's foot and bounced off his arm as he was trying to block a pass. The referee made the right call and waved it off as it was clear that Acerbi's intentions was not to block it with his arm and so play resumed. The first half ended with no goals from either side. 0-0.
HT Report 📝#Lazio are playing a flat 3-5-2 today, with no link between the midfielders and attackers.

This has given them defensive stability but results in a lack of chances; they have not been able to implement their effective countering style of play against #Rennes.

— S. K. MOORE (@S_K_MOORE) October 3, 2019
The second half was like watching a completely different game. Chances started opening up for both sides and it seemed like someone was going to strike. The tension didn't last long, as ten minutes into this half, Clement Grenier sent in a cross off a free-kick to find the head of Jérémy Morel at the second post. He put it past Thomas Strakosha. 0-1.
However, the Biancocelesti responded less than ten minutes later with one of the substitutes (Luis Alberto) finding the other substitute (Sergej Milinkovic-Savic). The Serbian scored a lovely low driven shot into the bottom left corner to draw Simone Inzaghi's men level with plenty of time to spare. 1-1.
#MilinkovicSavic and #LuisAlberto brought on; the 🇷🇸 and 🇪🇸 link up to tie the match (1-1). Key players step up at key times.

— S. K. MOORE (@S_K_MOORE) October 3, 2019
With that crucial equalizing goal, the momentum shifted in Lazio's favor. With fifteen minutes left until stoppage time, Milinkovic-Savic sent a lovely cross into the box to find the head of Ciro Immobile who flicked the ball beautifully into the exact spot where Savic had scored earlier. Lazio made the comeback and all that was left was to conserve the lead to get all three points from this game. 2-1.
GOAL ✅. #MilinkovicSavic whips in a cross to #Immobile who finishes emphatically into the bottom left corner.

As I stated before: Key players step up in key times.

2-1 #Lazio.

— S. K. MOORE (@S_K_MOORE) October 3, 2019
Lazio managed to defend well and keep Rennes from getting any dangerous chances. A close call came to the French side right at the last play of the game as they were awarded a free-kick right at the top of the box for a questionable foul against Acerbi. Grenier, however, did not trouble Strakosha at all. His attempt struck the wall and the ball landed safely into the hands of the Albanian goalkeeper. With that, the match official blew his whistle to finally end the game at the Stadio Olimpico, as Lazio secured all three points. They move up to third spot in Group E, just one point off the top spot (where Celtic currently sit).
FT Summary

1' to 45' – uneventful, lack of drive & creativity.

53' – #MilinkovicSavic & #LuisAlberto 🔄

(0-1) 55' – #Grenier to #Morel ⚽️

(1-1) 63' – #LuisAlberto to #MilinkovicSavic ⚽️

(2-1) 75' – #MilinkovicSavic to #Immobile ⚽️

Bravo #Inzaghi making those subs 👊

— S. K. MOORE (@S_K_MOORE) October 3, 2019
Now, Lazio must shift gears domestically to their Serie A campaign, as they face Bologna away from home on Sunday.