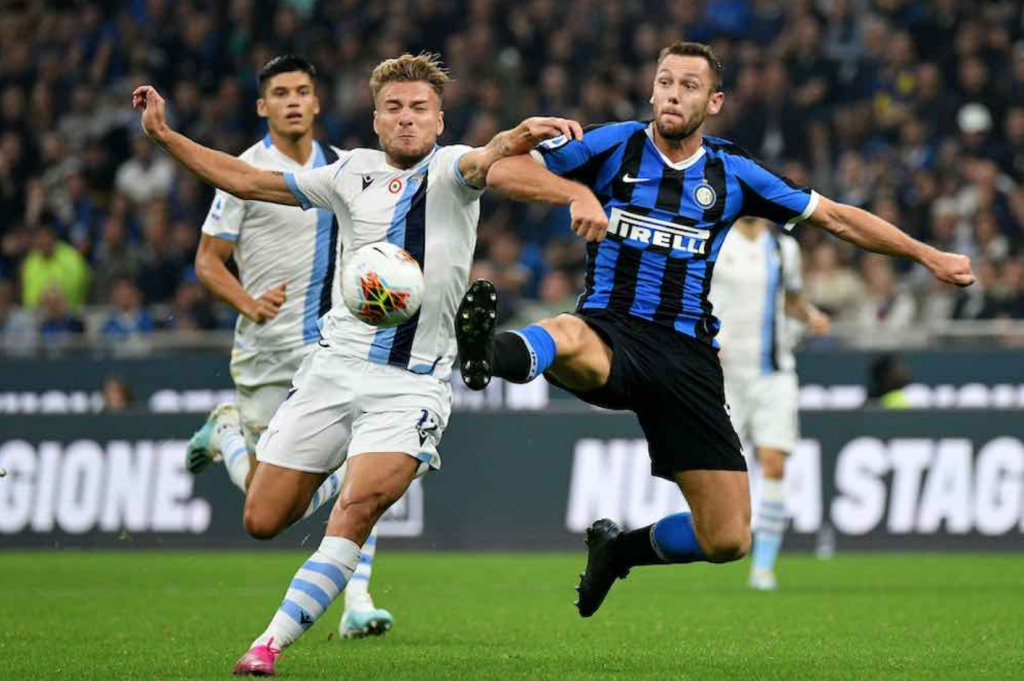 At the start of the 2019/20 Serie A season, Juventus, Napoli, and Inter were expected to compete for the Scudetto. Each team was heavily involved in the transfer market this past summer as players such as Matthijs de Ligt, Kostas Manolas, and Romelu Lukaku joined these clubs respectively.
But there have been a few surprises, one being Napoli, who rather than challenging for a top spot, sit in 11th place and are currently four points behind the European places. However, the most surprising story this year has been Lazio's performance. The Biancocelesti continue to impress and currently sit one point off first place behind Inter and Juventus.
At the start of the year, very few considered Lazio a contender for the Scudetto. The summer transfer market was fairly quiet for Le Aquile and their biggest signings involved ex-SPAL wing-back Manuel Lazzari and highly rated Slovakian center-back Denis Vavro. Lazzari has done a good job in Simone Inzaghi's 3-5-2 formation as the wing-back played a similar role in SPAL. As for Vavro, the defender has struggled to adjust to Serie A. The club was able to retain Luis Alberto, Sergej Milinkovic-Savic and Ciro Immobile and each player has returned to their 2017/18 form when Lazio had a successful campaign. Immobile currently leads the league with 25 goals while Alberto leads in assists with 11.
On the other hand, Lukaku has been a blessing for the Nerazzurri as he's been a good fit under Antonio Conte this season. The striker has produced 17 goals this year and sits in third place behind Immobile and Cristiano Ronaldo. He has shown great chemistry upfront with Lautaro Martinez and they have been a threat against their opposition this season.
In the winter transfer market, Inter were heavily involved as they brought in players such as Christian Eriksen, Victor Moses and Ashley Young to bolster their squad and provide the depth that they were lacking in the midfield and on the wing. Lazio was not as active as the Nerazzurri and decided to not acquire any players, only showing interest near the end of the deadline for Chelsea striker Olivier Giroud. The deal never materialized and, as a result, the team made no moves and decided to go forward with their current squad.
Inter and Lazio are separated by one point in the Serie A standings ahead of their meeting this weekend when the Biancocelesti welcome Inter to the Stadio Olimpico. Lazio is unbeaten in their last 18 games. This is a new record set under Inzaghi, who passed Sven-Göran Eriksson's record of 17 games back in 1999/00 when Lazio last won a Scudetto. The club also set a new record for consecutive wins with 12. As for Inter, they have also played good football this season as the club is currently unbeaten in their last 16 league games. The last time the Nerazzurri lost in Serie A was a 2-1 defeat to Juventus on October 6. So it has been a long time since either team has lost in Serie A. With both teams playing very well and making a strong push for first place, what does this match really mean for each club?
It might mean more to Inter than Lazio as the club invested heavily in the summer and winter transfer markets and signed many marquee players. The team was expected to compete for the Scudetto and sit in first place ahead of Juventus. When Conte arrived at Inter this past summer, it showed their ambition to end Juventus's eight consecutive years of winning the title. In their recent match against AC Milan, the club showed how resilient they could be, coming back from a 2-0 deficit to win 4-2 with a strong second-half performance. After the Milan derby, Conte took the time to discuss the upcoming match against Lazio.
"It's still very early to talk about something we can, for now, only dream of. We can have a dream. It's going to be a very intense period for us coming up and after that, I think we'll have a better idea of our potential and our real capabilities."

"We must face important matches, starting from Wednesday's Coppa Italia semi-final with Napoli, then Lazio next weekend and they have really strengthened over the years."

"We can't achieve everything from one day to the next, but we are building. These lads proved they have great strength and guts today."
Lazio's goal continues to be Champions League qualification as they haven't been unable to solidify a spot in the past three seasons. The team currently holds down the third spot and has a comfortable lead of 14 points on Roma who are in fifth place and hold the first spot for the UEFA Europa League. With the club in contention for a Scudetto, their goals may have changed after their recent win against Parma, after which Inzaghi wasn't yet to be drawn into the topic discussion of winning the league.
"I'll keep talking about a great game, against a difficult side. The only drawback is not having scored a second goal that would have closed the game sooner."

"With a physical team like Parma we had to be good, I'm satisfied. With the win, our position in the table gets better."

"Next Sunday will be a good game in an excellent setting. We will face a very good side, and we have shown that we are not far behind from them."
The Scudetto has become a reality for Lazio and Inter will need to be fully prepared against a side who hasn't looked this confident in many years.
Written By Jerry Mancini, originally published on World Football Index.