The Italian Serie A and its 20 clubs have officially decided to play the rest of the season behind closed doors until 04/03/2020 due to the Coronavirus outbreak. Although the economic damages are costly, there was no alternative solution that would allow for the matches to be played without risking the health of players, officials, fans, and management.
Calcio e Finanza, a website concerning news and analysis regarding the business side of football, highlighted the losses that each team will suffer. This is a reliable estimate produced by analyzing the number matches that will be played without fans and the number of fans expected at each of these matches (within the period of 03/05/2020 to 04/03/2020).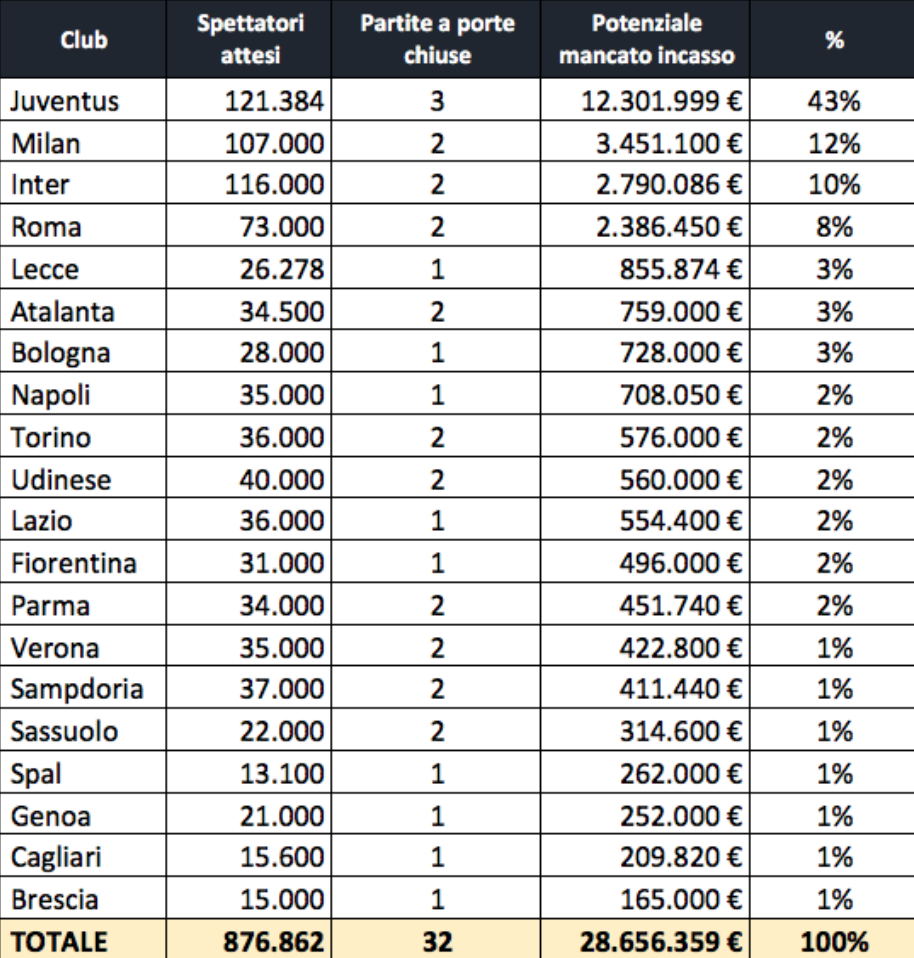 Juventus will be the most affected team, with three matches behind closed doors, according to the estimates; a potential of approximately €12.3 million will be lost, which is equal to 43% of the total potential losses that the Serie A will experience during this period. Among those who will also experience a heavy loss in Milan (a potential of approximately €3.4 million; 12%), Inter (a potential of approximately €2.7 million; 10%) and Roma (a potential of approximately €2.3 million; 8%) with two matches each without fans.
What about Lazio? Only Lazio-Fiorentina on 03/20/2020 will be played behind closed doors; this is a game that will result in a potential of approximately €554 thousand (2%) and €400 thousand (2%) being lost, according to Calcio e Finanza's estimates.
In total, the Serie A will see 32 matches played behind closed doors for a potential loss equal to about €29 million.