Lazio Captain Senad Lulic is 34-years-old. He has served the Biancocelesti for nearly a decade and next season could be his last in Serie A. In this article, statistical science has been firstly used to analyze the Bosnian and secondly, other Serie A players to see if there is anyone currently within the league that would be worth investing in to replace him.
Senad Lulic & Lazio
Senad Lulic has been a pillar in the Lazio side over the last nine years. The Bosnian has secured 351 appearances for the Biancocelesti since his move from Young Boys, for £3 million back in June 2011. During this illustrious decade, Senad warmed to the hearts of the Laziali, with his finest moment coming against Roma in 2013 in the Italian Super Cup; Lulic scored the only goal in the match ensuring victory was secured for Lazio against their biggest rivals. Lulic has secured four trophies during his spell with Lazio, lifting both the Coppa Italia (2012/13, 2018/19) and the Supercoppa Italiana (2017/18, 2019/20) twice. Lulic, a player who is known for being hardworking and possessing exceptional stamina, was made Lazio captain following the departure of Lucas Biglia to Milan, showing his ability to lead on the pitch and set the standard for his fellow teammates.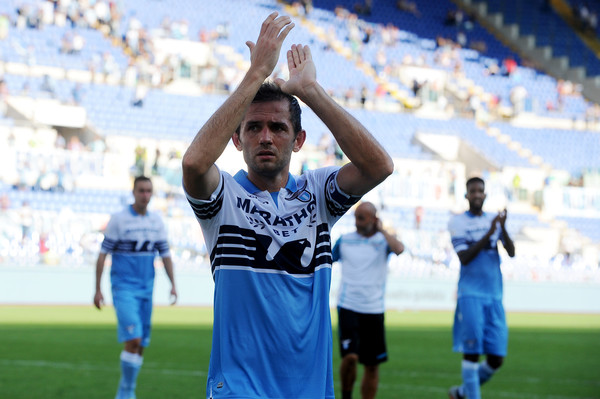 Over the past decade Lazio have looked to strengthen their ranks down the left flank with the below signatures; 2016/17, Jordan Lukaku for £3.6 million from KV Oostende; 2018/19, Riza Durmisi for £6.75 million from Real Betis; 2019/20, Jony for £1.8 million from Málaga. With none of the aforementioned players meeting expectations and Lazio often favoring the left-hand side of the pitch – with 39% of attacks being built down the flank which Lulic operates – there is no doubt that Igli Tare will potentially look to improve the squad in this area of the pitch, especially if UEFA Champions League football is secured for the 2020/21 season.
Data
Data has been gathered from whoscored.com which has used to carry out the following analysis – created with the help of  scatterplot.online – to compare players who have made at least nine appearances in Serie A this year. Areas of the game have been selected which are key for a player operating on the left side of a 3-5-2 formation; only players who have achieved higher figures than Lulic are shown.
Defensive Contribution: Tackles
Considering how integral wing-backs have become in the modern game, it is an asset for wide players to now be able to get their foot in and break up play; a trait which was often associated with players who operated in the middle of the park.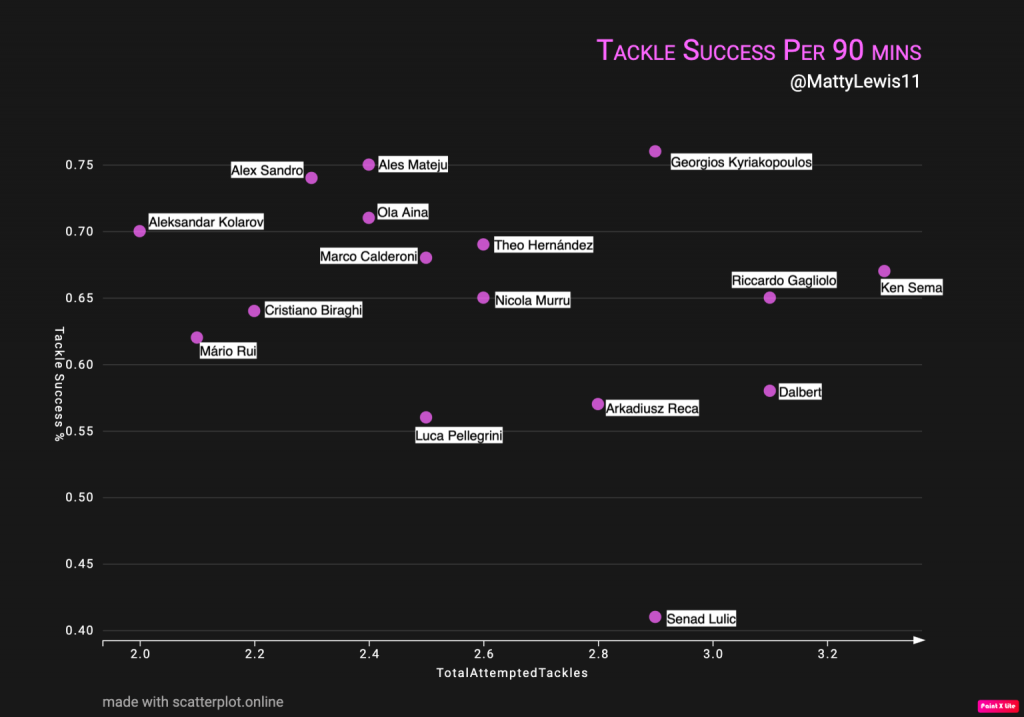 Studying the data above, Senad Lulic is being outperformed in relation to his tackle success rate which currently sits at 41%. Despite the success percentage rate, Lulic is attempting 2.9 tackles per 90 minutes in Serie A; a figure which is higher than the majority of players in his role in the league. The three players which stand out – in relation to their defensive contribution for tackles – are Ken Sema (26-years-old) from Udinese, Riccardo Gagliolo (29-years-old) from Parma, and Georgios Kyriakopoulos (24-years-old) from Sassuolo. All three players are attempting a higher amount of tackles than Senad and all have a higher success rate. This signals that they all have a similar work rate to Senad, showing their desire to get into the position to attempt a challenge, something which Simone Inzaghi will demand from his players due to work ethic being a core part of his DNA.
Defensive Contribution: Aerial Duels
Taking into consideration Lazio's style of play in the defensive phase, Simone Inzaghi often opts to deploy five at the back, when his side is not in possession, with the two wide players dropping to plug space. The ability to compete aerially is another element of the game which is a valuable topic when considering Lulic's replacement.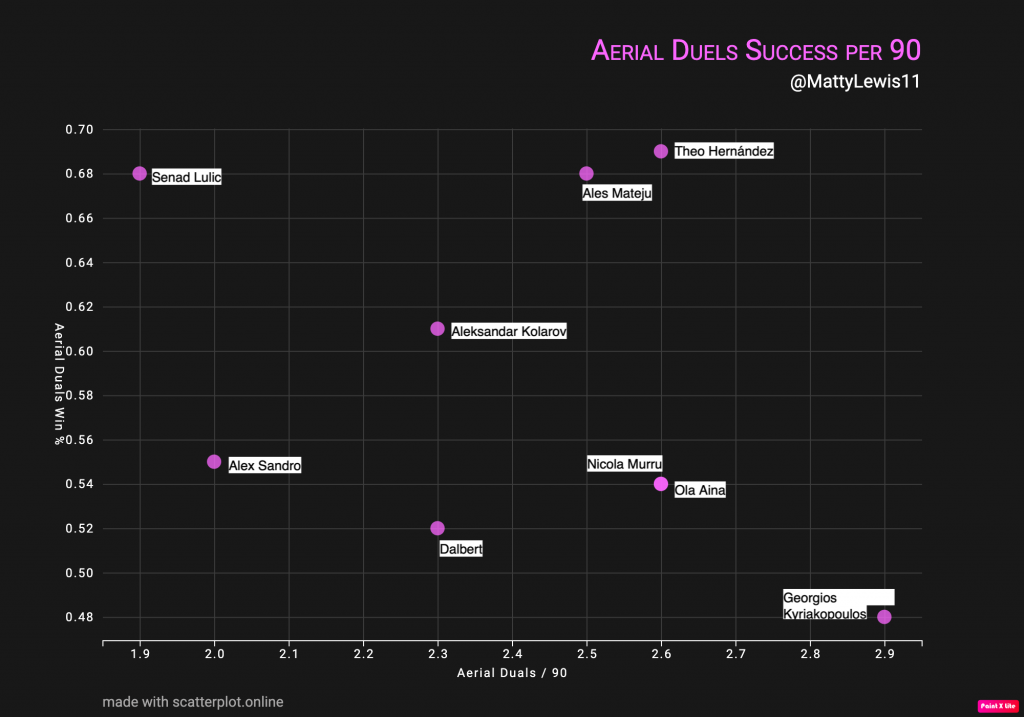 Further examination into the amount of aerial duels per 90 and the individuals success rate, Lulic has been extremely dominant in the air for Lazio in Serie A this season. The Bosnian has won 68% of his duels which average at 1.9 per 90 minutes. There are only two other left-sided defenders who have a higher percentage: Theo Hernández of Milan and Ales Mateju (23) of Brescia.
Attacking Contribution: Dribbling
Confidence on the ball and the ability to beat your opposite man is a key trait that is desired on the football pitch; nothing is better than watching a player who brings expectation when they are on the ball. When considering dribbling and the current Lazio wing-backs, most Laziali would expect Manuel Lazzari to be the benchmark for total dribbles, as the right-sided player is blessed with blistering pace and often likes attempt to outrun his opposite man. However, Senad Lulic is actually the flag bearer, as he completes an average of 2.7 dribbles per 90 minutes, compared to Jony (2.2) and Lazzari (1.9).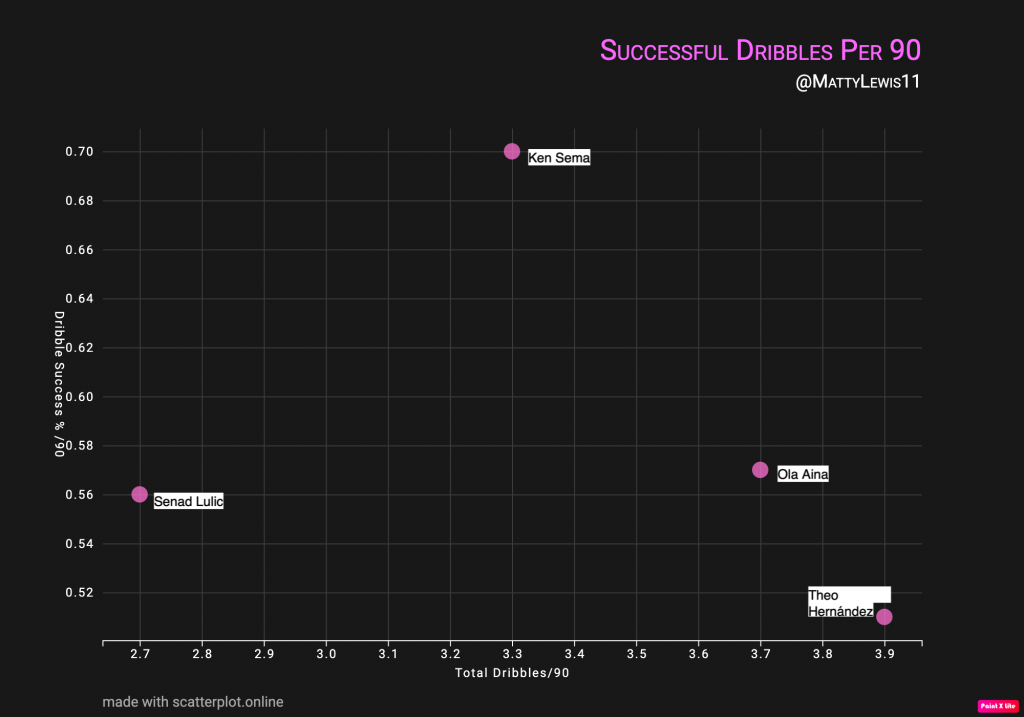 In fact, there are only three players who can produce better numbers in relation to dribbles down the left flank: Theo Hernández (22-years-old) of Milan, Ola Aina (23-years-old) of Torino and Ken Sema. All three players attempt over three dribbles per game with a success rate of over 50%, resulting in at least two successful dribbles per game. It is important to note that Aina (valued at £9 million) and Sema (valued at £4.5 million) are producing these figures in teams which are fighting it out at the bottom end of Serie A, and do not have the high market value of Theo Hernández (£35m), which would certainly be a stumbling block for Lazio.
Attacking Contribution: Crossing
A great cross is one of the most memorable sights in football; it is a trait that used to be commonly associated with a winger. However, over the past decade and the introduction of attacking full-backs, crossing is now an attribute that must be taken into consideration.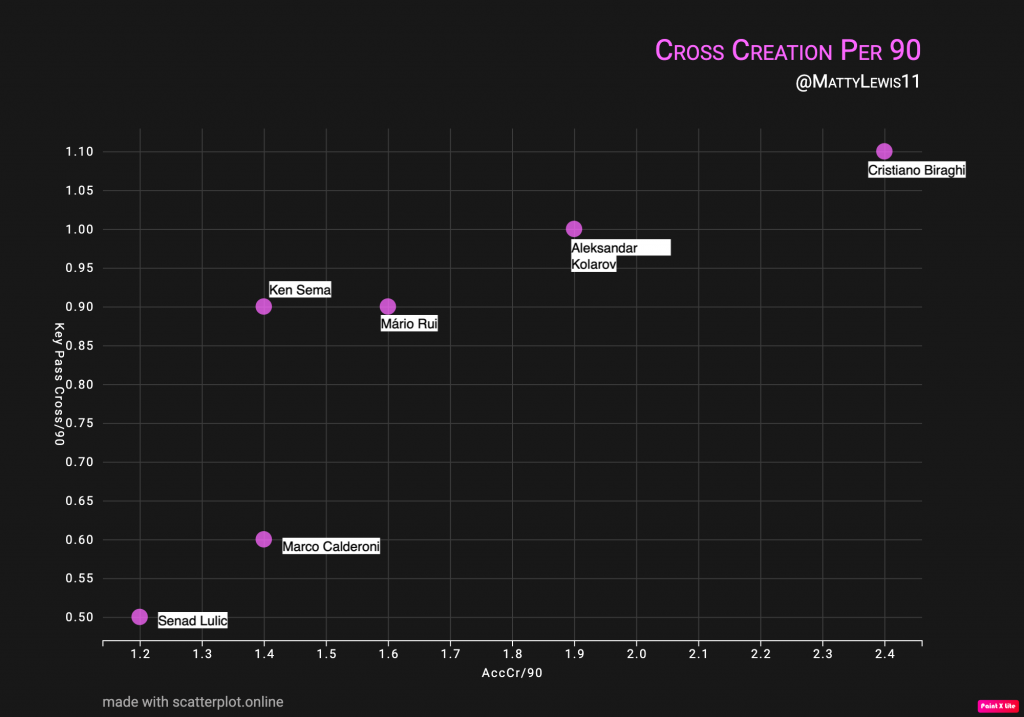 Above, the data looks at accurate crosses per 90 and key passes from crosses per 90; as you can see Senad Lulic has on average 0.5 key passes per 90 minutes and 1.2 accurate crosses. If Lazio invests in a target man for next season as openly reported, it would make sense to ensure he has a regular and accurate supply chain. Cristiano Biraghi (27-years-old) of Inter Milan is a new name to consider, providing 2.4 accurate crosses per 90 minutes and possessing a market value of £10.8m. Ken Sema appears again, with the Swede providing nearly one key pass per game from a cross, making him a cheaper alternative.
Attacking Contribution: xG+xA per 90
The final data to consider is the individual's overall contribution in relation to both goals and assists per 90 minutes. Ciro Immobile has scored 45% of all Lazio goals this season as well as contributing to 51% of assists when paired with Luis Alberto; these figures, although impressive, show how reliant the Biancocelesti have become on key players. Signing a player who could help reduce the burden would be refreshing.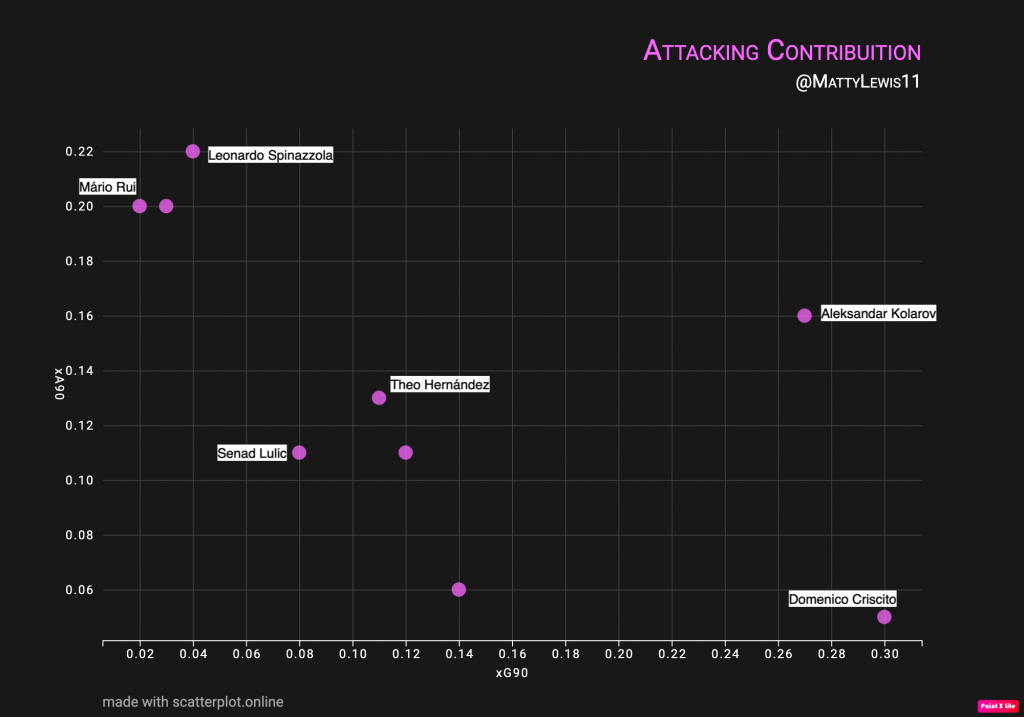 Aleksandar Kolarov provides the greatest threat in terms of goals and assists in Serie A for left-sided players, his combined figure per 90 minutes is 0.43 expected goals and assists per game which despite him playing for Roma is impressive. Domenico Criscito (33-years-old) of Genoa has the biggest goal threat across the data set, however, his age would rule him out of contention in relation to being considered an appropriate signing.
Final Thoughts
In conclusion, there are two viable replacements within Serie A to replace Lulic when taking into consideration the above data.
Potential Successor: Ken Sema
Ken Sema has a market value of £4.5 million and at the age of 26, Lazio could sign a player who would enter his prime at the club. Ken is currently on loan from Premier League side Watford which could become a potential hurdle in the deal as Nigel Pearson's intentions in the player have not been made clear. Ken Sema has secured 1730 minutes of Football in Serie A this season and also has 755 minutes of Premier League football under his belt, which could see the trend of players moving from England to Italy continue.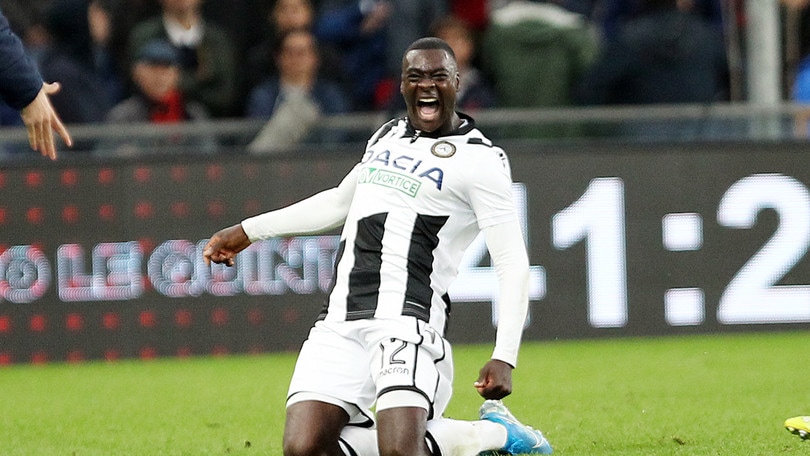 Ken stands out for his ability going forward, the numbers he has produced this season in respect to crossing and dribbling are strong, however, he has shown that he also has significant work rate which is reflected in the number of tackles he is attempting per 90.
Potential Successor: Ales Mateju
Ales Mateju has a market value of £1.7 million and at the age of 23 would be viewed as a good squad player. The low market value would allow Ales to play without the pressure of a large fee, the possibility of Brescia also being relegated from Serie A would make the transfer process a lot smoother. Ales was signed by Brighton from FC Viktoria Plzen in 17/18, despite not making any appearances in the Premier League at the age of 20, the player from the Czech Republic has clearly developed his ability as he has secured 1,641 minutes of football in Serie A this season.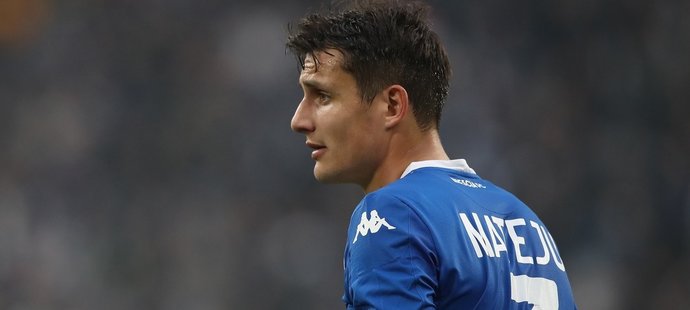 Mateju stands out for his defensive contributions in the analysis above which would make him a different option on the left for Inzaghi to Jony who is clearly a more attack-minded player considering this season is his first playing in this role, as he used to be an out and out midfielder.
This article first appeared on Matty Lewis' Blog, Sempre Lazio 1900