Lazio's Stefan Radu is 33-years-old. He has served the Biancocelesti for over a decade and next season will likely be his last in Serie A, as his contract expires in June 2021. In this article, statistical science has been firstly used to analyze the Romanian and secondly, other Serie A players to see if there is anyone currently within the league that would be worth investing in to replace him.
Stefan Radu & Lazio
Stefan Radu sits in the Biancocelesti hall of fame with 372 appearances for Lazio; the fourth highest in the club's history and only four matches behind Paolo Negro for third. He was signed from Dinamo Bukarest in 2008/09 for a fee of £3.5 million after a successful one year loan the season before. During this distinguished period, Stefan was rewarded with the captain's armband during the 2011/12 season and gained International status representing Romania 13 times. Radu has secured six trophies during his spell with Lazio, lifting both the Coppa Italia (2008/09, 2012/13 and 2018/19) and the Supercoppa Italiana (2009/10, 2017/18 and 2019/20) on three occasions.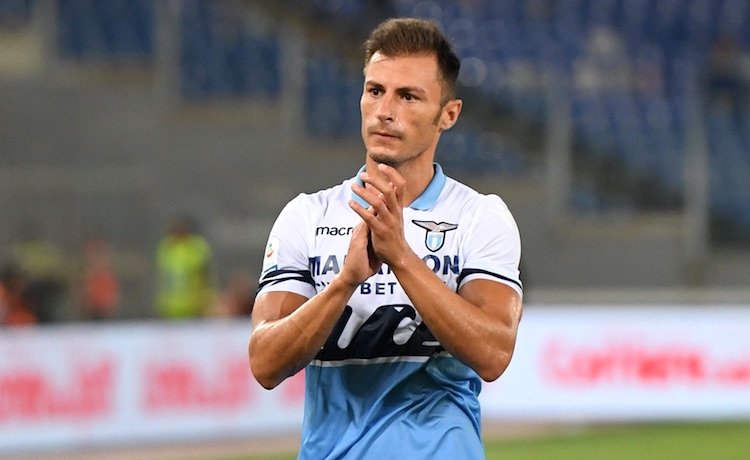 As a player, Radu is known for his defensive side of the game, strong in the challenge, excellent positioning and possesses a wealth of experience. However it is off the pitch where Stefan also has gained a reputation across the years, the defender has become a pillar to his teammates and under his leadership, he has helped to embed core values throughout the squad. During his time at the club Radu has had to deal with competition for his place in the starting eleven and has always met the challenge; here is a list of central defenders which Lazio have signed since Radu has featured for the Biancocelesti: 2011/12, Marius Stankevicius for £720k from Sampdoria; 2012/13, Michaël Ciani for £1.35m from Bordeaux; 2014/15, Stefan de Vrij for £6.3m from Feyenoord; 2014/15, Santiago Gentiletti for £675k from San Lorenzo; 2015/16, Maurício for £2.4m from Sporting; 2015/16, Patric for £450k from Barcelona; 2015/16, Wesley Hoedt on a free transfer from AZ Alkmaar; 2016/17, Wallace for £7.2m from Braga; 2016/17, Bastos for £4.5m from Rostov; 2016/17, Luiz Felipe for £675k from Ituano; 2018/19, Francesco Acerbi for £9.5m from Sassuolo; 2019/20, Denis Vavro for £9.5m from FC Copenhagen; 2019/20, Andreas Karo for £144k from Apollon Limassol
Data
Data has been gathered from whoscored.com which has used to carry out the following analysis – created with the help of  scatterplot.online – to compare players who have made at least nine appearances in Serie A this year. Areas of the game have been selected which are key for a player operating as a left center-back; only players who have achieved higher figures than Radu are shown.
Defensive Contribution: Tackles
Lazio favors three at the back with two stoppers either side of the defender with a license to carry the ball out, play long passes and generally act as a catalyst for attacking. This formation puts an emphasis on the stopper's ability to defend and most importantly be good in the tackle.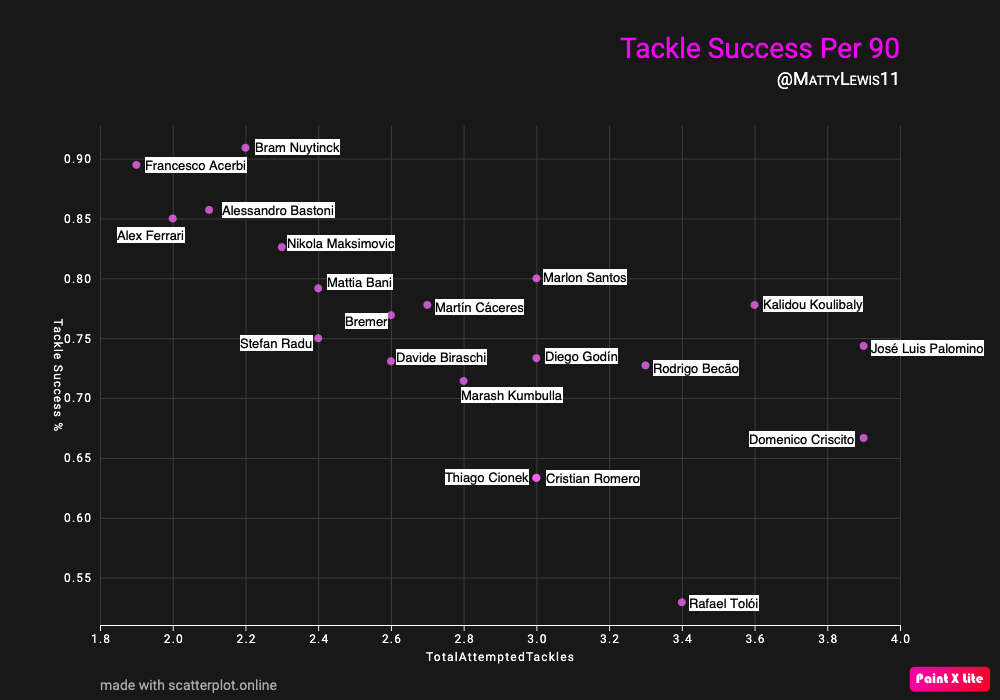 Studying the data above Stefan Radu is currently winning 75% of his 2.4 tackles which equates to winning 1.8 per 90 minutes. The key performers in relation to tackling in Serie A are on the right-hand side of the DataViz with seven players winning over two tackles per 90 minutes. The stand out performer being José Luis Palomino (30-years-old) from Atalanta, who is winning 2.9 tackles per 90 minutes in a side which has been playing free-flowing football under Roberto De Zerbi. Palomino has a market value in the region of £9 million, however, his current contract expires this summer which could allow Lazio to sign the player on a free transfer. Many of the other key performers could be deemed as being either too old (Domenico Criscito (33-years-old), Diego Godin (34-years-old) and Martin Caceres (32-years-old)) or too costly (Kalidou Koulibaly (£63 million). This leaves Marlon Santos (24-years-old) the defender joined Sassuolo in 2018/19 from FC Barcelona and is averaging 2.4 tackles per game and Rodrigo Becão (24-years-old) who plays at Udinese and is also making 2.4 tackles per game.
Defensive Contribution: Aerial Duels
Lazio has the best defensive record in Serie A this season, conceding only 23 goals from the 26 games played. The Biancocelesti have proven that they are extremely hard to break down with Inzaghi setting his side up to be compact without the ball when the opposition enters the final third. This means that often a team's only way to create chances against Lazio is to play a cross into the box and hope to win the aerial battle, therefore making heading an important attribute.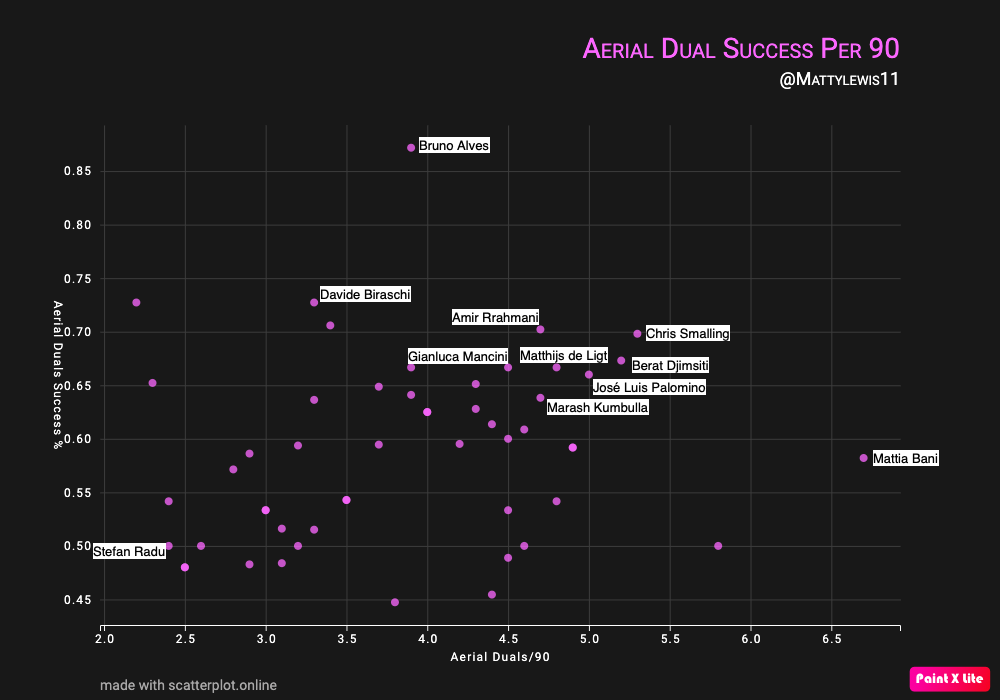 Stefan averages 1.2 successful aerial duels per game, winning 50% of his attempted aerial duels. The Romanian stands at 1.83 meters and the shortest defender in relation to the most popular choices in central defense for Lazio this season; Acerbi is 1.92 meters and Luiz Felipe 1.87 meters. The stand out performer in relation to aerial success is Mattia Bani (26-years-old) from Bologna, the Italian defender is attempting the most aerial duels per 90 at 6.7 per game highlighting his importance to manager Siniša Mihajlović. Despite having the highest attempts, Mattia also leads in relation to successful aerial duels taking into consideration his win rate of 58%. Players who are worth a notable mention are Chris Smalling (3.7), Berat Dijmsiti (3.5), Bruno Alves (3.4), Amir Rrahmani (3.3), José Luis Palomino (3.3) and Matthijs de Ligt (3.2) who are all winning over three aerial duels per game in Serie A.
Attacking Contribution: Dribbling
Pressing has become familiar in the modern game, as teams increasingly look to win the ball back higher up the field. This has seen the role of the center-back change with managers often looking to recruit individuals who are composed on the ball and have the ability to build from the back by playing through the press. For this reason, successful dribbles per 90 will be looked into, to assess individuals who are comfortable on the ball.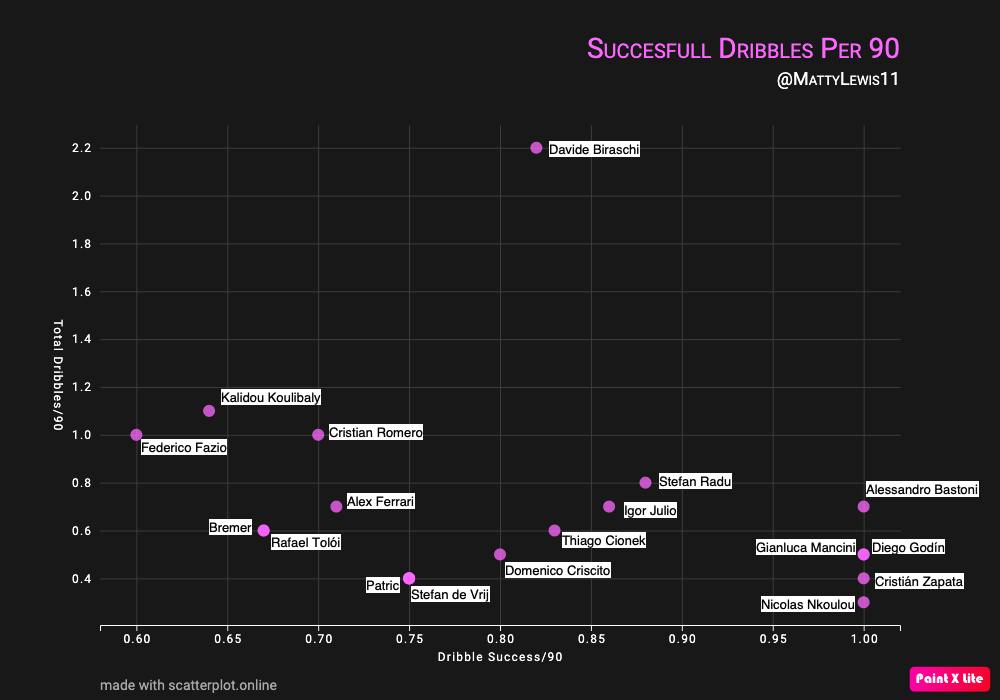 Taking the data into consideration Radu is one of the more accomplished dribblers in the league, he averages 0.8 dribbles per game with a success rate of 88%. In fact, there is only a single defender in Serie A who completes more successful dribbles per 90 than the Romanian: this is Davide Biraschi. The 25-year-old from Genoa completes 1.8 successful dribbles per game, a figure which is over double that of Radu in second place. Other players worth a mention are Alessandro Bastoni (20-years-old) of Inter and Cristian Romero (21-years-old) of Genoa. One thing for sure is that Davide Nicola certainly likes his central defenders to advance with the ball, this possible could be one key factor in his team conceding the third-highest amount of goals in the league (47).
Attacking Contribution: Long Balls
The long ball is a trait that has been commonly associated with Francesco Acerbi in the Lazio defense. The defender often can be found playing a long ball into advanced positions towards the towering figure of Sergej Milinkovic-Savic.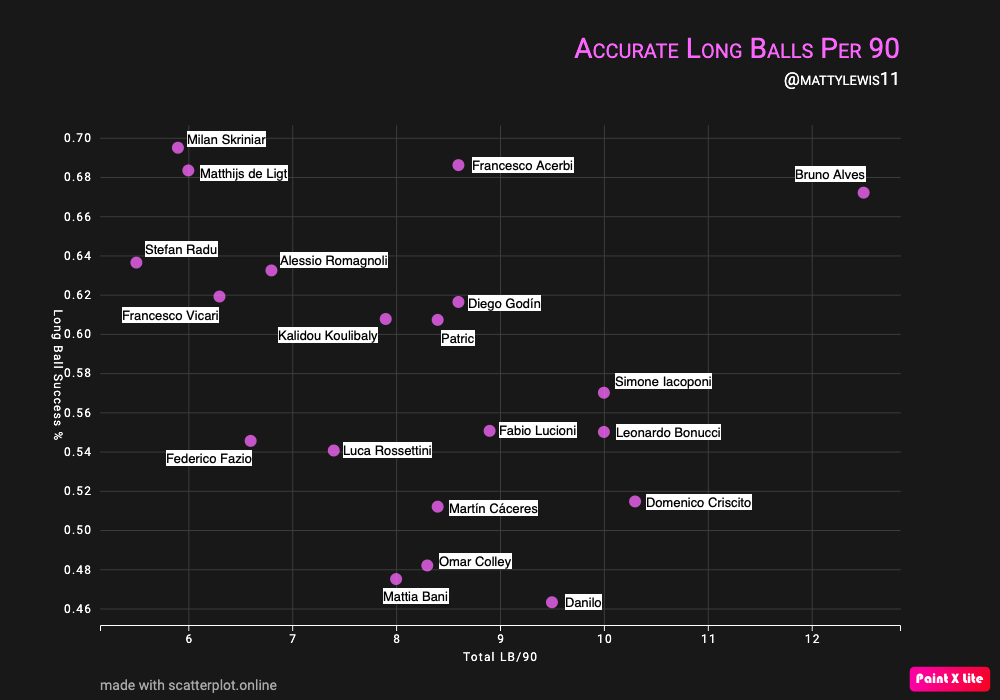 Due to the above reason, the long-ball is not a regular feature of Radu's game; the defender averages just 3.5 successful long balls per game, a figure which is topped by many center-backs in Serie A. Most notably, Bruno Alves who completes 8.4 long balls per game; the 38-year-old clearly acting as a quarterback within the Parma camp. As expected, Acerbi is second in the rankings, with the Biancocelesti player completing 5.9 long passes per game. Other notable performers are Simone Iacoponi (5.7), Leonardo Bonucci (5.5), Domenico Criscito (5.3), Diego Godin (5.3), and Patric (5.1).
Final Thoughts
In conclusion, there are two viable replacements within Serie A to replace Radu when taking into consideration the above data.
Potential Successor: José Palomino
José has a market value of £9 million, however as explained earlier his contract with Atalanta is due to expire this summer. If Lazio could secure the player, which would probably depend on who Gian Piero Gasperini would look to bring in; José would bring with him a wealth of experience.
José has played 6,126 minutes over his three seasons in Serie A since his signing from PFK Ludogorets Razgrad in 2017/18 for £4 million. The Argentinian is an exceptional defender which reflects in his numbers this season. Averaging 3.3 successful aerial duels, 2.9 tackles per game and 2.41 interceptions José could be the caliber of player that Lazio would look to sign to bolster their backline in preparation for the Champions League.
Potential Successor: Mattia Bani
Mattia Bani has a market value of £2.7 million and is contracted until 2023 with his current club Bologna. At 26, the Italian would be entering his prime and would provide Lazio with a longer-term option. Bani has progressed through the league structure in Italy from his years at Reggio Audace in Serie C, stepping up to Serie B with Pro Vercelli, and now Serie A with Chievo and Bologna. One potential barrier to this transfer is that Mattia only signed for his current club in 2019/20 moving from Chievo for £2.4 million.
Mattia has played a total of 5,800 minutes in Serie A and it could be argued that he has proven himself with sides from mid-table and below and potentially merits an opportunity with a side from the top half of the table. The Italian is averaging this season 3.9 successful aerial duels per 90 crediting his superior ability in the air, 2.2 Interceptions per game and 1.9 tackles per game, all of which are higher than the man who we have identified him to replace.
This article first appeared on Matty Lewis' Blog, Sempre Lazio 1900