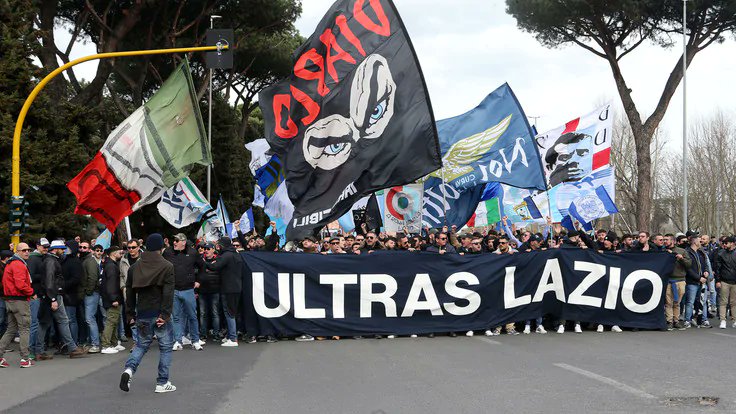 Without a doubt, COVID-19 has attracted worldwide attention. Also known as Coronavirus, it has been wreaking havoc across the globe over the past few months. Below, an official statement released from Ultras Lazio concerning the virus.
"There is a Chinese game, named Weiqi, where the purpose is to control an area "X" greater than that which is controlled by your opponent; players try to arrange their stones so that they cannot be captured, carving out at the same time the territories that the opponent cannot invade without being captured. This is somewhat similar to COVID-19, except right now, we are playing with our lives and there is nothing virtual. Because there is nothing random in what is happening here in Italy and in the rest of the world. Everything is sadly and surgically studied at the table. Just like in a game, just like in Weiqi.

It is evident that we are Ultras, but we are also citizens with a thinking brain, constantly active to expose the continuous games of power. We have never ridden the wave of a single thought, especially what the mainstream media offers us every day with the intent to form and deflect the minds of society. We are able to perfectly judge every situation, understanding immediately who the protagonists of the "big" events are, and then make our evaluations and draw conclusions based upon this information.

Well, so to speak of COVID-19, with 8 thousand dead and 60 thousand infected, we are the most affected country in the world! A nice record! And while this is a fact that many can pass on to others as a result of 'chance', you can certainly not try to tell us Italians this. 

Given what is happening, our first thoughts are unfortunately directed towards all the victims and their families who mourn their loved ones; especially in the most affected (Northern Italy; Bergamo, Brescia, Milan) and the least affected areas. But in due time, when this emergency that is currently locking us up at home – due to a political party unable to govern and above all protect its citizens – we will ask those responsible and our direction will turn towards them. Because sooner or later, someone will pay for their sins; the faults of those who have been conniving in the presence of the Italian people.

The names of those who have betrayed our people – 60 million Italians – will have to come out, as they have managed to send people to hospitals, lock everyone up in their homes, and even kill people. Furthermore, they have put workers to their knees, without a guarantee for their future.

We believe that the whole ruling class – majority government and opposition government, right-wing parties and left-wing parties, scientists, and the head of state itself – more or less, are responsible. 

Our statement is not a political speech; we have long since abandoned the 'real' politics. Our statement is one of social discourse, a hymn to life, and one regarding survival, from citizens who are witnessing helplessly, the end of Italy – our country, which has been 'sold', or better yet, 'sold off' to other world powers.

You are destroying us as an entire population; you will sell us to loan sharks (primarily banks, perhaps from other states) through the ESM (the European Stability Mechanism is an institution the 19 eurozone members signed up to in the middle of the debts crisis in 2012 to retire the former European Fund of Economic Stability. The ESM has often been associated with the term 'State-saving fund" as the organization was created to provide members with financial support to struggling states in exchange for signing up to strict rules to control public accounts).

A behavior in line with the simplest and most traditional capitalist model: create, design, and study an economic crisis, create panic, anxiety, havoc, tension and take in hand, in a totalitarian way, population control. And, as the last step, get rich. That's right, because, at the end of this pandemic, someone will get rich. Just think about when the vaccine will come out. And while this sad game of power is being put into practice, the Italian people will inexorably sink.

Who are the people spreading the disease? No one, not even runners or those who walk dogs, as they want us to foolishly believe. Who are those responsible? Everyone. We do not believe that everything we that we are witnessing is happening by chance or by fate. Some examples? Is it a coincidence that for 20 years, China has been transferring billions and billions of euros from Europe without putting them back into circulation? Is it a coincidence that COVID-19 has not killed a single Chinese person in Europe? Is it a coincidence that in Italy, the virus affects the regions that hold 60% of our country's GDP? There are too many coincidences in our opinion. And every time someone tries to expose these theories – which are simple facts for those who have a minimum of culture and want to be informed – they are immediately accused of being a conspiracy theorist and promptly denied by the mainstream media.

We will not stand by and watch, as spectators, the impoverishment and destruction of our country. It takes a big step by the Italian rulers to restart the economy, but it will only happen if they want to do it. Mortgages are currently suspended; so are utilities and rent. Why not give money to Italians as other countries are doing instead of a one-off €600 deposit? You can keep those. We are citizens, not puppets. Why not give money now to the hospitals? As we did with San Paolo Civitavecchia, and as Ultras from all over Italy did. But no, that won't happen – of course not. Their wish is to return to normal as soon as possible; let the Italian people stop crying over their family members as soon as possible. Then they'll do the math.

Resuming the Serie A will certainly not be enough to keep us silent. We will remain vigilant on the evolution of this topic and what will also happen on the field, without being fooled by anyone. As Laziali, it has always been this way.

But when the season starts again – and it will start again given the enormous interests that revolve around the world of football – nothing will be as before. Football is not a tool that always puts everyone in agreement, and which will be fed to hungry people. That it is not an opium for them, to make them calm down, be distracted, or be satisfied. 

We wish that the recovery be accompanied by concrete answers and help for our country. Otherwise, keep your league. We will stand firmly against it with intelligence, as we will not let this antic fool us. The only flag that must return to wave is the Italian one. The real competition is that people can return to live a dignified life. 

The time for deception is over, it has just been false stories; we never believed in the bat theory. We are in lock-down at home to not contract the virus, and when we succeed, we starve.

SAVE THE COUNTRY AND DO IT WITH THE DIGNITY WHICH YOU HAVE NEVER HAD.