Lazio's Lucas Leiva is 33-years-old. He has served the Biancocelesti since 2017, becoming an integral part of Simone Inzaghi's jigsaw puzzle. Operating as a defensive midfielder, he still has two years left on his contract with the Biancocelesti. However, now could be the perfect time to integrate his replacement into the side. In this article, statistical science has been firstly used to analyze the Brazilian and secondly, other Serie A players to see if there is anyone currently within the league that would be worth investing in to replace him.
Lucas Leiva & Lazio
Lucas Leiva has secured 85 appearances in Serie A for the Biancocelesti since his move from Premier League side Liverpool for a fee of £5.1 million. During this period, the Brazilian has been a key member in the Lazio side, winning over the fans with his competitiveness and discipline in playing in a role that often goes without plaudits and accolades. Lucas has secured three trophies during his spell with Lazio, lifting the Coppa Italia once (2018/19) and the Supercoppa Italiana twice (2017/18 and 2019/20).
Lucas Leiva protects the Lazio defensive line, operating as a defensive midfielder in Simone Inzaghi's favored 3-5-2 formation. The experienced Brazilian shields the back three and also provides a solid platform for the more technical players can thrive on. During his short time at the club, Lucas has seen Lazio bring in younger midfielders potentially with the view to replacing him. However, with the Brazilian averaging over 2,100 Serie A minutes over the last three seasons, his valuable experience and game management have proven essential. Here is a list of central midfielders that Lazio has signed since Lucas has featured for the Biancocelesti: 2018/19, Valon Berisha for £9m from RB Salzburg; 2018/19, Milan Badelj on a free transfer from Fiorentina.
Data
Data has been gathered from whoscored.com which has used to carry out the following analysis – created with the help of  scatterplot.online – to compare players who have made at least nine appearances in Serie A this year. Areas of the game have been selected which are key for a player operating as a left center-back; only players who have achieved higher figures than Radu are shown.
Defensive Contribution: Tackles
The main job of the defensive midfielder is to break up the opposition's play. To be successful in this role individuals will need the ability to read the game as well as be good in the tackle.
As you can see from the above DataViz, Lucas Leiva is fourth in relation to the number of attempted tackles per game at 5.4 per 90 minutes. However, when taking into his success rate which is 57%, the total number of tackles made is 3.1 per 90. A figure which is only beaten by two players Allan (3.7) of Napoli and Gastón Brugman (3.6) of Parma. Dimitri Bisoli of Brescia should also be applauded for having the highest tackle success percentage for all central midfielders in Serie A, a figure which stands at 77% and outperforms the closest individual Rômulo, by 8%. Daniele Baselli is also player worth noting, the Italian attempting 4.9 tackles per 90 and successful on 61% of those occasions, equating to 3 successful tackles per 90. He has been a real presence in the Torino midfield and is averaging a 6.86 performance rating which is higher than Allan (6.85), Gastón Brugman (6.69) and Dimitri Bisoli (6.73).
Midfield Contribution: Interceptions & Fouls
Positioning and the ability to read the game are essential when operating in the defensive midfield role. Below, interceptions per 90 have been used to highlight this ability as interceptions are often secured when individuals are occupying a space where a pass is likely to be played, highlighting awareness of the game. The other variable which has been used is fouls committed per 90; the professional foul is becoming increasingly prominent in the modern game and is often carried out by the defensive midfielder.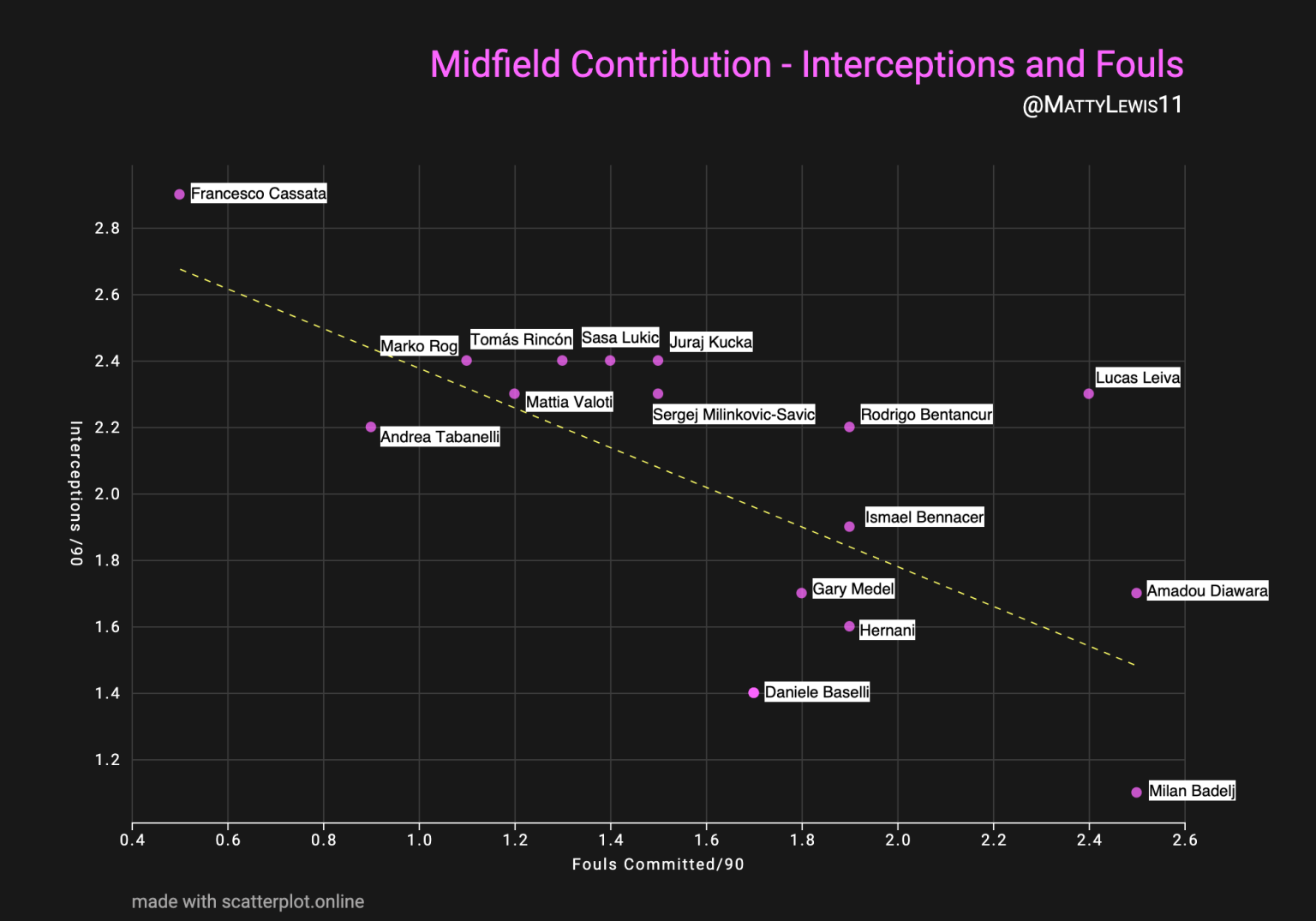 Studying the above data, Leiva completes the third-highest interceptions in Serie A with 2.4 per game. This figure is only beaten by Amadou Diawara (2.5) and Milan Badelj (2.5). The Brazilian also accumulates 2.3 fouls per game. Hernani of Parma could be considered a credible alternative in relation to the above data, with the likes of Diawara, Bentancur, Bennacer all holding a significant market value. The Brazilian has a market value of £3.6 million and is currently on a season-long loan from Zenit St. Petersburg.
Attacking Contribution: Passes Into the Final Third
As stated earlier, Lucas Leiva doesn't just act as a shield to Lazio's back three, he also provides a solid platform for the more advanced players to build on, this is highlighted in the Brazilian's high number pass completion. This figure sits in the high eighties which emphasizes his ability to keep the ball moving, helping to either play out through an oppositions press or simply move the ball to create space for one of the Biancocelesti's more technical players. Lucas also contributes to 4.97 passes in the final third per 90, a trait which you would expect to see higher figures for the more advanced midfielder such as Piotr Zieliński of Napoli who leads the way with 8.95 per 90 minutes.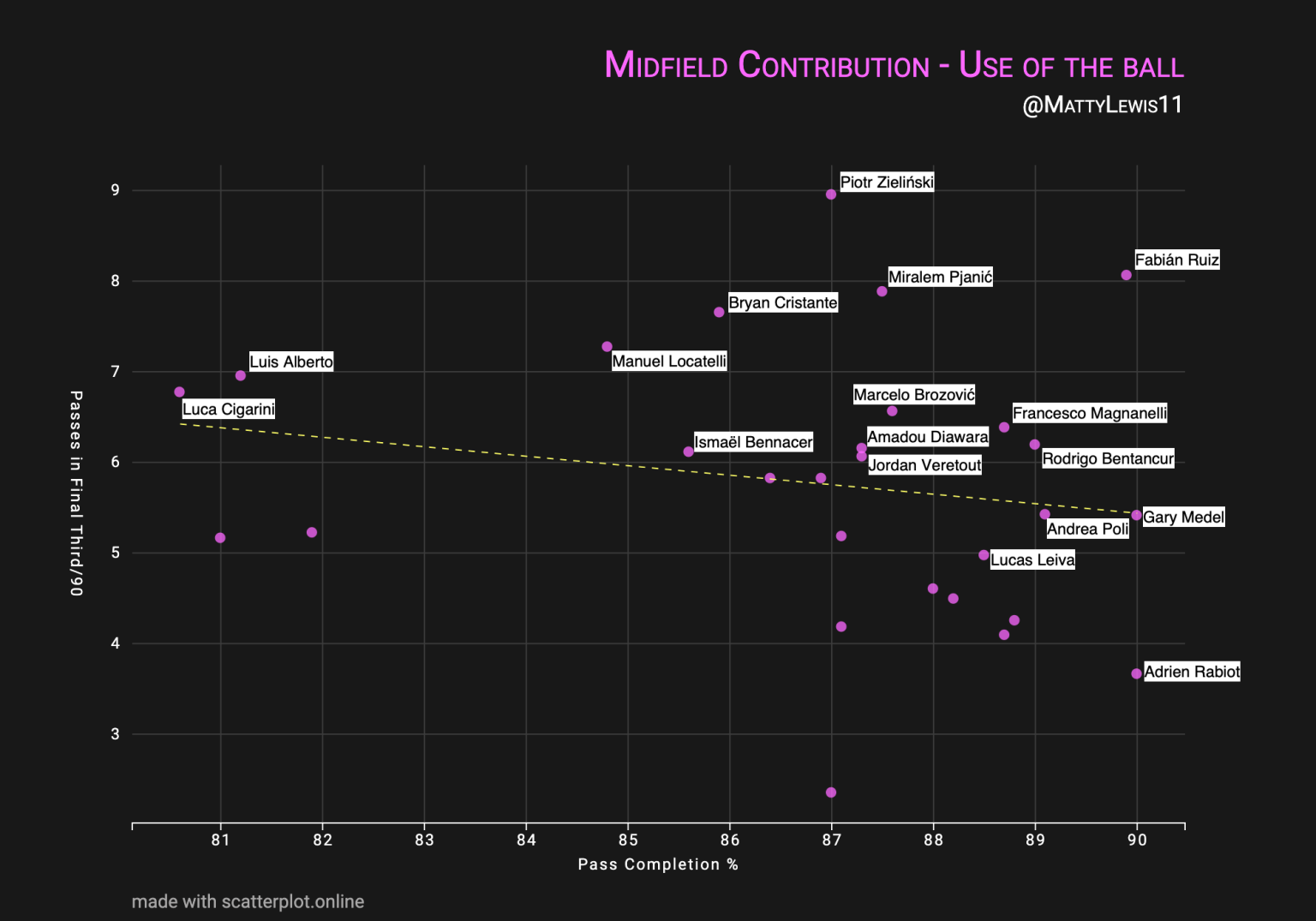 The first player who I have identified of interest is Francesco Magnanelli of Sassuolo. The Italian has a pass completion figure of 88.7%, which is not surprising seeing as his side under Roberto De Zerbi has the third-best possession and pass completion in Serie A. Magnanelli also boasts 6.4 passes in the final third which is above the line of best fit and could be associated with Sasuollo's high possession figure allowing him to play in a more advanced position. The second player is Andrea Poli of Bologna, the 30-year-old midfielder has completed 89.1% of his passes in the league and is averaging 5.4 passes in the final third per 90. The Italian is outperforming Leiva statistically in both data sets, his contract expires in 2021, making him a viable choice.
Attacking Contribution: Long Balls
Defensive midfielders are not usually credited for their ability to pick out a long pass, this is usually a trait that operates in the 'regista' role. Leiva despite operating as a defensive midfielder has a high long pass success rate which is at 70%, making him complete 3.3 long balls per game. Taking into consideration the current Lazio midfield, Leiva's replacement would be likely to partner Luis Alberto and Sergej Milinkovic-Savic, both of whom are allowed more creative freedom in the attacking phase. Therefore the ideal replacement for Leiva would be of a similar mold, this leaves just one player of interest.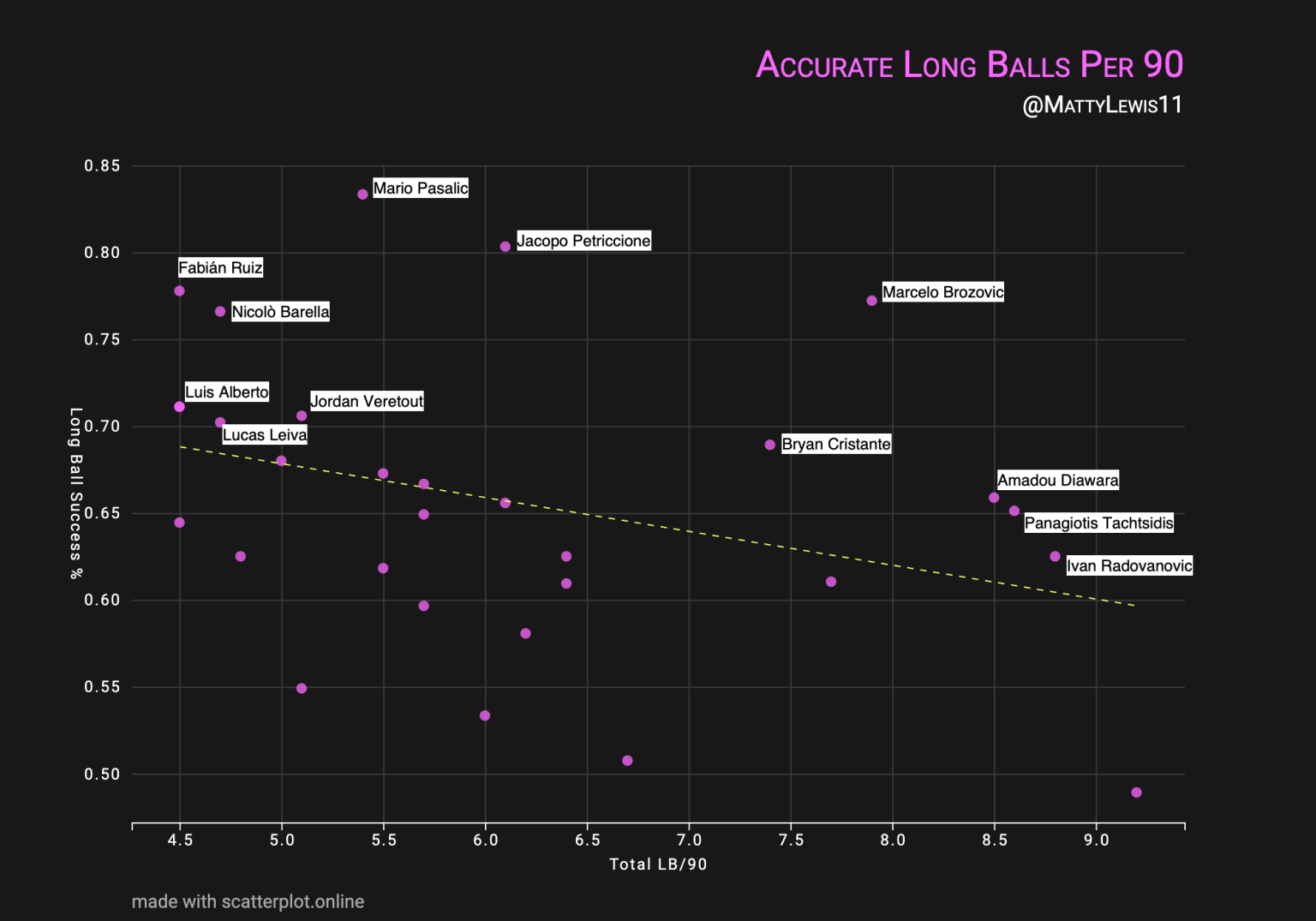 Jacopo Petriccione of Lecce, the 25-year-old Italian operates best as a defensive midfielder and has a long ball success rate of 80% which equates to 4.9 per game. The Lecce man also boasts a pass completion rate of 88.9% which is slightly better than Leiva's of 88.5%, highlighting his ability to complete the vast majority of his passes.
Final Thoughts
In conclusion, there are two viable replacements within Serie A to replace Lucas Leiva when taking into consideration the above data.
Daniele Baselli
Daniele Baselli has a market value of £8.5 million, a fee which shouldn't be an issue for Lazio, especially if Champions League football is awarded to the Biancocelesti for 2020/21.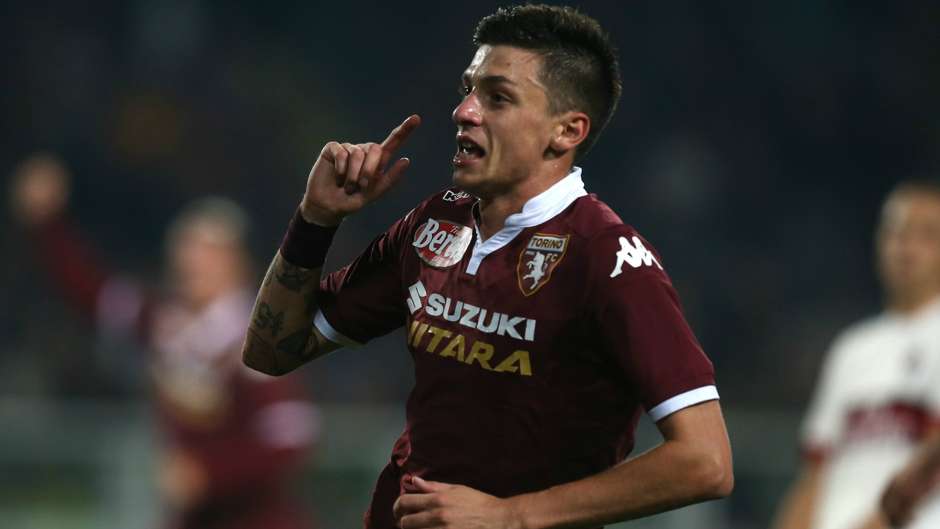 Baselli has 203 appearances across seven seasons in Serie A, proving his ability to play at this standard and showing that he is used to the tactical element of calcio. Baselli is of a similar mold to Leiva, sporting good numbers in relation to tackles and interceptions per 90. There are only two years left on his contract at Torino, which could be a good time for them to sell up to maximize their return on investment.
Jacopo Petriccione
Jacopo Petriccione has a market value of £2.7 million and is under contract with Serie A side Lecce until 2023. This season has been Petriccion's first in the Italian top division and he has been a stand out performer in the heart of their midfield.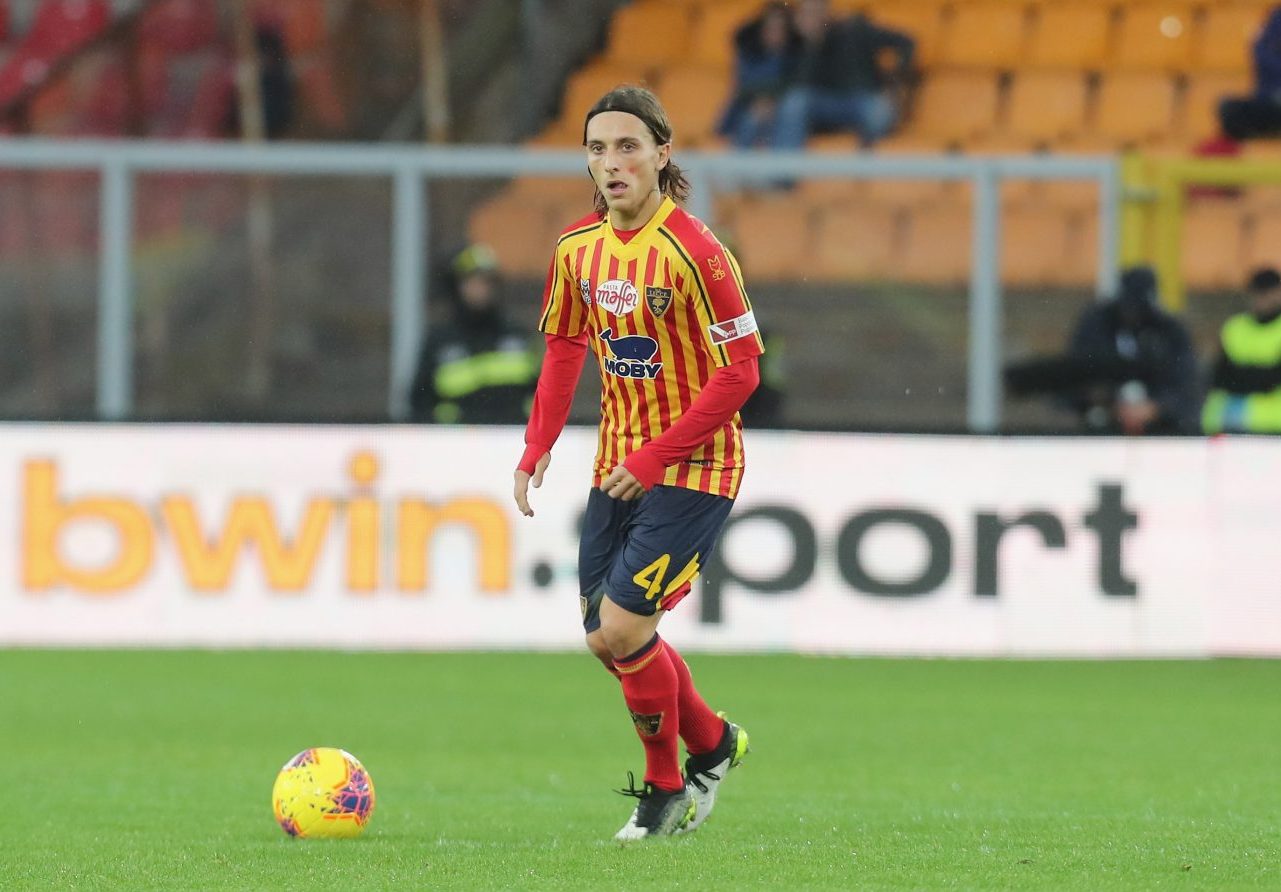 Petriccione has been highlighted as a potential replacement, as the midfielder would provide something different to the Lazio midfield. The Italian operates in a slightly different role to Lucas for the Giallorossi, with Fabio Liverani playing him in the Regista role. Jacopo has completed a significant amount of long balls this season, he also boasts a high pass completion percentage 88.9%, taking into consideration this is his first season at the top level and his age (25) one would only presume that Petriccione could develop into a midfield maestro over the next few years.
This article first appeared on Matty Lewis' Blog, Sempre Lazio 1900