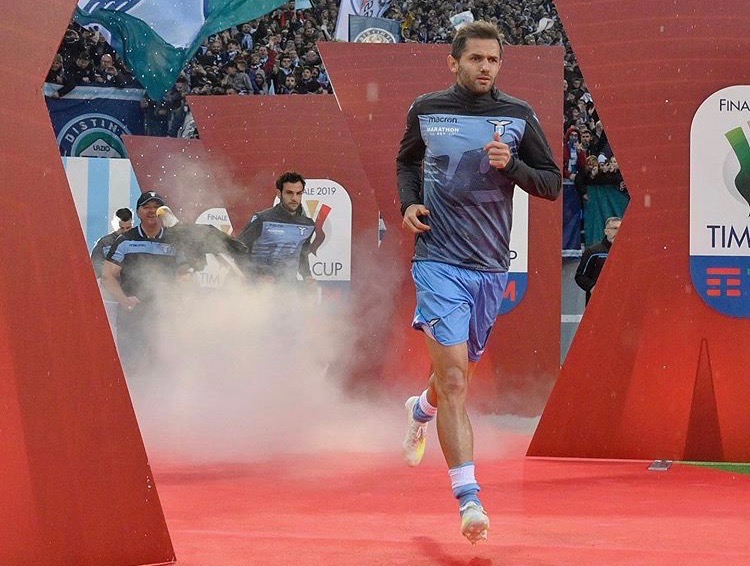 Football players all over the world have created their signature for their respective clubs in different ways. The timeline for each player varies depending on their relationship with the team and fans, however how valuable are they to their club? While players around the world have traveled from city to city changing teams, Senad Lulic has avoided this course as the majority of his career has been played with Lazio.
Before his journey with Lazio began, the midfielder traveled his course with various teams in Switzerland. Lulic was born in Mostar and grew up in Jablanica. His family chose to leave and move to Switzerland due to the Bosnian War and this is where his playing career began. In 1998, he joined the youth squad of the team Chur 97 and began his professional career with them in 2003.
In the summer of 2006, Lulic's playing career with Chur 97 came to an end as the midfielder left to join Bellinzona. His time with the Swiss club lasted two seasons as in May 2008, he signed a three-year contract with Grasshopper. With one year remaining on his contract, the midfielder was transferred to Young Boys on June 5, 2010.  Once again, his time was his new club was short-lived as he spent only one season with Young Boys.
On June 16, 2011, Lulic was transferred to Lazio for an undisclosed fee.   Prior to joining the Biancocelesti, the bulk of his playing career was primarily in the Swiss Super League. Once the Bosnian stepped foot on Italian soil, he never looked back as in his fourteen-year career as a professional football player, nine of those seasons have come with Lazio. The left wing-back has gone on to have an illustrious career with the Biancocelesti as he's been able to score pivotal goals for his side.
One of his best moments with the club dates back to May 26, 2013. Lazio played city rivals AS Roma in the finals of the Coppa Italia. It was a close and intense match which had many viewers wondering if the match was headed for extra time as the game was held scoreless for nearly three-quarters of the match. However, in the 71st minute of the game, Lulic scored a pivotal goal which led to the match-winner as Lazio won 1-0. The victory led to Lazio's sixth Coppa Italia in club history, additionally, it was Lulic's first trophy with the club.
In July 2017, ex-club captain, Lucas Biglia left Lazio to join AC Milan. Lulic's hard work, dedication, leadership and devotion to the club had been seen by upper management and notably, manager Simone Inzaghi. The Biancocelesti announced Lulic as Biglia's replacement and new team captain. On August 13, 2017, the Bosnian won his first trophy as Lazio's captain as they defeated Juventus 3-2.
In his three seasons as the club's captain, the midfielder has been instrumental on and off the field. Lulic has led his club to one Coppa Italia and two Supercoppa Italiana where his most recent trophy was this season in December 2019 against Juventus. Lulic led on the field again in Lazio's 3-1 victory over the Bianconeri, scoring the eventual game-winner with just over 15 minutes remaining.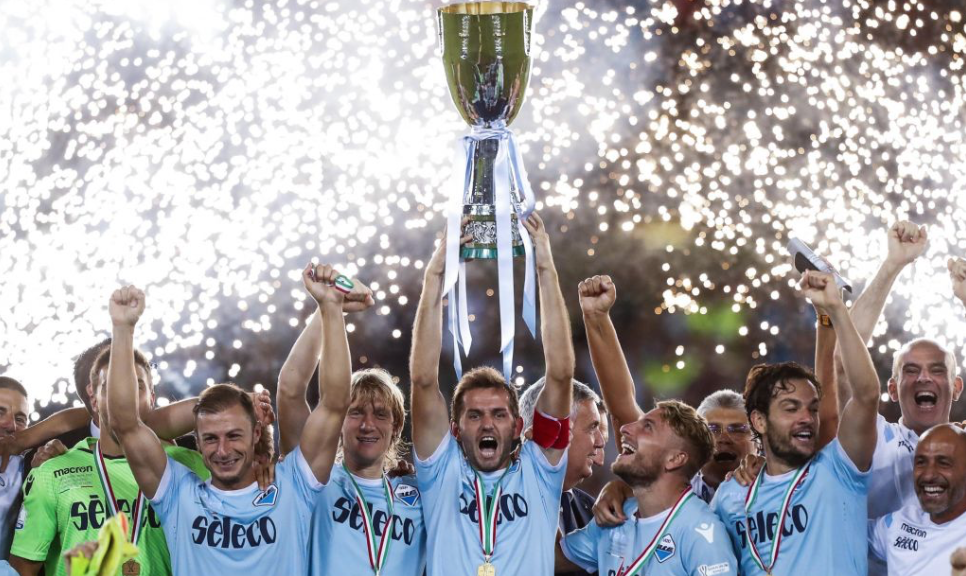 This season, Lulic entered his ninth season with the club and has served the Biancocelesti for a long time. He has followed in the footsteps of many Laziali captains who have served the team well such as Stefano Mauri, Tommaso Rocchi, Alessandro Nesta, and Giuseppe Signori. On November 29, 2018, Lulic entered Lazio's top ten appearances, as he played his 294th game for the club. Additionally, on December 7, 2019, Lulic played in his 343rd match for Lazio and surpassed Aldo Puccinelli as club's 5th all-time appearance maker.
While the midfielder hasn't always been known for his scoring, he has scored a total of 34 goals in all competitions with many of his goals making a difference for Lazio. Additionally, he's helped the Biancocelesti win four trophies in his nine seasons and has been a great captain since being appointed.  This season Lazio trails Juventus by one point for first place in the standings but, more importantly, the club finds themselves in a good position to make Champions League.
Lulic has yet to appear in a Champions League match for Lazio, however, with his contract set to expire this summer, the club decided to extend his contract to June of 2021. The intention seems to give the midfielder the opportunity to represent Lazio in the Champions League after the hard work and dedication that he's shown over the years.
At the age of 34, Lulic is not getting younger and this past season has shown that his game has taken a step back. No longer the player he once was when he arrived at Lazio, he still plays at a high intensity and provides great leadership on and off the field. Next year could be his final season for Lazio as many believe that if he returns for another season, this could be the most deserved gift for Lulic. The appreciation and dedication the Biancocelesti have shown to the wing-back is the right decision by the club.
Even if the midfielder is limited to less playing time next season, every start that he appears in for Lazio will always make a difference for the club. He continues to inspire and lead his teammates to work hard and try until the final whistle. He has worn the eagle with pride, respect, and dignity as he's earned the respect of management, teammates, and fans. If next year is to be his final season with the Biancocelesti, the midfielder has represented his club well and deserves a big thank you for what he's helped Lazio accomplish in his nine seasons.